There aren't many bigger style challenges than trying to look good in a field that's turned into a mudbath. With a little luck your summer festival weekend won't leave you soaked through, but rain or shine, it really does pay to be prepared. Embracing the lack of mirrors, showers and hair straighteners can be really liberating but, even when we're partying in a field, some of us still like to make sure we look chic.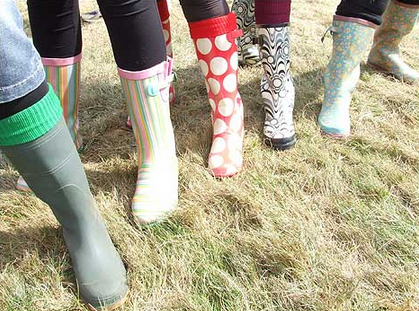 These essentials will help you do just that – easy fixes for common festival style obstacles. They're light and easy to fit in your backpack, and they'll help brighten up any girl's festival experience, whatever the weather.
Wellies
While you might be daydreaming of a summer of love, skipping through the fields in your favorite boho sandals, the reality of British summer festival weather can hit you where it hurts if you're not prepared. Thanks to the sterling work of festival mavens Kate Moss et al, wellies are now a serious festival fashion essential. If you want to make like the A-list, make them a pair of Berghaus boots. A classic black will go with anything you want to wear at a festival.
Waterproof mascara
Come festival season, you're supposed to flip the boho switch, ditch the make-up and frolic as free as nature intended. While it's blissful to get away from the daily make-up routine, we'd be lying if we didn't admit to at least caring a little bit about what we look like while we're partying, even if we are up to our necks in mud. The key is to keep things simple, with a tinted lip balm, tinted moisturizer and a slick of mascara – but make it waterproof for full staying power.
Face wipes
Personal hygiene is one of the first things to go out the window when you hit that festival campsite. Festival showers are your only chance of a scrub-up, but only the bravest of souls chances a dip under that freezing cold trickle – and that's if you can find them. Take a supply of face wipes with you instead. Lightweight, and pocket-sized, they're a great way to instantly freshen up your face and armpits for the next day's partying. Look out for 3-in-1 wipes that cleanse, tone and moisturize, to save you packing more skincare.
Dry hair shampoo
Nobody wants to spend their whole weekend queuing for a shower. But nobody wants to spend the weekend looking like a greaseball or caked in mud. Thankfully, many moons ago a certain haircare genius invented the shower in a can. Dry hair shampoo has been on sale for decades, well known to campers and caravanners, and it's a great way to keep your hair looking fresh when there's no way to wash it. Absorbing hair oils at the root, it's even become a catwalk style secret, used to give hair added va-va-voom and bounce. Look out for mini-dry hair shampoo sprays that are easier to pack and lighter to carry too.