An undeniable truth of the TV development process is that often what was once one thing morphs into something barely recognizable.  It's good that they at least get that out of the way before the show makes it on the air, right?  Because it would be beyond embarrassing if they kept tinkering with it once it was on the air, changing their setting, premise, actors, or all three?  Actually, that kind of thing has happened….a lot.  It's called re-tooling.  Sometimes it's mandated by the studio due to dissatisfaction with the show, other times it's a voluntary effort by the show's producers due to a perceived creative need for a change, and yet others it's necessitated by the show switching from one network to another.  
FX's Archer just re-tooled, voluntarily it would seem, switching in its fifth season from a Cold War spy genre spoof to featuring the same characters attempting to sell off a literal ton of cocaine accrued over the years in their now past career as international spies.  Agents of SHIELD is in the process of re-tooling, with multiple new recurring characters scheduled to appear in the second half of the season for the purpose of potentially joining the cast full-time or replacing existing characters who might be written out.
Some times re-tooling works, other times it's mostly re-arranging deck furniture on the Titanic.  And some times the changes they make are just crazy town bonkers.
1) Doris Day Show (CBS, 1968-1973)
THIS
Doris Day may now be best remembered for being love interest to the clearly gay Rock Hudson in the impossibly fluffy comedies Pillow Talk, Lover Come Back, Send Me No Flowers, thus forever making her an embodiment of squeaky clean and naive femininity.  However, there was no bigger female movie star in 1960 to 1964, and very few bigger movie stars period.  So, by 1968 she was ready to retire.  Instead, she found herself rushing into production of The Doris Day Show.  Why?  Her husband/manager died at which she point she discovered he had squandered all of their money and contracted her to star in a sitcom for CBS.  She starred in the show as a widowed mother of two who moves back from San Francisco to her father's California ranch.  It was a top-30 hit in its first season.
BECAME THIS
The problem for CBS was that The Doris Day Show was the wrong kind of hit, yet another rural-themed show on the network (e.g., Petticoat Junction, Beverly Hillbillies, Mayberry R.F.D., Hee Haw, Green Acres).  They wanted to court a younger, hipper demographic, and those rural shows were all quickly canceled even though most were still hits.  For Doris, they decided to make it a workplace workplace sitcom in which Doris's character commuted to work as a secretary at a magazine in San Francisco.  Her family back on the ranch was rarely ever mentioned or seen, pushed aside for new characters like an editor and sassy co-worker.  In the third season, they dropped the whole ranch thing entirely, and had Doris living in an apartment with her two sons in San Francisco.  Her father, on the other hand, might as well have never existed.
Then in their fourth season they tried to basically make it the Mary Tyler Moore Show starring Doris Day.  Her kids were totally gone, and now she had been a writer with a long career behind her at the magazine, completely ignoring how at that point we'd only ever seen her be a secretary.  She was surrounded by an entirely new staff at the magazine, and she lived alone in her apartment.  This change managed to stick for the remainder of the show.
Results: Even with all the changes, Doris Day remained a top 30 hit throughout its five seasons.  Viewers didn't seem to care about all of the format changes: they just really loved Doris Day.
2) Wonder Woman (ABC, CBS 1975-1979)
THIS
ABC's 1974 TV movie Wonder Woman featured a blonde (Cathy Lee Crosby) Wonder Woman with no apparent super powers, no secret identity, and a totally re-designed costume.  That was stupid.  So, in 1975 they did a do-over with The New, Original Wonder Woman, starring Lynda Carter as a more comic book traditional Wonder Woman kicking ass alongside Steve Trevor (Lyle Waggoner) during WWII.   Plus, she looked crazy good in that costume.  The movie hit big enough to earn a 13-episode first season, featuring Wonder Woman fighting Nazis and working in her secret identity as petty officer Diana Prince.
BECAME THIS
ABC liked Wonder Woman's ratings; they just didn't like how much it cost to make since it was a period piece set during WWII.  While they dragged their feet on whether or not to renew the show, Warner Bros. got tired of waiting, and sold it to CBS, who insisted they change the setting from WWII to modern day.  Rechristened The New Adventures of Wonder-Woman, the new show jumped 35 years ahead from WWII to the-then present day, Wonder Woman having not aged at all because she's got those good Amazon genes.  Steve Trevor's son (played by Lyle Waggoner, meaning Trevor's son looked like his twin) crash lands on Paradise Island, and Wonder Woman leaves with him to prevent nuclear annihilation.  The two would work as field agents for a CIA/FBI-like agency called Inter-Agency Defense Command (IADC), receiving orders Charlie's Angels style from a disembodied voice named Morley.  None of the characters from the first season were seen again or even mentioned, except for Diana's mother Hippolyta,
Results: It ran for two seasons on CBS, turning Lynda Carter into a cultural and sexual icon.  However, these were not necessarily two creatively harmonious seasons.  Multiple supporting characters were introduced only to later be dropped, Trevor went from Wonder Woman's ever-present partner to little-seen boss, and the end of the third season they tried to set up a potential fourth season featuring the Los Angeles branch of IADC with an entirely new set of characters….including an indestructible chimpanzee: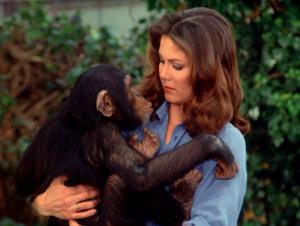 CBS canceled it instead, putting Dukes of Hazard in its old timeslot.
3) The Facts of Life (NBC, 1979-1988)
THIS
A Diff'rent Stroke spin-off which transplanted housekeeper Mrs. Garrett (Charlotte Rae) to the all-girl Eastland boarding school to work as a housemother, revolving around her relationship with seven of the students as well as the headmaster a few of the teachers.  It was a ratings failure, finishing at #74.
BECAME THIS
They decided there were way too many characters, dropping the headmaster, teachers, and four of the seven girls (including a young Molly Ringwald).  The only people to survive the purge were Charlotte Rae, whose character now became a nutritionist, and the three students played by Lisa Whelchel (Blair), Kim Fields (Tootie), and Mindy Cohn (Natalie).  Nancy McKeon was added to the cast as the tomboy Jo (aka, longtime target of "she was totally a lesbian, right?" jokes).  Plus, the Alan Thicke-composed theme song was re-recorded by Gloria Loring, Thicke's wife whereas before Rae had sung it All in the Family-style (translation: not well).
This combination (or maybe just the theme song) turned the show into a top 30 hit, although this wasn't the only re-tooling they'd go through.  The fifth season dropped Eastland as its setting, switching to Mrs. Garret's new gourmet bakery Edna's Edibles.  Then that burned down and became a novelty store, Over Our Heads, managed by the core group of girls from the seventh season on, which is also when a very young George Clooney and his then-unfortunate hair joined the cast: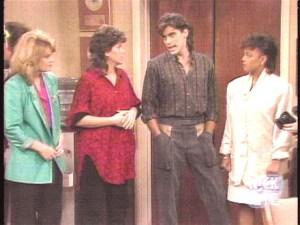 Results: Facts of Life was a top 30 hit up to the time of its cancellation in 1988.  Even then, they tried to set up an additional season centered around Blair being the financial savior of a now-co-ed Eastland school.  NBC passed.
4) Superboy (1988-1992)
THIS
Superboy was a syndicated TV show from the producers of Superman 1-3 and Supergirl, created to cash in on Superman's 50th anniversary.  It centered on Clark Kent's life as a college student with a supporting cast consisting of his roommate T.J. and love interest Lana Lang.  Many of the stories originated out of stories Clark and T.J. worked on for the college newspaper.  After a mediocre first season, they re-cast the lead role (Gerard Christopher was the new Clark Kent) as well as Lex Luthor, dropped the roommate (T.J.) and added a better one (Andy), and really amped up the villains.  It became one of the highest rated syndicated shows going at that time.
BECAME THIS
Predating the X-Files by at least 2 years, Superboy's third season blew everything up, making Clark and Lana interns at The Bureau for Extra-Normal Matters where they could Mulder & Scully their way through stories.  Clark's friend Andy was dropped from the show.  Suddenly, even with an emphasis on the paranormal Superboy started taking itself pretty damn seriously, featuring heavy dramatic material (Clark possibly having killed some one at one point).  Not only was the tone more serious but it became a literally darker show, due to new film noir aesthetic guiding the production and lots of night shoots.  These changes were implemented by the show's new producers, including Gerard Christopher himself, who may simply have been copying off of Tim Burton's Batman films.
Results: The Superboy: X-Files years are apparently ten kinds of awesome.  I say apparently because despite reaching 100 episodes Superboy never aired in syndication meaning it's still a big blind spot for many fans.  Originally, the Salkinds were going to follow up the show with a series of TV movies, but then Warner Bros. sued their asses to finally get any and all Superman rights back under the WB umbrella.  So, no Superboy movies, no re-runs, and no official home video releases until the legal battle concluded, which didn't happen until 2005.
5) Saved by the Bell (Disney Channel, NBC, 1988-1993)
THIS
Hayley Mills had been a former Disney child star, and in 1988 Disney tried to make her a star again with Good Morning, Miss Bliss.  She starred as an Indiana middle school teacher (speaking with her normal British accent, though), and the rest of the cast was split between her co-workers and students.  There was Principle Belding (Dennis Haskins), Miss Paladrino (Joan Ryan), and the African-American janitor Mylo (T.K. Carter) on one side, and Zack (Mark-Paul Gosselaar), Mikey (Max Battimo), Screech (Dustin Diamond), Lisa (Lark Voorhies), and Nikki (Heather Hopper) on the other.  Most episodes featured Mill providing voice-over narration as expositional or plot wrap-up devices.  The Disney Channel only gave it 13 episodes before giving up on it.
BECAME THIS
NBC jumped on it, re-named it Saved by the Bell, switched the setting from Indiana to southern California, and the focus from the adults to the kids.  The only adult character to survive the transition was Principle Belding.  Zack, Screech, and Lisa were kept, but to replace Mikey and Nikki they added A.C. Slater (Mario Lopez) and Jessie Spano (Elizabeth Berkley).  Plus, they added cute cheerleader Kelly (Tiffani Amber-Thiessen).  It essentially became a different show that pretended like Good Morning, Miss Bliss had never happened.  None of the characters ever mentioned Mikey or Nikki or Mylo or even Miss Bliss nor did they in any way indicate they had once lived in Indiana.  Of course, collective amnesia was a common problem on Saved By the Bell.  Was there just a slow gas leak at that dang school - the same school they once discovered sat atop an oil field?
The Results: We were so excited, so excited, and then so scared as we watched Saved By the Bell as pre-teens only to discover that actual high school was NOT like the version on the show.  For one thing, we couldn't magically stop time to avoid being hit in the face.  The show ran for 4 seasons, spawned several films, a spin-off, and even an ill-fated continuation series: Saved By the Bell: The College Years.  To this day, Saved By the Bell is probably airing a re-run somewhere.  However, NBC included the Good Morning, Miss Bliss episodes with their Saved By the Bell re-run syndication deals meaning it's entirely common to see the last episode of Miss Bliss one day and the totally different Saved By the Bell pilot the next.
6) Baywatch Nights (1995-1997)
THIS
Hey, if David Hasselhoff and hot babes can save lives at the beach by day why not also fight crime by night?  Or so the thinking went behind Baywatch Nights.  Apparently, the regular Baywatch actually had an established police officer character named Sgt. Garner Ellerbee (Gregory Alan Williams).  You'd be forgiven for failing to notice as he was not one of the hot girls running in slow-motion while wearing tight, red spandex bathing suits (or hot, bare-chested guys for that matter).  Either way, in this spin-off Ellerbee set up a detective agency, and Hasselhoff's character and detective Ryan McBride (Angie Harmon, getting her first big acting break after a career as a fashion model) helped him fight street crime along with .  Along the way they added former Playboy Playmate Donna D'Errico to the cast.
BECAME THIS
Oh, Good Lord, what happened?  Well, no one watched the first season of Baywatch Nights as the producers seemed to fundamentally misunderstand that it was not the Baywatch brand nor Hasselhoff himself that inspired viewer loyalty but instead, again, half-naked men and women running in slow-motion.  So, they just tried to rip-off The X-Files.  Ellerbee was dropped from the show even though he founded the freakin' detective agency, and Hasselhoff, Harmon, and any poor soul still working on the show became paranormal investigators.  As one YouTube user put it:
Baywatch Lifeguard Mitch Buchanon fights aliens, vampires, voodoo witch doctors, sea monsters. On top of all this he is sent to other dimensions, time travels, and enters virtual reality games. All in the realm and world of Baywatch
Results: One season into its new X-Files era, Baywatch Nights was canceled.  Angie Harmon fled as fast as possible to the warm embrace of a multi-season run on Law & Order.  Donna D'Errico transitioned to the cast of Baywatch.
7) Sonny With a Chance/So Random! (Disney Channel, 2009-2012)
THIS
Tina Fey's 30 Rock and Aaron Sorkin's Studio 60 on the Sunset Strip aren't the only shows to  focus on the lives of the producers, writers, and actors behind and in front of the scenes of a sketch comedy show.  Disney Channel did it, too, with Sonny With a Chance in 2009, starring Demi Lovato as a small town girl who manages to land a role in her favorite sketch comedy show So Random!, effectively making So Random! a show-within-a-show.  This allowed plenty of opportunities for 30 Rock-style industry satire ('cuz that's what the teens love these days,right?) and meta-humor.
BECAME THIS
Lovato quit the show after two seasons and checked into rehab, taking a temporary break from the business altogether.  So, why not just continue the show with a different girl?  No, that would make too much sense (although Sonny's name being in the title was a challenge).  Instead, they just turned their show-within-a-show, So Random!, into an actual show, returning the exact same cast minus Lovato.  There were only a couple of times where they maintained Sonny's show-within-a-show format, i.e., offering quick behind the scenes glimpses at the fictional actors preparing for their scenes in So Random!.  For the most part, it was a straight-ahead sketch show with musical guest.
Results: Would you want to watch 30 Rock or TGS (The Girly Show), 30 Rock's show-within-a-show?  30 Rock, duh, because TGS just looked awful, as was always kind of the joke.  Well, Disney fans thought the same thing of So Random!, which was canceled after one season.  Disney considered it a spin-off as opposed to the same show as Sonny; viewers considered it confusing and unfunny.
Oh, there are more, so many more examples of shows which underwent crazy re-tooling.  Look for several follow-up lists in the future.  Until then, what do you think?  Are their show re-toolings you like?  Dislike?  Examples I failed to mention (keeping in mind there will be future lists)?  Let us know in the comments section.