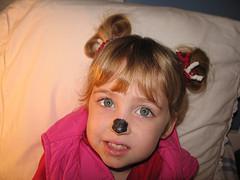 Image by clappstar via Flickr
Something came in the email that surprised me – and also made me smile – both criteria for sharing….
Uncertain if it's true – and it doesn't matter to me however when something comes in that surprises me – I stop for a moment and think – "Hmmm… new or re-new thinking – magnificent!"
Here is what came in… about reindeer – naturally since it's just before Christmas!
Both male and female reindeer shed and re-grow their antlers every year.  
Males drop their antlers at the beginning of winter, usually late November to early December. 
Female reindeer keep their antlers until after giving birth in the spring.
So…according to EVERY historical rendition depicting Santa's reindeer, EVERY single one of them, from Rudolph to Vixen, Comet to Blitzen, had to be a girl!
How's that for throwing off old thinking? What can you drop that which no longer serves  you?
Remember, you create your day by the way you think. Make it magnificent!
Blessings, Shawna