Hi folks! Sorry it took so long for me to write a post! I didn't have access to Blogger (or Google in general, for that matter) for a little while >_< But I'm back, and that's what counts, right? Anyways, today, I have for you the lovely Poppy from RBL's newest collection. I pre-ordered it way back when it was called a slightly different name (check out Ji's blog to find out why it changed) and got it a few days ago. I fell in love with this color the moment I took it out of its box. Pink microshimmer and larger gold shimmery flecks? Yes please!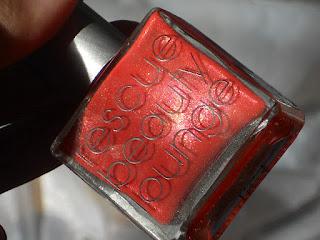 It's a beauty in the bottle, but the shimmery goodness unfortunately does not translate onto the nail. I can see the tiniest bit of shimmer if I bring my nails close to my face under bright sunlight, but most of the time, Poppy looks like a bright orange red creme. I do like polishes with hidden shimmer (Piu Mosso, Aqua Lily), but the shimmer in this polish is practically non existent when applied, which is a little disappointing.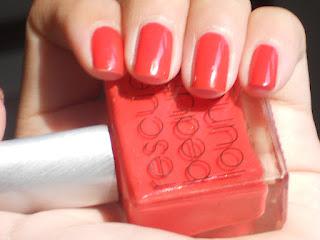 I used two coats for the pictures, though a careful application of one coat (wow I say that a lot) would probably work as well. Poppy is a glossy color, though I still used Poshe's topcoat to make it shinier. The formula for this polish was wonderful. There was no drag,  it dried very quickly, and there was no bubbling. RBL polishes are known for their great application, and this one is not an exception.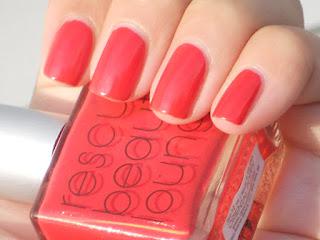 I was surprised by how unique this shade of orange red was. My other orange reds (OPI Guy Meets Gal-veston, Red My Fortune Cookie, Big Hair... Big Nails, Give Me A Coral Sometime, Essie E-nuf is E-nuf, Dior Merveille) all looked either faded or pinkish next to Poppy.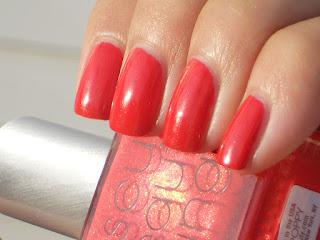 Red is my favorite color to put on my nails, so I really like this polish even though the shimmer is hard to discern. The fact that I don't have this shade of red in my collection makes me like it even more. Poppy has a great formula and is a lovely color, but the shimmer from the bottle isn't present on the nail. It costs $20 and is available here.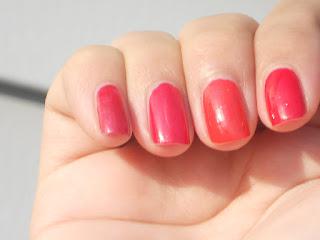 Left to right: Chanel Rouge Carat, Dior Merveille, RBL Poppy, Zoya SookiI'll end this post with a comparison of how different Poppy is from other reds. Rouge Carat is a cool red with pink shimmer (it's a darker color IRL),  Merveille is a warm orange red with gold shimmer, and Sooki is a neutral bright red creme. Poppy clearly has more orange in its tone than the other three colors. See what I mean, when I said that an orange red (Merveille) looks pink next to Poppy?