!!!!!!!
Words cannot describe my excitement when I found this in my package: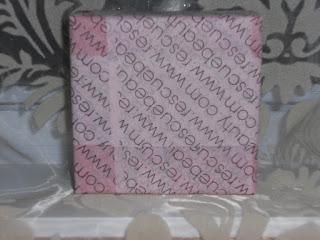 Whoever did the wrapping did a great job. It was almost too pretty to unwrap (almost).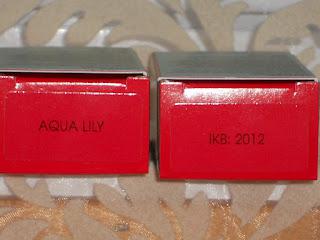 I only got these two.
I'll try and get pics of these in natural light ASAP.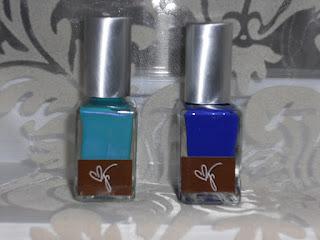 Isn't the sticker adorable?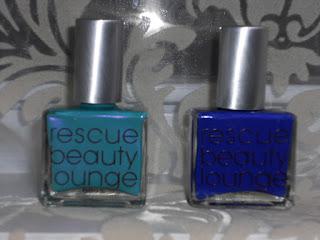 You can see a faint gleam of Aqua Lily's shimmer...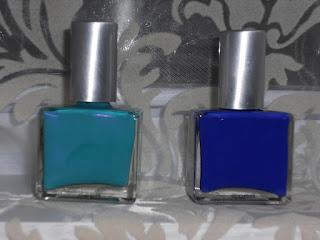 Warning: IKB 2012 is a true blurple (more purple IRL), not blue. Also, it's obnoxiously bright :D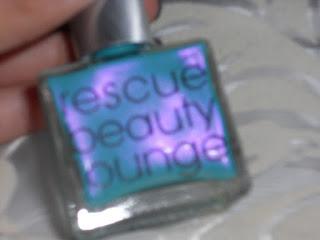 Blurry, in order to capture the shimmer. Drool...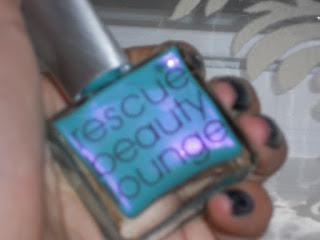 Once more! Look at that awesome shimmer!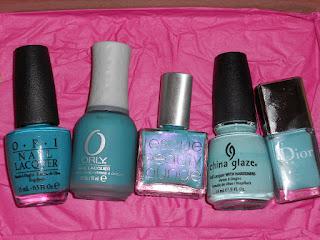 Comparison with similar shades! I am happy to say that Aqua Lilly is 100% unique, even if you don't take the shimmer into account.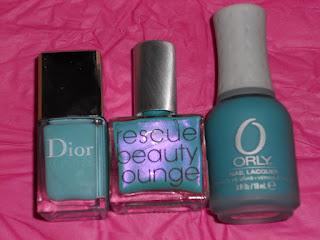 Dior Saint-Tropez is lighter, Orly Viridian Vinyl is darker and matte.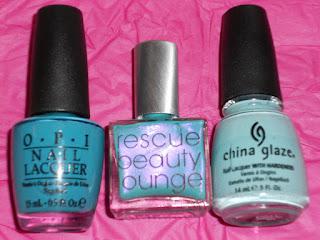 OPI Fly has more blue in it, China Glaze For Audrey is lighter and more minty.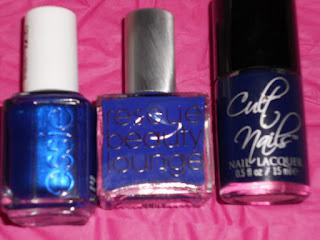 Essie Aruba Blue is metallic and more blue, Cult Nails Time Traveler is much darker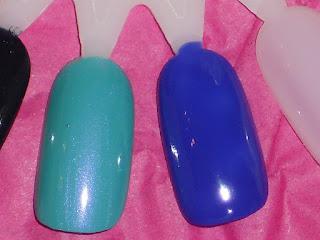 Swatched! You can see Aqua Lily's shimmer indoors. Again, IKB 2012 is more purple than it appears in these pics (opaque jelly!).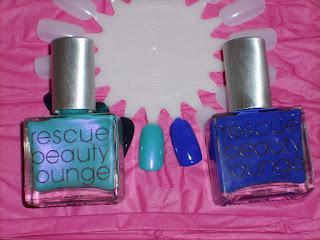 Last pic... All were taken with flash, indoors
These colors are amazing and unique. They are $20 each, and will be available at Rescue Beauty this coming Monday. 
Formula wise, IKB 2012 gave me some trouble as it is a little bit on the thick side. On the other hand, it's thickness allowed for it to be opaque in two coats. Personally, the finish of a nail polish trumps its application. If you are bothered by it, you can probably use some thinner to make the formula more fluid. I don't have Revlon Royal to compare it with, but they seem similar enough if you want to get this color without breaking the bank (Royal is 4.99, 1/5th the price of IKB).
Aqua Lily was great, I didn't experience any issues with it. It's not as glossy as IKB though, so a top coat is needed. Dupe wise, if you don't mind not having the shimmer, the comparison bottles above are pretty close to it (other than being slightly darker or light).