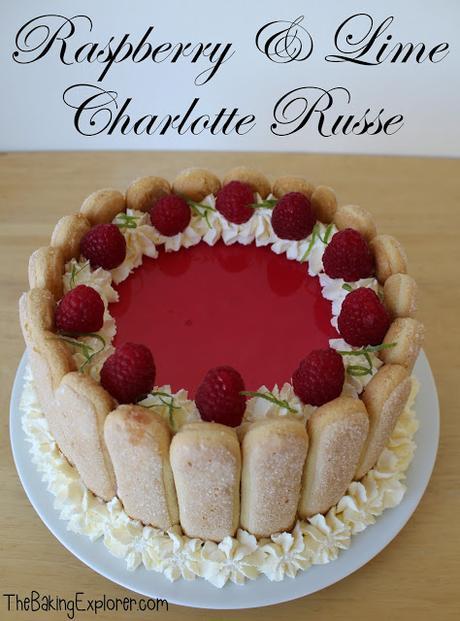 My week 7 review and bake is a bit late as I've been in Hong Kong for the past 2 weeks (more on my trip coming soon!) This week The Great British Bake Off changed up the theme again with a Victorian episode. They do love their history so I think this was a nice choice. The first challenge for the contestants was to make a raised game pie using hot water crust pastry. In the Victorian era, game pies were status symbols for the middle class. Mary expected to see an ornate pie with intricate decorations, and Paul wanted thin pastry all around.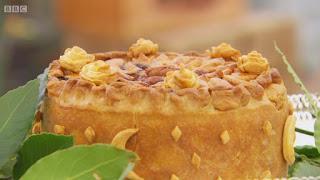 Image Source


Mat had a traditional pie tin from his friend's mom which dated back to 1850, his pie was filled with venison and pigeon. The judges loved the look of the pie and thought the meat was tender. Baker Paul used wild boar in his pie, but the judges thought it wasn't decorated well. To be honest I thought they were overly harsh on Baker Paul about the decoration element. Tamal did a middle eastern spice mix with rabbit, lamb and venison. The judges absolutely loved it and he even got a handshake from Paul! Nadiya went for an untraditional Chinese 5 spice mix with pheasant and duck. Paul loved the decoration on top, but both he and Mary thought the spices over powered the game.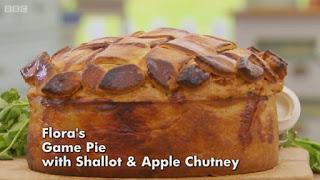 Image Source


Flora really emphasised her middle class background as she told us how she made a pheasant pie in school and won a competition with it. She went for lucky pheasant again along with pigeon and rabbit, but she had problems cooking the pie as she over filled it. Although it had caught a little, the judges liked both the pastry and filling. Ian revealed his roadkill eating passion, and his pie was filled with venison, partridge and guinea fowl. He also made a meat jelly to accompany it. Mary did not think his pie was decorated enough on the outside, but she loved the appearance of the layers of meat inside. He did well for flavours too.

Image Source


This week's technical challenge was a Tennis Cake. This is a rich fruit cake decorated with a royal icing tennis court. Mary noted that it was very important that the cake was baked as soon as possible to it had time to cool down. Paul noted that there were a lot of elements of the decoration that could easily go wrong!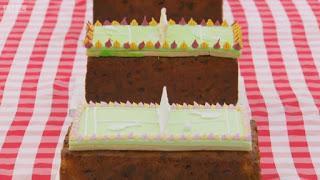 Image Source


They had to make all of the different types of icing - marzipan, royal icing and sugarpaste from scratch. Mat struggled with his sugarpaste and ended up with radioactive looking goop, he also baked his tennis court and net so they turned brown. Meanwhile, Nadiya couldn't remember what a tennis court looked like, but she was the only one to have an upright tennis net! Nadiya won the challenge with Paul 2nd, Tamal 3rd, Flora 4th and Ian 5th. Mat came last.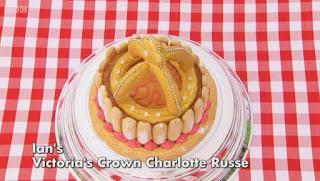 Image Source


This week's showstopper challenge was a Charlotte Russe, which is a mousse called bavarois and a jelly layer surrounded by ladyfingers. A structural nightmare to say the least! Mary said the most difficult element was getting the bavarois and jelly to set in time. I do mention this a lot, but I really think they should give them extra time for things to set as it really isn't under anyone's full control. Everyone was making the ladyfingers from scratch of course, and everyone except Tamal were using the ladyfinger sponge mix for the base of the dessert. Tamal used jelly as his base which really impressed the judges. He also decorated the ladyfingers with a chocolate swirl pattern.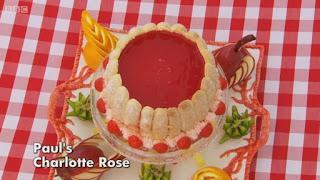 Image Source


Ian and Paul certainly had the most elaborate and impressive decorations. Ian made a 3D crown which was just fantastic! Mary thought it looked spectacular and Paul said it was purely magical. And Paul carved fruit into swans, but unfortunately his jelly was not set. Nadiya mixed italian meringue into her bavarois which was a recipe she learnt in school. The judges absolutely loved it as it was so light and creamy.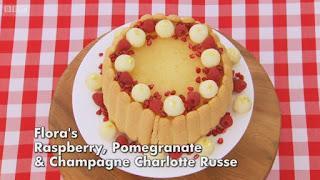 Image Source


Mat made a simply flavoured strawberry Charlotte Russe, but he had problems with the ladyfingers breaking and the jelly wasn't set. Flora flavoured her Russe with pomegranate, champagne, raspberry and white chocolate. Paul really didn't like the addition of pomegranate at all, but they liked the other flavours and the defined layers of the Russe.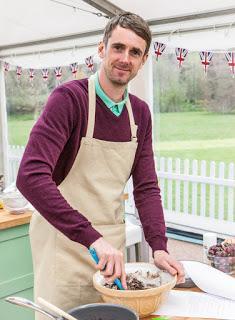 Image Source


Mat left us this week after coming last in the technical and delivering a disappointing Charlotte Russe. I was so sad to see him go! He's really funny and a brilliant baker of course. I think we'll definitely see more of him in the future. Tamal won star baker, and I was really pleased for him as I think he's deserved it in the past and I was glad he finally got it! Next week it's all about patisserie.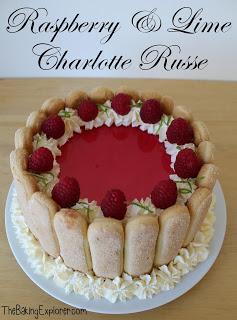 I decided to make the Charlotte Russe this week as the tennis cake looked incredibly fiddly and as we are a half-vegetarian household a game pie was not suitable. The Charlotte Russe is very similar to the Charlotte Royale which featured on the Bake Off in 2013. So I was a bit disappointed not be using any new techniques, but on the other hand I was really excited to make bavarois again as it's so delicious!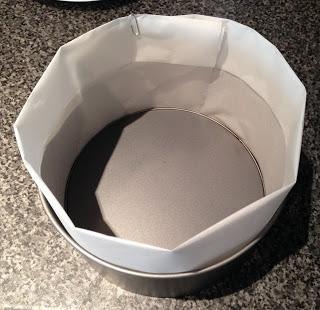 I prepared the tin by using a long piece of baking paper and folding it in half, then using it as a collar inside the cake tin. I secured it with a paper clip.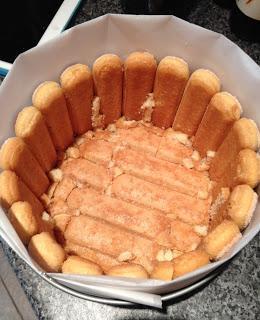 Lining the tin was the most fiddly part. I used shop bought lady fingers as they would be more sturdy. I started by covering the bottom and slowly building the side as I filled the bottom. This made sure the ladyfingers along the side were wedged in as I went - otherwise they just fell over. I dipped each ladyfinger for a couple of second in a mixture of 100ml sugar syrup (I used Fruiss Pure Cane Sugar Syrup) and 100ml Chambord - which is a black raspberry liquor. I really wedged it all in and filled in all of the gaps with cut up bits of ladyfingers, I was determined not to have any leakages!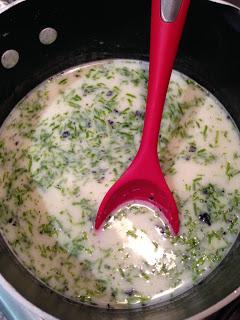 To make the lime bavarois I put 750ml whole milk, 250g granulated sugar, 1/2 tsp salt, the seeds from 1 vanilla pod and the zest of 2 limes into a pan. I heated it up to a simmer and until all of the sugar dissolved.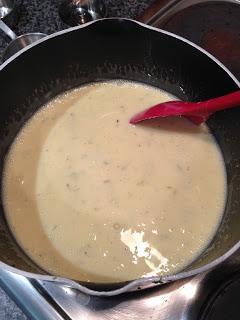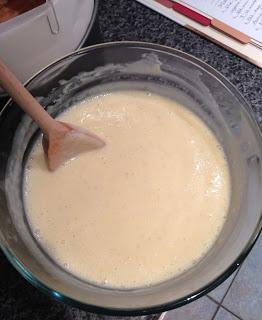 In a separate bowl I mixed up the yolks of 10 eggs. I poured the milk into the egg yolks slowly, stirring constantly. I poured the mixture back into the pan and heated it for about 5 minutes until it thickened up. I poured it through a sieve to remove the zest, then added 8 pre-soaked leaves of gelatin and the juice of 2 and a half limes. I stirred it until all the gelatin was dissolved, then popped it in the fridge for 30 minutes to cool.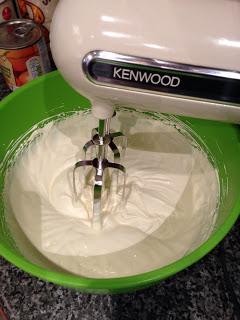 Once the custard was cool I whipped up 460ml double cream and mixed it into the custard.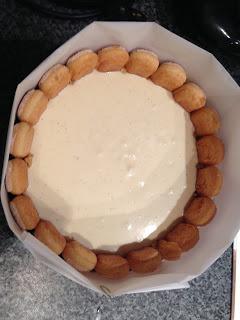 I poured it into the ladyfinger case and put it in the fridge to set. I left it in there overnight, but it set within about 2 hours.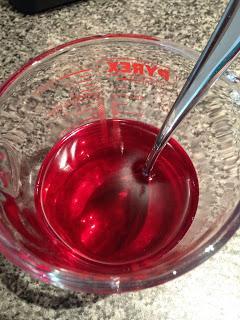 The next day I made some jelly using half a pack of Hartleys raspberry jelly. I added 2 tsp of Chambord to the mixture. I poured it on top, but I did have some problems with leakage. I decided not to fill it too much as it was leaking too much.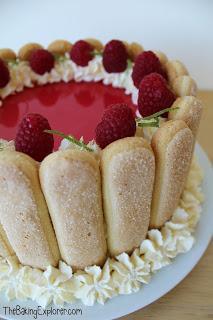 For the decoration I whipped up some cream, I didn't measure it but it was about 300ml. And I piped it using a star nozzle around the inside edge of the Russe, and around the outside at the bottom (this handily hid the leakage evidence!)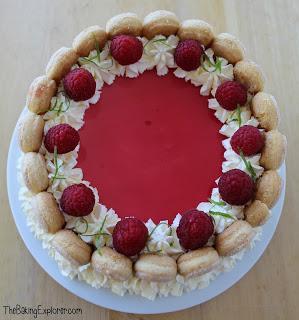 I added raspberries and lime zest on top and it was done! I was really pleased with the final apperance and look of it. I thought it looked really pretty! I haven't cut into it yet, but I tasted some of the bavarois while I was making it and it was so creamy and delicious. I can't wait to have a slice!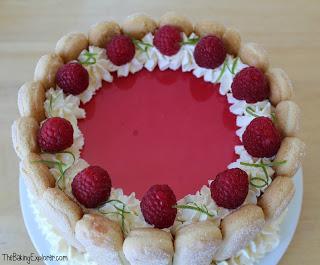 What did you think of this episode of The Great British Bake Off? Will you make any of the bakes? Let me know in the comments!
Recipe adapted from Chowhound.