Just in time for the holiday shopping season, Christie's New York has announced plans to auction a rare Christmas-red diamond. There are two factors that make this diamond so rare- its intense deep color and its very large size. While any red diamond is certainly rare, one as large as Christie's Christmas diamond is practically unheard of. Only one red diamond larger that a carat is known to be in existence. That diamond, known by the color name fancy dark red, is on display in the Smithsonian Institute in Washington D.C. A circular-cut diamond of 5.03 carats, it is part of the Smithsonian's permanent collection of rare gems.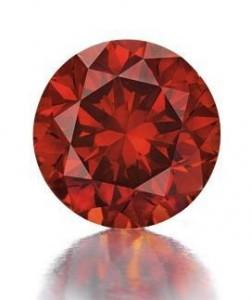 Christie's via Forbes
Because they are so rare, not much gemological information has been learned about how a red diamond is created. We do know that it is actually defects that occur during a diamond's formation that give it a red color. These are called crystal lattice defects. It should be noted that a red diamond does not resemble a traditionally red stone such as a ruby or garnet.
Christie's Christmas diamond, also circular-cut, is 3.15 carats. Its brilliant reddish-orange color and enormous size make it the Gemological Institute of America's only diamond of its kind to be graded. Highly polished and symmetrical, it is also the first such diamond ever to go up for auction. It will be the featured jewel at Christie's Magnificent Jewels sale on December 10. Its value is estimated to be as high as $1.2 million.
Do we have an opening bid?
Rebecca M for Raymond Lee Jewelers, South Florida's premiere source for buying and selling luxury watches and designer jewelry.