Its feels great and refreshing to start writing posts again after a sabbatical of 6-7 days since the Internet was down and I could not doing anything about it. It was so depressing and somehow I feel much relieved now after being back in action.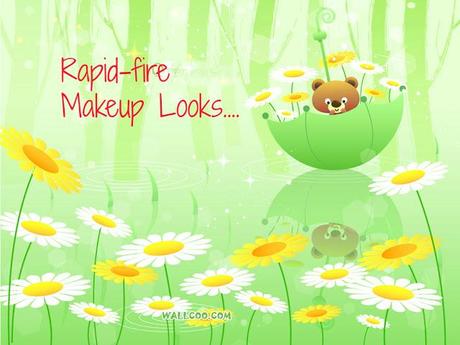 With Rapid Fire Makeups, its easy to sometimes sort out runway trends and to adapt it to the real world while suggesting the products that could do that job with ease. I always love doing these posts as they are the best and the easiest references to current fashion trends and who doesn't want to stay updated?
So lets have a look at what happens in the Rapid Fire Makeup post of today..... ANNA SUI - Fall 2013 Pat McGrath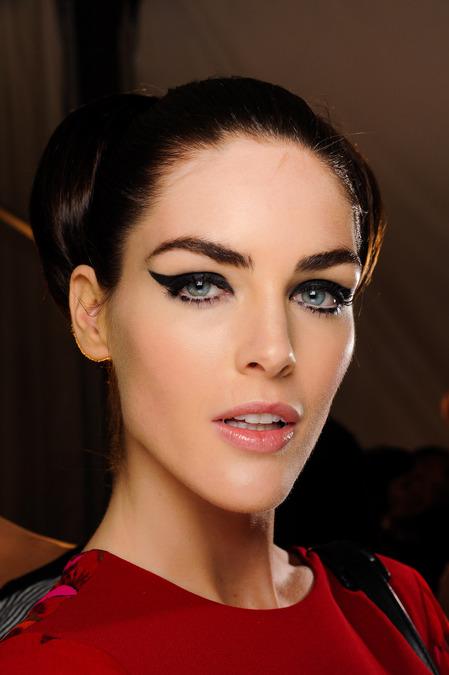 Retro-liners and Twiggy inspired makeups have always erupted on the runways here and there. There is always something new about it and every time there is a refreshing change to the entire look yet it is reminiscent of that era. This velvety glowing skin, flawless visage, barely there blush, lip balm on the lips and a dramatic eye is what makes this look so strong. One can slick on a gloss or a nude lipstick to add a touch of chic-ness to this look and a subtle contour wouldn't feel bad. Btw if you remember where you have seen this model, she is Hilary Rhoda, a supermodel who also does campaigns for Estee Lauder and is their spokesperson.
FACE
Guerlain Meteorites Les Perles Primer
YSL Le Teint Touche Eclat foundation
Clinique All About Eyes Concealer
Guerlain Les Violettes Translucent Loose Powder
Tarte Amazonian Clay 12 Hr blush in Blissful
NARS Multiple in Copacabana
EYES
Clinique All About Eyes Eyeshadow Primer
Clinique All About Eyes Eyeshadow Quad in Teddy Bear (Begin by highlighting the brow bone and inner corners with the matte Cream color, then contour ever so slightly with the mocha brown. You can choose various formulations according to your skin coloring too).
Maybelline Eye Studio Gel Liner ( apply a very thick line on the upper lids and stretch them out to a wing. To mimic long lashes on the lower lids, draw tiny dots of the gel liner spaced evenly from each other).
MAC Tinted Brow Gel for brows
Guerlain Cils D'Enfer Mascara in Black
MAC NC15/20 Chromatographic pencil (to get a wide eyed look).
LIPS
Guerlain Rouge G in Galia
Guerlain Maxi Shine Lipgloss in Praline Blop
DIANE VON FURSTENBERG Fall 2013 - James Kalliardos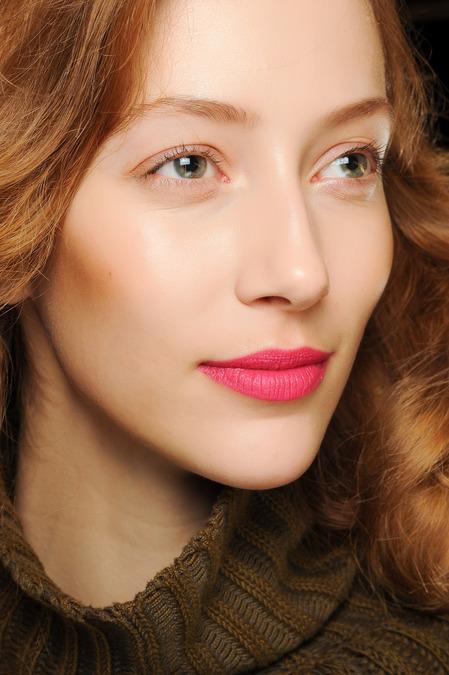 Though a lot of products used to create this look are not available, this look can be easily achieved from anything that we already have. This model Alana Zimmer is so stunningly beautiful and I have always loved her charming face. A fresh dewy skin, a subtly contoured face using cream contours and then this warm pink-coral mouth. So easy breezy and yet really warm and glowing for the Fall season.
FACE
Guerlain Lingerie De Peau Second Skin Foundation
Shiseido Natural Finish Creamy Concealer
Clinique Perfectly Real Compact Makeup (just in the under eye and the T zone)
Chanel Soleil De Tan Bronzing Base 
Guerlain Parure De Nuit Highlighter + blush
EYES
Clinique Chubby Tint for eyes in Bountiful beige
Urban Decay Eyeshadow in Anonymous (from the Vice Palette)
MAC Brow Gel
Yves Rocher Lash Plumping Mascara
LIPS
Kiehl's Lip Balm
NYX X-treme Lip Cream - Bonfire/Strawberry Jam/Spicy
These are 2 beautiful looks that conclude the article today. Hope you liked them. Do interpret them, do the looks and don't forget to share.....
Till then,
Ciao

Please do not copy any pictures or content of Beauty Traveller without prior permission. Thanks for reading my blog. I don't give 100% on the authenticity of the content here and it is subject to change without prior notice. Please read the disclaimer for any questions.Thanks a lot for reading my blog. Do subscribe, follow and support. Thanks.