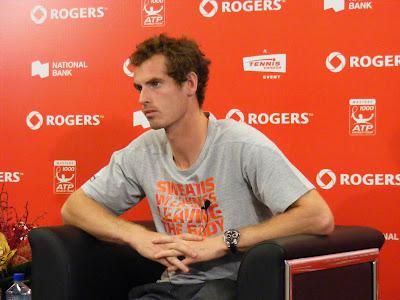 Andy Murray in his press conference on August 8, 2012
This is THE match to watch today. This might be the match of the tournament—depending on how things pan out and how many other top players lose based on Olympic fatigue (I'm talking to you Del Potro and Tsonga).
You've got Milos Raonic—the hometown favorite and Canada's highest ranked tennis player ever. And then you've got Andy Murray, the two-time Rogers Cup champion who is fresh (or not-so-fresh if you listen to the players talk about how exhausted they are) off his gold medal win in London.
On a regular day, where both players are at their best, the edge has to go to Murray. He knows how to win big matches in a way that Milos hasn't quite figured out yet. But, this is not a regular day, and I'm not sure that Andy's mind or body are up to putting in the kind of hard fight that might be necessary to take out Milos.
"I feel a bit sore in the joints and stuff a little bit," Murray said in his press conference on Wednesday. "I mean, I feel tired mentally. Yeah, I mean, haven't really slept much the last few days, so that's probably catching up with me a little bit."
Murray came to Toronto with the intent of getting in a few hard court matches under his belt before the U.S. Open—the last major event of the season and Murray's favorite slam. There should be no doubt that Murray will try his best to defeat Raonic tonight, but he certainly won't risk injury or exhaustion in order to win. On the other hand, Raonic still has a lot to prove and he must know that with so many of the top players missing from the tournament that this might be his best chance of winning a Masters series title for a long time.
I predict a close match with Raonic coming through in three sets. Let's just hope that the predicted rain for this evening holds off until after the match is finished.