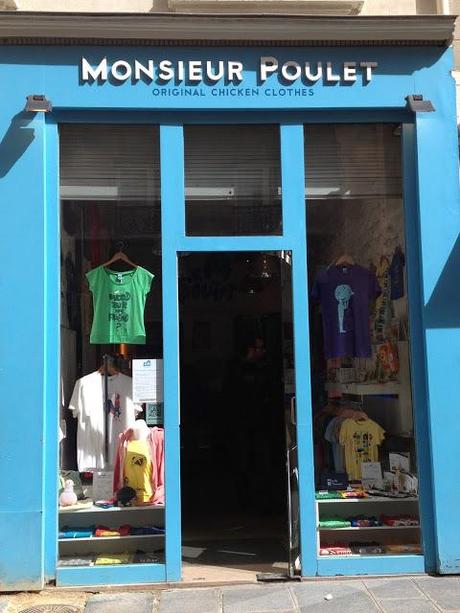 Clever t-shirt shop in the Marais, Paris, April 2012
1. GO-O-O-O-O-OAL!!!  I've finally hit my weight goal. It was mostly vanity that got me here, and mostly vanity that keeps me from trying to go any lower; I don't want my face to start looking haggard. But I also feel that I'm at a healthy medium, light enough that I have a more energy, but with enough "reserve" in case of illness. It took me a little over 3 months to drop about 12 pounds, and now comes the tricky bit of adjusting my intake for maintenance rather than reducing. The good news, and probably the best "side effect" of this endeavor is that I've cultivated and ingrained some seriously healthy eating habits without ever having felt deprived. I'll continue to track food and weigh weekly; maintaining this lower weight is important to me.
2. We've made progress with moving
jeune homme
to a non-public school that's better geared toward his cognitive level, interests and abilities. We brought him in for an interview with the school Principal yesterday, and were encouraged that the next steps to get him transferred may be able to happen quickly. The new school is at the same facility as the summer camp he attended last year, so it was familiar and he seemed comfortable there. He even wanted to stop on the way out and play basketball with one of the teachers. We've also been making adjustments to his medication to help reduce the physical aggression, and as of the last few days we're seeing some improvement, though still not totally free of incidents.
3. This is so cool...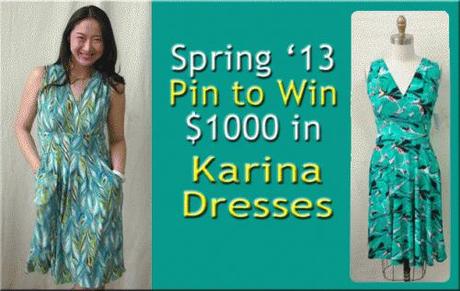 Karina Dresses
is giving away
$1000 worth
of their fabulous dresses in the Spring 13 Pin to Win contest! Click here for all the deets! They have some really lovely prints in the Spring collection, so don't miss this opportunity!
Bon weekend!
~
All original content property of http://www.unefemme.net This work is licensed under a Creative Commons Attribution-NonCommercial 3.0 United States License.