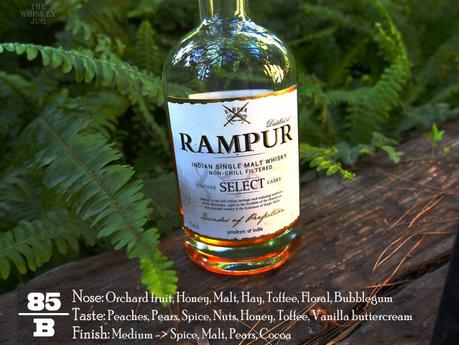 Rampur Indian Single Malt is a newish player in the Indian whiskey game and sits alongside Paul John and Amrut as the major names in the US market. The whisky is relatively new, but the distillery itself goes back to 1943 and is owned by Radico Khaitan; a major producer of alcoholic beverages in India. Aside from Rampur they make a selection of rum, vodka, brandy, "other" whisky and an RTD called Electra which has a flavor named Agent Orange…
In Rampur Distillery's Words: Rampur Indian Single Malt
"Rampur is distilled in traditional copper pot stills in the oldest distillery in India, dating from 1943 with 73 years of distillation expertise. The Himalayas provide polar opposite of climate conditions throughout the year with the flavor of the famous Indian Summer giving Rampur an added dimension and depth. Rampur is a non-chill filtered single malt, distilled and matured in the foothills of the Himalayas. As Indian whisky matures significantly more quickly than other whiskies such as Scotch and Irish whiskies, Rampur benefits from a smooth, mellow taste with a long lasting finish."
So we've established that Rampur Indian Single Malt doesn't come out of some random start-up distillery but is a new product from a distillery that's been making booze for a long time, but a single malt isn't a vodka. So how does it stack up against the other big names in the field? Let's dig into the Rampur Indian Single Malt and find out!
Rampur Indian Single Malt Info
Region: India
Distiller: Rampur Distillery
Mashbill: 100% Malted Barley
Cask: Various casks, the majority being ex-Bourbon
Age: NAS
ABV: 43%
Non-Chill Filtered | Natural Color
Price: ~$60*
Rampur Indian Single Malt Review
EYE
Gold
NOSE
Orchard fruit, honey, malty sweetness, hay, toffee and floral with a touch of bubblegum and cocoa.
PALATE
Peaches, pears, spice, nuts, honey, toffee and vanilla buttercream frosting with some bits of malt, cocoa and orange peel.
FINISH
Medium fade of spice, malt, pears and cocoa.
BALANCE, BODY & FEEL
Decent sense of balance, medium body and a soft light feel.
OVERALL
Rampur Indian Single Malt is balanced, flavorful, aromatic… it's just not wildly complex. It's a good solid single malt, and a heck of a representation for an entry malt, but could use some more time in oak or even different casks. By no means is that a dis, what they've achieved is remarkable and I've had age-stated Scotch at a similar proof that were far less exciting.
The Indian single malt field is pretty narrow at the moment, but they're in good company and it'll be interesting to see how the Rampur Indian Single Malt continues to grow and change over the coming years. They're off to a good start and I hope they continue to produce great stuff while building out their lineup.
SCORE: 85/100 (B)
*Disclosure: This Rampur Indian Single Malt was graciously sent to me by the company for the purposes of this review. The views, opinions, and tasting notes are 100% my own.