This post has been in my head for the past couple of weeks and so i'm finally getting it down on paper (it's not paper though is it?). On Sunday 14th April the #psbloggerschat was about plus size celebrities, and I found it a quiet chat in comparison to other weeks.
I believe it was a quiet chat because the amount of fat female celebrities is very few, especially if you're looking for fat positive celebrities. Many of the plus size celebrities we see in the media have a focus on their weight and often on dieting, Gemma Collins is well known for being in the media and saying she's happy being fat but then a few weeks down the line she's at a boot camp trying to lose weight. Some fat people will be able to relate really well because they are in the same place that she is, but for many of us fat positive bloggers it's not what we're looking for because it's what we used to be rather than what we want to be. I know for my that that's how I see it, I no longer want to lose weight to be slim so that I can be happy, I am going to be happy while being fat because I deserve to be happy.
I think in the fat community as a whole there is a divide, there are the fat positive people who are embracing being fat, they're the people wearing the clothes they want to wear and trying not to get bogged down by the hate they get for being fat. On the other side of the coin there are also many people who want to hide away because they aren't happy being fat and I think these are the people that are most likely to look up to the fat people that our gossip magazines feature. I'm not saying it's a bad thing that people look up to these celebrities, we are probably more drawn to the ones that we can relate with most.
When the chat was on the first fat celeb I thought of was Beth Ditto, someone who I'm sure we're all very familiar with. She doesn't hide that she's fat and she doesn't let it define her, she's fat but she can do all of these awesome things because she wants to. She wears awesome clothes that are sometimes quite loud, and she also did a fab clothing range with Evans, which is still much loved today. I often see pieces popping up on blogs and people are still looking out for pieces in blog sales and on eBay to add to their collections.
Another fabulous fat positive celeb is Tess Munster, I 'forgot' about her until towards the end of the chat which is to say I didn't really forget. I just don't see her as a celebrity, I think of her as being one of us, maybe it's because I follow her on Twitter, and Instagram, I read her blog, and like her Facebook page. I love Tess because she's not lying to us about being happy being fat, she's not going to turn round and be at boot camp in a couple of weeks. She's not letting being fat define her in a way that means she should hide herself away, in fact she's putting herself out there and being an inspiration to many women, not just fat women. She's an honest woman and doesn't hide the fact that she has her bad days like we all do, she chooses what parts of herself to put out to her fans but she's not just showing the happy Tess, she's showing that she is just like us, and is one of us. I'll will admit though, I am completely jealous of her gorgeous boyfriend!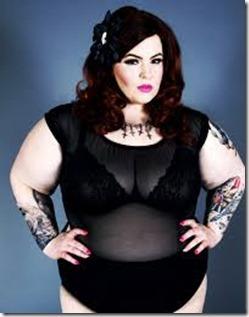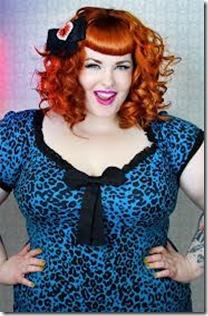 And of course where would we be without some gorgeous pictures of the lady herself!
I would have to say that Tess is my favorite fat celeb, because I can relate to what she shares. I don't have a child or a boyfriend, but i'm fat and i'm happy being fat. I'll have my favorite food when I want it, i'm not going to deny myself because I need to lose so much weight first. Through blogging and the fat positive community I have become much happier being fat and I could now never imagine not being fat, and although I am losing weight for my PCOS I don't want to drop below a size 16 and ideally i'd like to be a size 18.
There are of course many other fat and fat positive celebs, and i'm not discounting them at all, but they aren't the ones that I relate to.
Tink x