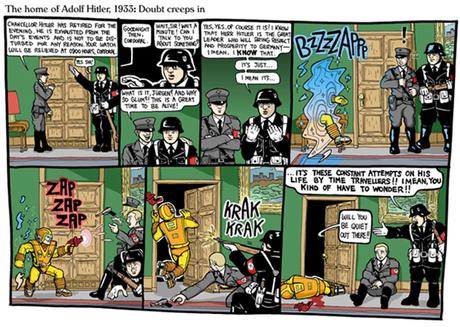 Anyone writing time travel sooner or later trips over the trope of Going Back In Time To Kill Hitler - I did while procrastinating researching Time Rats 3. It's a fascinating topic that raises lots of questions. For instance, why is it always Hitler? If you were going to kill an evil dictator because of all the deaths he caused, Mao Zedong and Stalin should be first in the queue. They were responsible for a total of 100 million deaths to Hitler's 30 million. You can see a list of evil dictators

here

 in order with photographs - and what a vile and unattractive bunch of men they are.
I'm slightly irked by the commonplace delusion that just because you've gone back in time, that somehow gives you access to historical figures. If you can't get to chat with the Dalai Lama, Teresa May or Barack Obama in 2016, why would you expect to get anywhere near famous people in historical times? (Socrates and Jesus are probably the exceptions here. They were both renowned for talking to ordinary people.) Once he reached power, 
Hitler survived 42 known assassination attempts, so was not an easy target. 
If you sensibly decided it would be simpler to kill Hitler before he was famous, you've still got to find him. At the very least, you'd need to learn German. Training as a sniper would be useful.As to the morality of killing to save life, have a go at this

Moral Machine questionnaire

about the choices a driverless car might need to make. In various scenarios, you choose from a series of alternatives which group the car should plow into given a choice. My results showed that I favoured fit human females over everyone else. That'll be the offspring. Cats didn't figure - I turned out to be far more ready to sacrifice cats than most people. My reasoning was that cats don't have relatives whose lives would be ruined by their death. See how you do.