Renault GCC, the fastest growing automotive brand in the region, has a new marketing tactic to improve sales by announcing the launch of its 'Ramadan in Words' contest. The contest marks the importance of the Holy Month and offers the opportunity to all GCC residents to capture in their own words the essence of Ramadan.
The Ramadan in Words Renault contest will require participants to log on to Facebook, choose the Renault they would like to buy and share their thoughts or poems that best capture the essence of this month. Currently they has over 31,000 fans, all posts will be displayed on an interactive eWall giving participants and Renault the opportunity to connect during the auspicious month.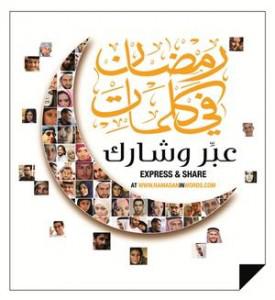 The contest will run throughout the Holy Month of Ramadan and is open to all GCC nationals and residents aged 18-years and over. At the end of Ramadan, a jury from Renault GCC will select two entries that best capture the essence this month. Renault will reward the winners with a $4,000 discount on the Renault car of their choice plus a brand new iPad2 [16GW, Wifi].
Benoit Turibe, Marketing Director, Renault GCC, said: "As Ramadan is the month of sharing and as poetry is very important in the region, we wanted to develop a people-centric contest that allows us to communicate in a way that is in tune with the spirit of the month. In terms of the Facebook competition, digital is today 100% part of our strategy and we are keen to innovate in this direction.
Renault is looking to use Ramadan to continue its rapid regional growth and is asking GCC residents to capture in their own words the essence of the Holy Month.
About Renault
Renault claims it is the fastest growing automotive brand in the region, with 256% growth at the end of Q2 2011compared to the same period in 2010.
However, according to a report carried by Car Middle East, things aren't quite so rosy for the region's car manufacturers.
According to independent market analyst, Autodata Middle East, new car sales for the period June and July are down 'between 30-50%'. In his monthly report, Bill Carter, head of valuations, said: 'If the new and used car markets were depressed in June then July was even worse.'
He goes on to report than one industry contact said: 'The market is on its knees' when describing the level of trading for the month.
The report also says that "at the end of Q1 2011 all the main players in the industry were reporting increases in new car sales of between 10-33%. The press reports were indicating that the number of new cars registered in Dubai would rise about 12% over 2010. This would mean a total of 205,250."