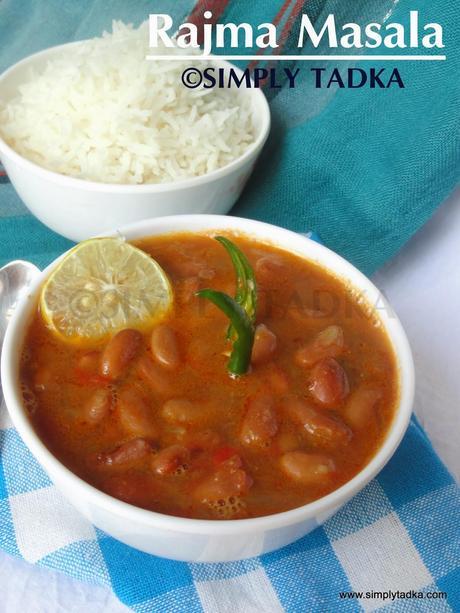 Today I wanna share "Rajma Masala with Steam Rice" under combo theme, which makes me hungry any time. Rajma masala is one of popular gravy from Punjabi cuisine. Rajma cooked until too soft and mashy, which easy to melt in mouth and serves with jeera rice in Punjab.
Kidney beans are rich source in proteins and nutrition. You have to soak the beans in the water for overnight and then cook in pressure cooker and add onion and tomatoes masala for thick gravy. You can serve rajma masala with rice or chapatti both. Rajma Rice is my 
favorite
 combo which I can eat anytime without thinking.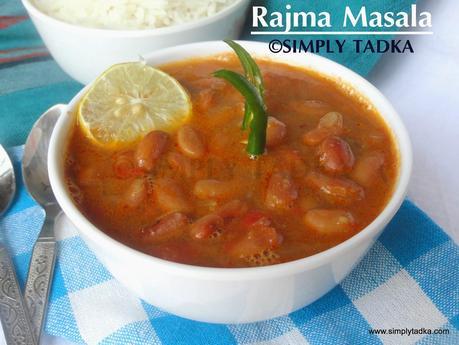 Preparation Time: 25 Minutes
Cooking Time: 35 Minutes
Servings: 4
Category: Gravies
Ingredients:
1 Cup Red Kidney Beans
2 Onions, chopped
3 Tomatoes, fine puree
2 Tsp. Ginger-Chili Paste
2 Tbsp. Green Coriander, chopped
1/2 Tsp. Red Chili Powder
Salt to taste
1/2 Tsp. Turmeric powder
1 Tbsp. Coriander Powder
1/2 Tsp. Garam Masala
2 Bay leaves
1 Tsp. Cumin Seeds
Pinch of Asafoetida
2 Tbsp. Ghee/ Oil
Instructions:
Wash and soak the beans in the 3-4 Cup water overnight.
Boil the beans with same water and little salt until to 5-6 whistles in pressure cooker.
Heat the oil in the pan and add bay leaves, cumin seeds and asafoetida.
When they starts splutter, add ginger-chili paste and onion, sauté until to golden brown. Add tomatoes and sauté until the oil separates.
Add red chili, coriander powder, turmeric, garam masala and mix well. Cook until the oil separates.
Add the cooked beans along with water, salt and mix well. Cover and cook until to 2-3 whistles.
Garnish with chopped green coriander and serve with rice.
For Rice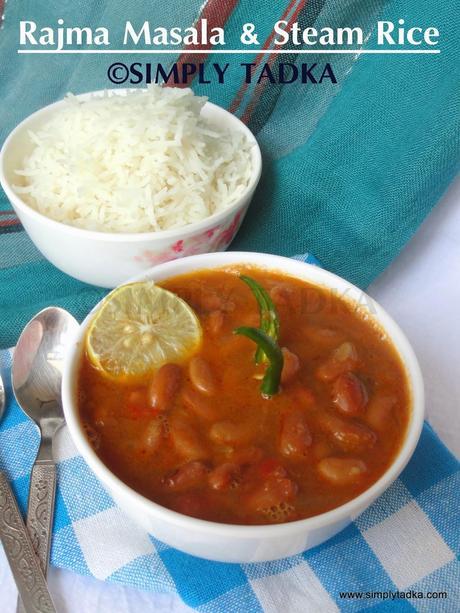 Steam Rice
Blogging Marathon page for the other Blogging Marathoners doing BM#33
Enter your email address:
Delivered by
FeedBurner