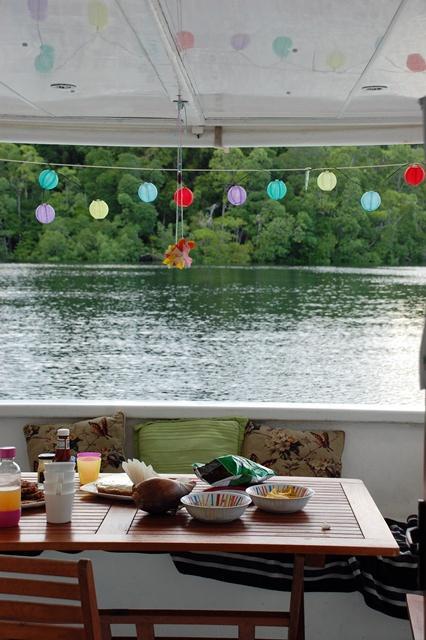 We move on from our teacup anchorage to find one more spot for a last hurrah with Nalukai and Muscat. There's a sweet collection of islands just a few miles north, and since there's not enough wind to sail, everyone is happy to minimize the motoring distance.
Pulau Pef turns out to be a lot less friendly than the impression we were given by their pretty photos in the Raja Ampat tourist office. For the privilege of one night anchoring off their island (not using a mooring they have installed, not going ashore, not using resort facilities) they want 25 euros per person. On our boat, that's more than the cost of an annual pass to Raja Ampat- for one night! It might happen in some parts of the world (Caribbean?), but here, it's very unusual. The vibe from the Swiss fellow on shore is pretty clear: we're not wanted there. It's too late to change anchorages, so we decide just to leave in the morning and make the most of it.
We'll part ways the next day, so it's time for a little celebrating. Muscat hosts, and is decked with party lights.
Skits have been in the works: the children have been practicing a Monty Python routine, but lose their nerve. It's hard to do anything when you are giggling hard! Nalukai treats us to the Time Warp dance (this is a family night, so Jeremy has kept his costume at an appropriate G rated level).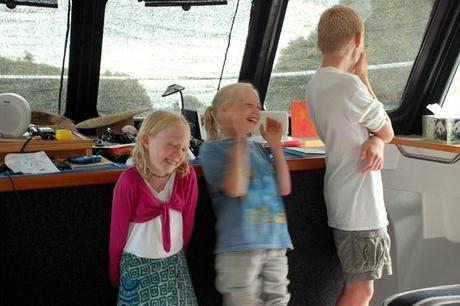 It's a beautiful evening, one we thoroughly enjoy despite the sorrow at saying goodbye to our friends. They are heading towards the Philippines, and we're headed back to Sorong (to pick up Dan) and then on through Indonesia. We'll catch up again this year... Malaysia? Thailand? Not sure where, but confident that it will happen.