Curbless showers remove barriers in your bathroom to create a seamless flow throughout the entire space. Typical bathrooms have a curb that is 3-6 inches. This places a hurdle in your path every time you have to jump in and out of the shower. For this reason, curbless showers has been particularly useful for aging generations.
Integrating a curbless shower into your bathroom remodel can be a small detail that makes a tremendous difference. Unobstructed lines follow modern trends with clean and crisp linear accents that emphasize the geometry of the room.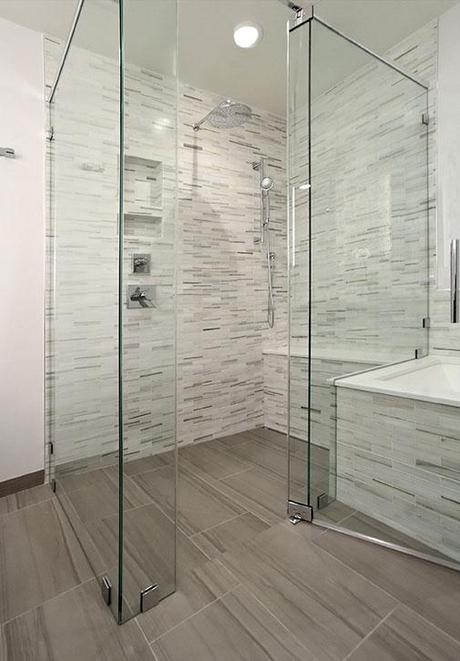 Images via Pinterest.
Curbless Shower Designs
Curbless showers are popular in modern bathroom designs that accept simplicity as beauty. These contemporary showers must be larger than typical showers because they necessitate a splash zone that is big enough to thwart water towards the drain. This is especially important in European Wet Rooms. Pitting the flooring and the placement of your shower head can have a large effect on the size of your splash zone.
Some homeowners prefer the unobstructed view of open showers that do not have glass walls as seen in traditional showers. This creates a clear line of sight that can make a small bathroom look bigger. Curbless showers make the entire room feel as one instead of segmenting each area of the room into thirds.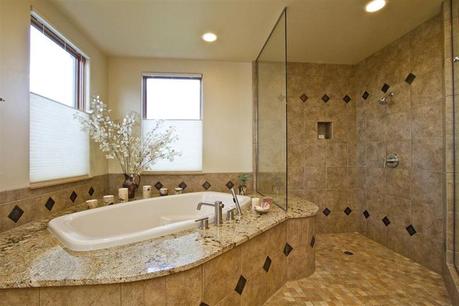 Common Features of Curbless Showers
Curbless showers necessitate pitched floors that can usher water toward the drain without issue. Sitting water can create problems with mold and mildew. Sometimes, the shower floor is actually receded just an inch or two to help contain water as well.
Teak, bamboo, and other decks are used because of their ability to handle water and moisture well. You can complement your curbless shower with a linear drain that follows the seamless pattern that is created by this unique design.
Curbless showers go well with other luxury remodeling updates like radiant heating floors that warm up your toes in a matter of seconds. Just another way in which the bathroom is becoming a focal point in the home. See how these lavish bathrooms are making a statement.
Aging in Place
Curbless showers can be a great solution for those who are Aging in Place. Check out these Safety tips for Seniors to help protect your loved ones. When you get older, simple things like getting in and out of the shower can become a struggle. Curbless showers eliminate a serious tripping hazard while improving the overall look and feel of your bathroom.
As a general rule of thumb, it's best if you keep one bathtub in your home. Recent surveys have found that homeowners are opting for Master Suite's that feature a walk-in shower enclosure. The bathtub/shower combination creates a raised shoulder (14 inches tall) that makes it a hassle every time you wash up.
Curbless showers can be a viable bath remodeling option for several reasons. Not only are they forward thinking, they make daily activities easier. They have an expansive effect on the size of the room and are trending among many homeowners. Curbless showers will continue to be quite popular over the next few decades so homeowners shouldn't worry about installing something that will quickly lose taste.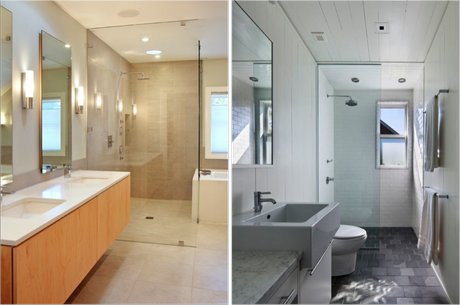 Image via Lovely Happenings.
Tradewinds Imports.com is your source for unique bathroom vanities. Cash in on 20-40% off Savings during our Inventory Reduction Sale! Southern California residents are welcome to stop by our Showroom at the address listed below.
Tradewinds Imports
4122 Sorrento Valley Blvd #107B
San Diego CA 92121
1-888-900-0477
About this Post
Cheryl Khan is an interior designer who finds a deeper understanding of concepts, styles, textures, and tones through writing. She often finds that being able to articulate these styles can often lead one to become more in tune with the shifts in the latest design trends.