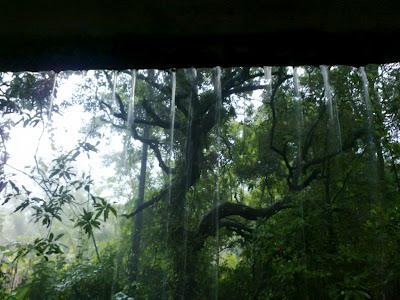 "How is the rainy season at office?"… When one of my colleagues in my previous office asked me, I sensed the rain at each place differs a lot! In other words, it is not the shower that makes a variation, but the feeling and scenes of how raindrops start the journey from sky to earth creates the magic. Rain has always been a part of my writing. Listening to the simple music of drizzle makes my words poetic. Some nights I wake up hearing the murmur of rain and tiny insects singing aloud. Earlier a valuable reader and supporter of my blog requested me not to go behind the beauty of nature too much. He says the cool and lovely environment can make any human go mad. He himself is a devotee of nature. Though he told it in a light manner, what he said is absolutely right! If you gaze nature for many hours, you'll feel that you are being absorbed by Mother Earth.Well! The introduction itself went too long. Just because it is rain, I couldn't stop myself. Instead of my usual procedure of listening light melodies, this time nature sings for me. It is raining here in God's Own Country! Check out Google Images and you'll see how wonderful Kerala is when it rains. When I surf through social media, all I could read is about the magnificence and nostalgia of autumn. Hmm…! Nostalgia, which is a word I like and use more! So here starts my journey through the Monsoon!!!
Illam:
Illam or my ancestral home has an inner courtyard named nalukettu! I would say rain falling from the roof to the square ground is the most marvelous scene of Monsoon that I had ever seen and experienced.
Nilambur:
It is the village I had spend my childhood. For people from Nilambur especially residents near the river, this season is something they fear. Chaliyar River in the village turns violent during that time taking away many lives every year. In my school days, we love rain for the same reason as authorities will declare holidays when it downpour heavily.
Kannur:
This northern district of Kerala is where my mom was born. Journey to my mother's home is really special for me. Chandni, my grand parents' house had an exceptional charm during the rain. I and my little sister Jyothi used to make paper boats to keep in the flowing rain water. My grandma made us yummy food. When I wrote a few lines, I go straight to my grandpa to show it to him. His appreciations encouraged me to write more. Finally after a few months of grand father's death, my grandmother passed away on a day with heavy rain.
Thrissur:
I did my degree in this district. Floods are common here and we got many holidays in rainy seasons. More than the college days, the journeys on weekend to my home in the rain are really special. I always sat on the side seat without closing the windows. It was on one of these journeys I got a topic to write for my college magazine. That article made me a famous creature in my campus! Whenever I go to Thrissur, the place had gifted a good shower along with lots of memories. Since, lettering all the memoirs of autumn that this district and natives gave me will make me speechless and may force me to end this post without taking it further, let me move to next place.

Ettimadai:
Ettimadai is a small village in Coimbatore where I did my post graduation. Though I did not enjoy the campus life much there, the place is awesome. Elephant hill and campus become so lovely when it rains. From here, I learned to share my emotions with raindrops. Rain at Ettimadai saw my smile, tears and anger. Since it is a hot place, students will dance in rain. I still remember my hostel warden telling me helplessly, "What to do! No one will listen to us. All will go out when it rains and become sick."! Hauling in the rain with Meenakshi, a few walks, dreaming for no reason… Memories never fade!
Kozhikode:
Writing articles sitting inside the air conditioned office made me think that I am going to miss the beauty of seasons. Later I realized that rain can be enjoyed sitting inside as well as outside. Having hot coffee and snacks, fights, pizza treats and conversations with my brother (foreigners can spell it as 'cousin') Appu and family… Kozhikode also gave me some reminiscences to cherish!
Wandoor:
Finally, back home I enjoy showers that come down ferociously at times with thunder and rain. Inside my room, under my red blanket I hibernate on rainy nights! The pond nearby my home becomes full and fresh once it rain. It tempts me to dive into it like a golden fish. Vacationwith cousins/brothers-sisters and rain is a perfect combo!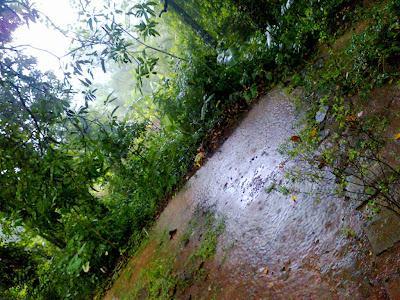 Usually I like to travel during Monsoon. This time I am going to miss that! Many more to write…! But it is already too long. I don't want to make anyone feel bored. Let it rain and wash all your worries and problems. Enjoy the cloudburst!
(Pics are taken by me only and if you find it good, you can use it. 
I will be so happy if you give a backlink to village girl's blog)