I have had a really happy, busy, day – despite the rain.
Two weeks tomorrow, Daughter #2 is getting married.  Although there is just under 2 years difference in age between my girls, there has been 10 years between the weddings.   The wedding day for Daughter #1 was a marvelous day and she looked beautiful and glowing.  The reception was held in Bristol Zoo.  We had the zoo to ourselves between the reception and the evening party, which went down very well with the guests.
Daughter #2 and her fiance, have planned the day themselves and it's been a great honor to have been involved along the way to bounce ideas off.  It is very much their wedding, planned with fun in mind, and in keeping with the great couple they are.  It is a going to be a wonderful happy Wedding Day by the Seaside.
Today, I went with her for the final fitting of her wedding dress – a creation in silk!  I am busting to tell you all about our day, but it would also mean I will be spilling the beans and spoiling the surprise.   I will have to control myself until after The Day, then I can tell all.  I can say that I have been taught how to fit her dress properly.   Now that is some responsibility, isn't it?!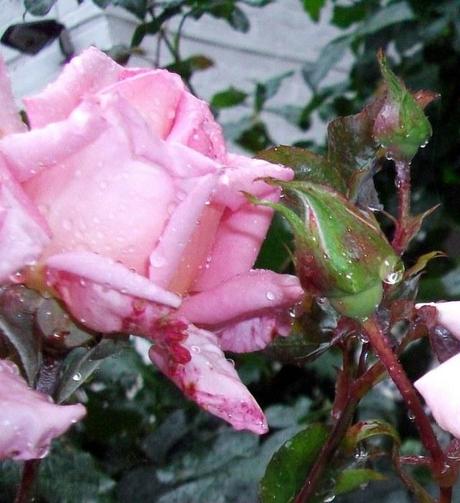 So, with the urge to write something, in view of the deluge of rain we have had today, I thought I would write a blog post about raindrops on the roses.
After wishing so long for rain in the unseasonably dry last few months, West Sussex is now in receipt of the rain we have been missing out on, but why does it all have to come down in one day?  It is coming down in stair rods and has done all day.  So much so that my water butt is overflowing, and flooding the patio.  I have had to disconnect the pipe into the butt from the downpipe.  At this point some of you will realize that when the connection was put in, it was not done correctly, because if it was, once the butt was full the rain would just continue down the pipe.
I am still very much a learner when it comes to taking macro photographs and really want to learn how to take a photo of raindrops with a reflection on them.  I have seen other photos and they always look so stunning.   Practice makes perfect, so with the rain pouring off the hem of my waterproof and having to keep shaking the drops off my camera, I snapped away.   I am not happy with the end product but its a start and hopefully in the future, I will publish the elusive raindrop photo.  In the meantime, you get the picture though… raindrops on roses!