Heavy Rain on Saturday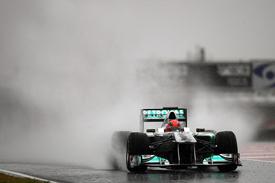 Michael Schumacher in Heavy Rain Conditions
in Barcelona on Final Day of Testing
Steadily and heavily pouring rain prevented Ferrari, McLaren, Mercedes and Williams from conducting serious test runs on the final day of pre-season testing on the Circuit de Catalunya.
In the morning the track was just to wet to perform serious runs and it was not before lunch break that the rain eased a little bit. After only installation laps in the morning session, Lewis Hamilton, Nico Rosberg and Pastor Maldonado completed a series of laps in the afternoon on the wet track. Fernando Alonso with his Ferrari did only some installation laps on Saturday, as did Michael Schumacher, who then handed the car over to Nico Rosberg.
At the very end of the afternoon session there was a showdown for the quickest lap of the day with Hamilton, Maldonado and Rosberg exchanging fastest laps with each passing minute. Eventually Rosberg got the upper hand with a 1:43.814, half a second clear of Pastor Maldonado and 7 tenths clear of Hamilton.
Hispania still has not been able to get all parts of the car to the Barcelona racetrack and therefore have to head to Melbourne with no miles under the belt. Similar to last year, the first practice session of the first race in Australia on 25 March will also be their first ever test run.
All teams will now travel to Australia for the season opener in Melbourne, where the first practice session will take place on Friday, 25 March.
The wet conditions also made sure that the final result of testing remains unchanged, below you find all drivers with their best lap times over the course of this week in Barcelona.
Saturday's final results:

  Pos. Driver Nat. Team Time Gap
  1 Nico Rosberg German Mercedes 1:43.814  
  2 Pastor Maldonado Venezuelan Williams 1:44.333 +0.519
  3 Lewis Hamilton British McLaren 1:44.560 +0.746
Combined Results of Final Test in Barcelona from 8-12 March:
The column "Day" shows on which day of testing the driver has marked his best lap time, testing was conducted from Tuesday to Saturday.
  Pos. Driver Nat. Team Time Gap Day
  1 Michael Schumacher German Mercedes 1:21.249   Fri
  2 Fernando Alonso Spanish Ferrari 1:21.614 +0.365 Fri
  3 Sergio Perez Mexican Sauber 1:21.761 +0.512 Thu
  4 Nico Rosberg German Mercedes 1:21.788 +0.539 Fri
  5 Sebastian Vettel German Red Bull 1:21.865 +0.616 Wed
  6 Nick Heidfeld German Lotus Renault 1:22.073 +0.824 Fri
  7 Felipe Massa Brazilian Ferrari 1:22.092 +0.843 Thu
  8 Rubens Barrichello Brazilian Williams 1:22.233 +0.984 Fri
  9 Kamui Kobayashi Japanese Sauber 1:22.315 +1.066 Fri
  10 Sebastien Buemi Swiss Toro Rosso 1:22.396 +1.147 Wed
  11 Mark Webber Australian Red Bull 1:22.466 +1.217 Thu
  12 Vitaly Petrov Russian Lotus Renault 1:22.670 +1.421 Wed
  13 Jaime Alguersuari Spanish Toro Rosso 1:22.675 +1.426 Fri
  14 Lewis Hamilton British McLaren 1:22.888 +1.639 Wed
  15 Jenson Button British McLaren 1:22.910 +1.661 Tue
  16 Heikki Kovalainen Finnish Team Lotus 1:23.437 +2.188 Fri
  17 Paul di Resta Scottish Force India 1:23.653 +2.404 Fri
  18 Adrian Sutil German Force India 1:23.921 +2.672 Fri
  19 Pastor Maldonado Venezuelan Williams 1:24.108 +2.859 Fri
  20 Davide Valsecchi Italian Team Lotus 1:25.406 +4.157 Tue
  21 Nico H체lkenberg German Force India 1:26.030 +4.781 Tue
  22 Jarno Trulli Italian Team Lotus 1:26.090 +4.841 Wed
  23 Luiz Razia Brazilian Team Lotus 1:26.723 +5.474 Tue
  24 Jerome D'Ambrosio Belgian Virgin 1:27.336 +6.087 Thu