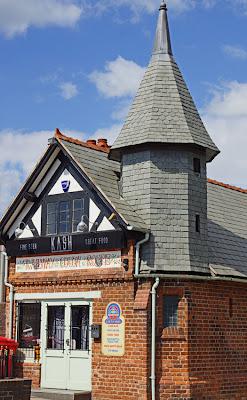 As I waited for my train at Chester, I passed the time with a cup of coffee. A century or so ago, I might have chosen hot chocolate instead - just along Brook Street at the charming Railway Cocoa Rooms. Today they have been transformed into a bar, which we will see to be somewhat ironic; however, their charming signs remain. 



The building dates from 1880. An advertisement from the late nineteenth century shows that it was one of four establishments owned by the Chester Cocoa House Company (Limited). Not only that, but they opened from 5am until 11pm. The latter feature is a clue to the purpose behind the business: cocoa rooms were intended as temperance alternatives to the pub for working people. Sensibly perhaps, the Chester company did not rely solely upon thirsty working men for custom but also emphasised its availability for 'picnic and school parties ... with or without notice'. 
It's easy to laugh at the temperance movement, with its earnestness and its sometimes improbable alternatives to the pub. We should remember though that many of those active in the cause were motivated by a genuine concern for the effect of excess alcohol upon people's lives. It was not pleasure they objected to, but violence and the impoverishment of families. They also did more than condemn: endeavours such as cocoa houses and billiard halls aimed to offer real options to the public house and the gin palace. 
The Chester premises have all suffered the fate of most temperance endeavours, closing down in the first half of the twentieth century. One suspects that the business loss would have upset their founders less than the fact that many, such as this one, are now drinking establishments.