Following on from last week's post about cruises I thought I'd continue in the same vein and take a look at rail honeymoons. A rail travel honeymoon is perfect if you hate the idea of having to stay in the same place whilst on your trip and don't have particularly good sea legs!
Rail travel also enjoys a reputation for being luxurious, elegant and romantic – think the Orient Express and Poirot (maybe without the murder!) but you get the picture it captures the essence of bygone days of glamour! This could be a particularly good choice for you gentlemen readers who want to wine and dine their lady in style. If you're in the market for this kind of holiday then you certainly won't be disappointed as there are some fantastic rail trips out there and in a variety of exotic locations.
The Palace of Wheels India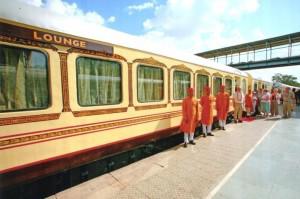 Fancy being treated like royalty? Then a trip on the Palace of Wheels across India is the rail trip for you. Cabins are decorated in traditional Rajsthani décor and named after former Rajput states. They all have en-suite facilities and modern amenities. To make you feel even more spoiled you'll also have your own personal attendant called a Khidmatgar who will be at your beck and call throughout the trip. You can have breakfast in bed if you're not inclined to get up in the morning and relax in comfort and style.
All food onboard is complementary and you can choose from a wide variety of cuisines from Continental, Chinese, Indian and Rajathani. All honeymooners receive a complementary bottle of Indian wine on arrival and the train has a well stocked bar to keep you well watered throughout your trip.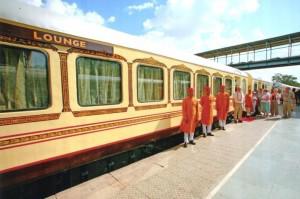 The trip takes you on fantastic journey featuring some of the greatest sites of the Indian Raj. You'll head to Jaipur, where you will visit the Hawa Mahla, Amber Fort, City Palace and Jantar Mantar. You'll then off to Jaisalmer, where you'll be wowed by the grandeur of the havelis and mansions.  You'll see the dreamy marble palaces of Jag Mandir and Lake Palac, the architectural excellence of Jodhpur and not forgetting the infamous Taj mahal.  However, it's not all sightseeing at the sand suns of Sam you can take a camel ride and nature lovers will love the Keoladei Ghana National Park at Bharatpur.
The Orient Express
I couldn't do a piece on rail honeymoons without talking about this super iconic train! A masterpiece of art deco design, the Orient Express was as I've already mentioned most famously immortalised by Agatha Christie in her Poirot novel 'Murder on the Orient Express'. Despite these sinister connotations just the mention of the train conjures up images of the 1930s in all its glory and the opulence, elegance and glamour of the period.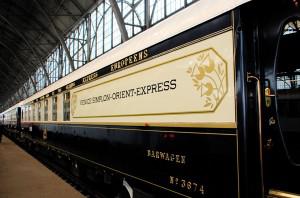 The train with its vintage cabins, gastronomic cuisine and fantastic onboard entertainment makes a journey on the Orient Express a once in a lifetime experience. Honeymooners are recommended to take the Venice Simplon Orient Express luxury train on which you can choose from two routes – London to Venice or Venice, Prague and Paris.  European cities are renowned for their romance and these two trips take in some of the most romantic cities in the world. The journey is punctuated by sightseeing such as a boat and walking tour of Venice or a tour of the Castle district in Prague.
The Blue Train
The final rail honeymoon I'm going to look at is on board the Blue Train which runs through the beautiful South African bush and allows honeymooners to also combine their trip with a safari. This train has been described as a 'magnificent moving 5* hotel' and is the ultimate in luxury. It has transported Kings and Presidents across South Africa in the past and for good reason. This train simply is the height of comfort. The luxury suites are fitted with crisp white linen, marble tiles and gold fittings in the bathrooms complete with a bath (highly unusual on a train) double beds and private digital entertainment centres.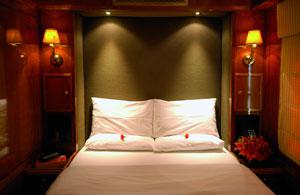 The routes can be scheduled and unchartered and take in the South African bush, stopping off from time to time to take in local attractions and visit two game reserves for a game drive. South Africa is a great place to check out the 'Big Five' safari animals – lino, leopard, rhino, buffalo and elephant.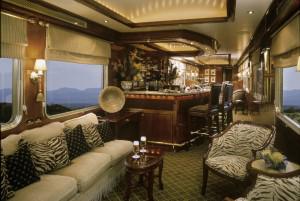 The food is to die for and really makes the most of local delicacies and cuisine. The menu features dishes such as Karoo lamb, ostrich fillet and Knysna oysters all washed down with award winning Cape wines. The train also has its own boutique which sells an assortment of souvenirs but also has a jewellery showcase with the best of South Africa's gems, minerals and jewellery design.
So what do you think? Is a rail honeymoon for you? I think it is a really romantic way to start your married life together and a little bit unusual. You can really cover some ground and make sure you get to see and enjoy plenty of the world's culture.  Have any of you ever done this kind of trip?