Hello and welcome to my now "Friday" contribution to the blog. It takes some getting used to changing one's routine! Anyway I digress...
This week's title is " rag bag" , and I've found three different meanings to the phrase.
A) an assortment of scraps of fabric and old clothes kept for possible other uses.
B) a mixed selection of items or odds & ends.
C) a derogatory term for dressing untidily or scruffily.
Now A is going to be my most likely subject this week , because I'm a "sewist" and general textile crafter and have been since childhood. I have ' stashes ' ....not rag bags, stored in ottomans, drawers, cupboards, plastic storage boxes....anywhere there's a space! I try and maintain them in some semblance of order, however when I remember a particular fabric I usually end up turning out the various storage facilities...then getting waylaid by other 'remembered' materials!
 I've just finished making a double bed quilt for a niece in Canada, this contains bits of my summer outfits, bits of her uncle's shirts ( my late husband) , bits of tartan ( to remind her of a trip to see us in Scotland )' pieces leftover from giving you conservatory a nautical theme etc. All finished off with terribly expensive, extra wide cotton! I was hoping to take this to Canada this summer, but matters have conspired against me, and it seems they might be coming over to this country ....so the quilt is in storage too , for the moment.
I think it was last year that I attended a workshop in the Grundy Art Gallery, where we cut pictures from magazines to use as inspirational material for writing, and I cut out one , which when turned upside down resembled a patchwork waistcoat. Now I'd made a waistcoat previously, and this photo , or two, I share with you. But to get back to the point I was inspired to write a poem.......
Patchwork Waistcoat
Patchwork waistcoat - I could make that !
Odds and ends, recycled fabrics-
Grandma's apron, baby's dress,
Hubbies Sunday shirt.
Grandma on baking day, pinny on.
The smell of new-baked bread greeting me at the gate.
She's gone now, resting beside Grandpa, on the hill beyond the meadow.
Baby at one year old, wearing a dress made from Liberty fabric that I'd sent for.
She took her first steps that day -
Footsteps that took her to a far off land.
My husband in a pure white shirt, standing by the preacher, helping with the sermon.
His face bronzed by the many hours spent in the fields.
He has joined, forever, the congregation in the little churchyard.
Memories stitched together.
Remembrance in a garment.
I'll wear it next my skin,
Close to my heart,
Close to my soul.
I shall wear it today
To visit Gran and Hubbie,
And telephone my daughter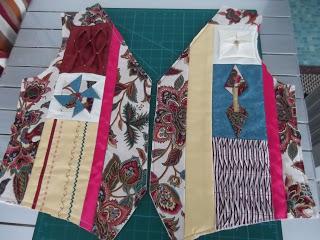 Email This
BlogThis!
Share to Twitter
Share to Facebook
Reactions: