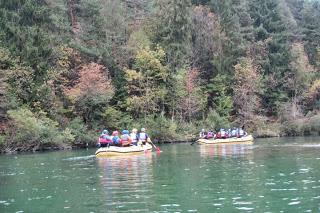 On a cold October morning I was being led out of the center of Bled, Slovenia to try out one of my favorite mountain activities.  It was the end of the season, but that didn't stop me from jumping in a raft with Fun Turist to check out the white water in the Slovenian Alps.  Along with 48 students from Budapest who were on a weekend trip, we departed for a 2 hour adventure for one of the last rides of the 2013 season.
Rafting in the Slovenian Countryside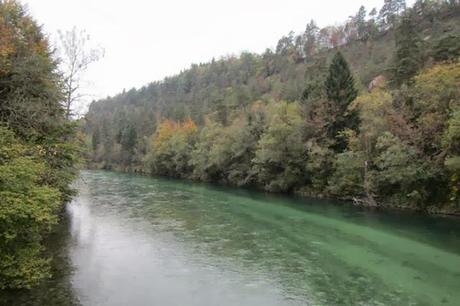 My intent for the rafting trip was to get out into the countryside to see the natural beauty that is abundant in Slovenia.  As the country is relatively small and cities even more compact than I anticipated, we were at our destination within minutes.  Our trip for the morning was scheduled to be on the Sava Dolinka, a nearby river that winds its way around the hills of Slovenia.
The scenic views I was looking for were ready and waiting. 
The green trees were starting to turn to their fall colors; giving a hint at what was to come in just a few week's time. The river displayed its bright emerald and turquoise shades throughout the entire run.  The nearby hills and mountains peaked over the treeline, adding to the constant reminder of where we were: the Alps.
Rafting in the Alps has always been a favorite of mine, not for the intense rapids, but as a means to get out into nature and see the mountains and trees with open views.  Other than being at the top of one of those peaks, this is often the best alternative.
As I got lost in the surroundings, a splash from the boat next door brought me back to my senses.  It is October, and the river was ice cold.
An Icy Dip in the Sava Dolinka River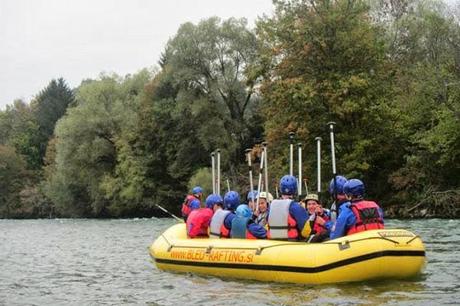 It is time to bring back those 48 students from Hungary, as they had a vengeance to get each other very, very wet; something encouraged by Fun Turist from the very start.  Since I was in the front of our raft, this was bad news for me.
Every time we were on a course to run into another group, myself and the rafter on the opposite side of me were right in line for the brunt of the splashing.  But it only took one good splash for me to get into the action with the rest of them, because it only takes one ice cold dousing of water to really wake you up; and I was out to ensure everyone else got it too.
A few of the times it even was directed at some of the guides, but they always kept tabs and repaid me for it later on.
Luckily for all of us, we quickly made peace with the other 5 boats to avoid any future splash attacks.  The cold water had penetrated our wet suits, and the feeling we had lost in most of our fingers and toes was starting to return as the rafting trip came to a close.
As our rafting hosts at Fun Turist knew that the cold was a bit much, they came prepared.  A shot of the local Borovnicka was waiting for us, a blueberry schnapps that does the trick of warming up the body in a way a towel and clean clothes cannot.  A perfect end to another great ride in the Alps.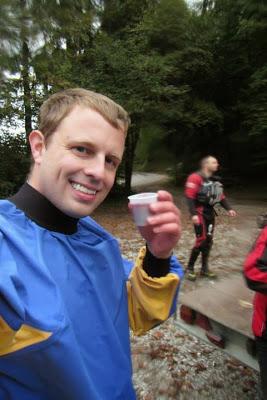 More Adventurous Rafting near Lake Bled
Although our rafting trip in early October was on a Class II rapid, an easy day out for even the most inexperienced, the region around Lake Bled has a second river that offers rafting in the Class III to IV range.  For those interested in trying out this river; however, you'll have to come earlier in the season.
Like most rafting spots, the difficulty and ability to raft at all is dependent on the water levels.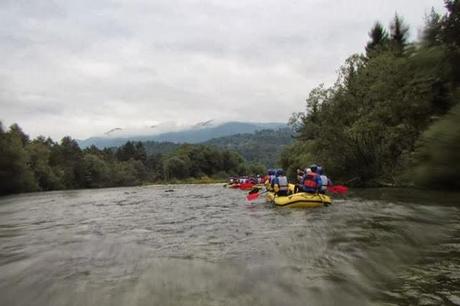 The Sava Dolinka river which we ran on is available almost year round due to a hydroelectric dam providing a constant water supply.  The downside to this river is that the Class II rapids do not provide much of a challenge, and is more like a rafting trip on calm waters. The second river outside of Bled, Sava Bohinjka, has stronger rapids but is only available in late spring and early summer when the mountain snow melts cause the water levels to rise.
So whether you are a skilled rafter seeking some extreme rapids or new to the sport and wanting to try out something new, rafting outside of Bled, Slovenia has the option for you!  For this, we couldn't have been more thrilled with the location.
We'll just have to come back to get those Class IV and V rapids some other time. 
For more information on rafting tours in Bled, Slovenia, check out our friends over at Fun Turist.  Thanks for taking us out for a wonderful rafting trip!