So Last night we were invited to an exclusive event held by Big Machine Label Group Canada for an intimate performance with Baytown Texas native Raelynn. For those of you who watch The Voice Raelynn competed on season two on Blake Sheltons team. Blake took Raelynn under his wing after the voice and to be honest this spunky little blonde with a heart of gold is just gettin' started. Last night the room was filled with about 50 or 60 lucky contest winners from KX94.7 & KX96 who were eager to see RaeLynn for her 1st EVER Canadian performance. I was speaking with one lucky winner and she and a friend drove 3 hrs to get a chance to take a selfie with RaeLynn (thats the kind dedicated fans this girl has)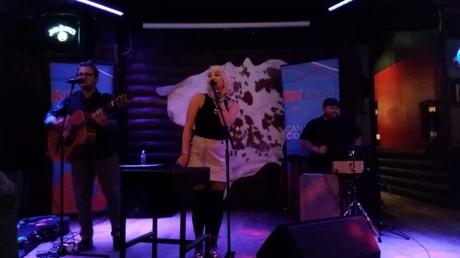 This was an acoustic set with a stripped down set. Matt Nelson on Guitar and Mike Smith on drums & suitcase (WTF?) but hey it sounded great! Paired with the unique but angelic voice of RaeLynn it truly was something special. Now, I had been listening to RaeLynn for a while now so I had an idea what songs she was going to perform from the EP. But was more curious on what covers she might do. Well it was the amazing cover of her dear friend Meghan Trainors All about The Base that had the crowd boppin' in their seats you could see from the smile on Raelynns face that she loved covering the song and how highly she spoke of Meghan was sweet to see.
She also covered one of her idols Dolly Parton, with her own little spin on the classic Jolene and I can tell you she hit it out of the park. My personal favorite was one she sang early in the set. Before singing Kissin' Frogs, she tells a great story about how the song came about and why she wrote it but won't spoil it. I know she loves telling that story before she performs it so gives you more reason to make it out to her August 27th performance happening at Molson amphitheatre as she opens for Rascal Flatts alongside Scotty McCreary tickets can be purchased here for that show.
Her new single For A Boy shows a more mature side oh her music writing abilities and truly believe that she has an old soul that just brings new light to today's country music.
I had the chance to sit down with RaeLynn before the performance so watch for that Interview early next week. But I can one thing I can tell you is RaeLynn is nominated for 2 CMT Awards head over here to vote.
Couple other great videos of RaeLynn below...

Well if your reading this you must really be bored... So I was born and raised in a small town and have a thirst for good Canadian Whiskey.