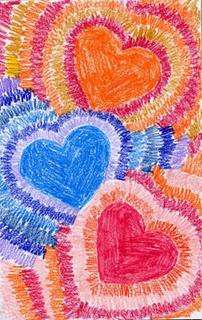 This is a variation of another post called Fireworks Drawing, just using a heart as the center shape this time.


1. I used a 1 1/2" heart die cut to make lots of card stock paper hearts. Give each student three hearts and a folded piece of drawing paper to make a card. On the front, they are to arrange the three hearts in a way that pleases them, and then trace with a colored pencil.
2. The students are to then draw edges around the outside of each heart, always in a zig-zag or radiating fashion. They start by drawing 2 or 3 borders around each heart, and then choose which ones will fill up the background.