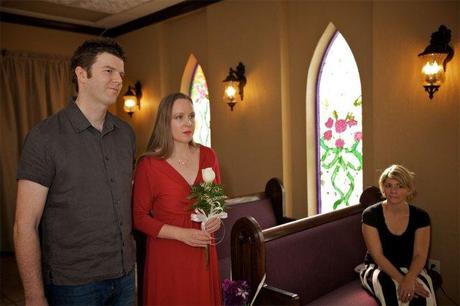 This lovely British couple married in Las Vegas and wanted to share their story. Rachel, originally from Surrey and Joe, from Leeds now live in Manchester. They met through work at an advertising agency, and Joe took Rachel to the dump for their first date! Rachel now runs the Career Break Site.
They had been together for ten years before they got married. "I think it's important to get to know someone really well!" said Rachel. Joe proposed while they were on holiday, and Rachel was so surprised that she didn't even say yes at the time. The couple knew they wanted to start a family and being married before having children was important to them. She did say yes eventually, though, and they were engaged for two years before they actually tied the knot.
They had already made the decision that an elopement would suit them so they kept it a secret. They never discussed any option but Las Vegas. They wanted to elope and of course Vegas is the ultimate eloping destination! Rachel had visited Las Vegas a couple of times before and really liked it, and they planned to have their honeymoon in California.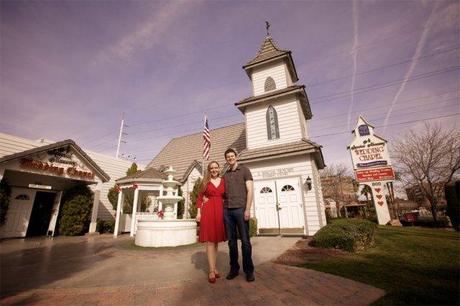 They were both very busy so they booked the whole package through Trailfinders. The package includes a ceremony at the 'A Special Memory' wedding chapel, a huge limousine, and a photographer. Rachel told me that when they were leaving he said 'See you again' which she didn't think was very appropriate! Aaah, Vegas, how I love you!
Rachel and Joe stayed at the Aria for the few days they were in Vegas. They speak highly of the breakfast buffet and said their room was lovely. The night before their wedding they met up with a friend of the family who lived in Ls Vegas, who took them to an off-Strip, non-touristy restaurant, which they enjoyed. After dinner he drove them up and down the strip and told them about the history of the various casinos.
Rachel wore a red jersey dress (she wanted something that would not crease in her suitcase) and red heels. She wasn't too keen on having flowers, but they come with the package, so she carried a single white rose. Joe wore jeans. He never wears suits, but he did go to the effort of ironing his shirt. Their witness was an old school friend of Rachel's who now lives in Las Vegas. She was the only person let in on the secret of their elopement. Rachel said that she was so nervous during their ceremony that she doesn't remember any of the vows, so she was please that the officiant was able to keep the ceremony short.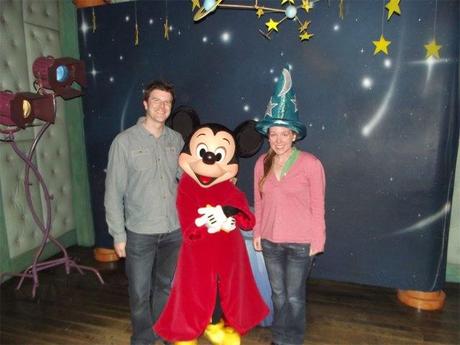 Rachel says that their families were quite pleased that they had eloped, after all, they didn't have to organize or pay for anything, and they had a little celebration with their families when they got back.
Rachel say she thinks a Vegas wedding is great for those who don't feel the need for a 'proper' wedding and she doesn't think friends and family mind as much as you might think they will. "In fact, I spoke to someone whose daughter was due to get married shortly after and when I told her I eloped, she said she wished her daughter had been as kind," she told me.
The epilogue to Rachel and Joe's Las Vegas wedding arrived nine months later. He's called Nate and they are absolutely thrilled with him.