Anyone who has ever trained for and run a 100-mile race knows that the entire experience is one of endurance, perseverance, and mental fortitude. By the time you get to the starting line, you have spent countless hours on the trails, analyzing your training, contemplating your nutrition, committing to recovery, and preparing for the experience itself. The full commitment can be a challenge, and certainly necessitates an understanding partner and family members (if you have others), and it means sacrifices in other areas of your life.
So, by the time we arrived in Swoope, VA for the Grindstone 100, I could have very easily already been exhausted. However, I managed to balance my training block perhaps better than I ever had, while also training harder and putting in more miles than ever before. Although I didn't register for Grindstone until July, I had been targeting a Fall 100-miler much longer, so this race was the culmination of quite a bit of training. After a full year on the East Coast, running the technical trails and collecting more vert than I had ever seen, I felt ready to tackle a race like Grindstone. I had fared well at the Georgia Death Race, which had given me a lot of confidence, and I was ready to test myself against a Hardrock qualifier.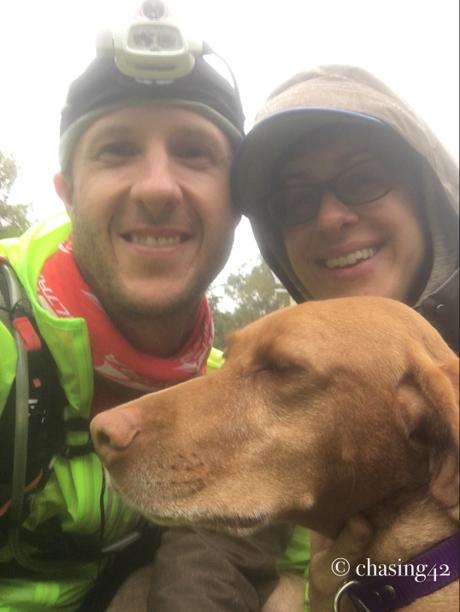 I have the best crew!
I started watching the weather on Monday, and the chance of rain was present, but the percentage was low, and I wasn't too concerned. However, by Tuesday, Hurricane Matthew came to life and had the southeast in his sights. When Thursday rolled around and I needed to finalize my packing, the chance of rain was at 90% and it wasn't scheduled to stop until almost 24 hours into the race. I packed my rain shell, plenty of extra socks, and other dry layers, and did my best not to worry all that much. The epicurean and I (along with Looper) planned to arrive at the start/finish at Camp Shenandoah around noon on Friday to get checked in and set up camp since we (well, really just her since I'd be running the whole time) would be camping out. We hit rain just south of D.C. as we drove down, but it was fairly light so I didn't get worked up about it.
When we arrived, the rain was light but steady. I had just enough time to walk to the main cabin, pick up my bib and race packet, and get weighed in before the pre-race briefing started. I absolutely love the environment at ultras and trail races, and this was one of the biggest ultras I had been too. I'm always fascinated by the conversations, the gear, and the humbleness of the runners at these events, and Grindstone was no different. The RD did a wonderful job outlining the race and providing us with all the necessary announcements, and I was happy to sit back, sip a cup of coffee, and listen.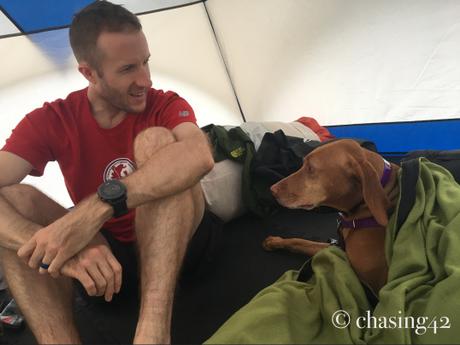 Getting ready in the tent…Looper would rather snuggle up!
A 6PM race start makes for some interesting nutrition and sleep planning, and I can't say I've ever really been in that position before. We had been up since 6AM to get on the road, and I had every intention of trying to take an afternoon nap, but I was far too wired to really calm down. I ate a Subway sandwich around 2pm so the meal had enough time to digest before I committed my stomach to the endurance effort. We rested in the tent, out of the rain for a bit before I got changed into my running clothes. I've always been one to plan everything out, and opt for having the gear for any scenario just in case, and this race was no different. I felt confident with my choices going in, and overall, everything worked out pretty well for me. There were a few changes I would have made, but more on that later. My starting line gear consisted of:
lightweight beanie (I took it off after 2 miles)
short sleeve tech shirt
Saucony rain shell
compression calf sleeves
Darn Tough wool socks
Dirty Girl Gaiters
Altra Olympus 2.0
Salomon S-Lab 12 pack w/ 2L bladder (tailwind)
Black Diamond Distance Z trekking poles
Honeystinger chews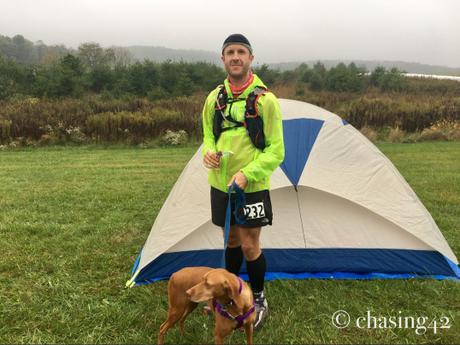 Suited up, with Looper's help🙂
When I initially registered for the race, the 6pm start was appealing because it meant I'd be running through the night with fresh legs, which would presumably help with so much climbing and a highly technical course in many parts. I lined up for one final bathroom stop and then gathered near the starting area, and said my parting words to the epicurean. I wouldn't see her until the 3rd aid station, which was around 22 miles in, so she had some time to take a nap back in the tent. We lined up, Craig, the RD, had some final announcements (including warning us about a random group of night-time mountain bikers out on the course), and then we were off. I was determined not to go out too fast, recalling my experience at the Mark Twain 100, and luckily the narrow single track and technical rocky and rooty course made it much easier to slow down. We hit a brief bottleneck about a 1/2 mile in due to everyone needing to climb down a short embankment, but after that, the running was consistent.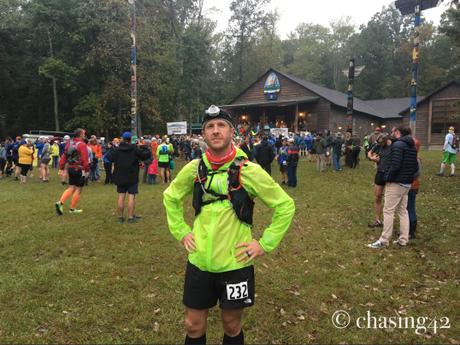 Let's get this party started!
Start to Dowells Draft (AS #3)
The first few miles were comfortable, and I was moving along nicely as the sun set. It was nice to have at least a fleeting glimpse of light before being plunged into darkness and the rhythmic bounce of headlamps. I held out as long as I could before turning on my headlamp, and was able to wait until leaving AS #1 (Falls Hollow). Up until this point, the trail had included some rolling climbs, but as soon as we left Falls Hollow, the trek up Pilot Knob began. A good portion of this steep climb was on a service road, and we were required to summit, punch our bibs with a hole punch, and then roll back down a bit before hopping back on a trail. The steep incline and 2500 ft of climbing in less than 5 miles was a wake-up call for my quads, and I pulled the trekking poles out to assist with the climb. Little did I know that I wouldn't put them away again, and they would prove to be an incredible asset.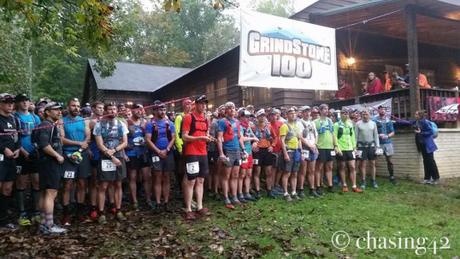 Almost 300 people started…how many will finish?
After the climb, the Dry Branch Gap aid station approached pretty quickly, and I stopped briefly to fuel up. The race is cupless, so they offered everyone the opportunity to purchase a Ultraspire silicone reusable cup, and it worked like a charm throughout the race. By this time, I was at peace with the fact that I would always either be going up or going down, as there didn't seem to be any flat, easily runnable sections on this course. I forgot to mention that the rain hadn't quit and was still coming down light but steady. I was in the middle of the pack as I usually am, and the trail was still in decent shape, mostly on account of there being more rocks and roots than dirt to become mud. I tackled a long downhill section and rolled into the Dowells Draft aid station (#3) and happily met the epicurean. I was 22 miles in, and feeling pretty good at this point. I had done a good job of conserving energy, and the temps remained a bit warmer because of the rain. I had shed my rain shell a while back, and was fine being a little wet because I was staying warm (and didn't want to overheat in the fully seam-sealed shell). I enjoyed some ginger ale, along with some pretzels and cookies, and the epicurean sent me off. I wouldn't see her again until the next morning at the turn-around and she was eager to try and get some sleep.
Dowells Draft (AS #3) to N. River Gap (AS #5)
The next 15 or so miles were a bit of a pleasant blur. I was feeling really good, and tucked in behind a few other runners for many additional miles along the way. After around 1500 ft of climbing in the next 5 miles, the following 10 miles were mostly downhill running, and I was moving comfortably. By this point, the rain had thoroughly soaked everything, but I was still feeling fairly warm. There hadn't been much mud yet, and my gaiters had kept my shoes relatively dry, which meant my socks and feet were relatively dry as well. As I rolled into the N. River Gap aid station, I was in a positive mood. I enjoyed some delicious and hot pirogies, along with some other snacks. I was making decent time, despite the weather conditions, and I'd had company on the trail up to this point.
I finished fueling up, and headed out for the 7 mile climb up to the Little Bald Knob aid station (#6). I had no idea what was in store for me on the Grindstone grind, but this soul-sucking section would test me in a number of ways. Stay tuned for Part 2 and find out how it went, along with the rest of the race!