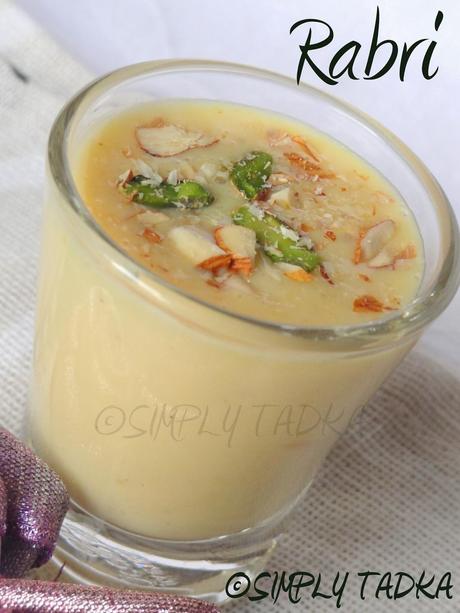 Rabri is completely Indian dessert which prepared with evaporated milk and very popular in North India. You can serve rabri with lots of Indian sweet delicacies like malpua, jalebi, shahi tukra, meethe pode and more.
Personally I prefer chilled rabri but you can serve hot or cool, its upto you. Rabri is exotic sweet which prepared quickly with few ingredients, you have to boil the milk till to half and mix with condense milk for thick consistency, garnish with chopped nuts, cardamom and saffron for amazing aroma.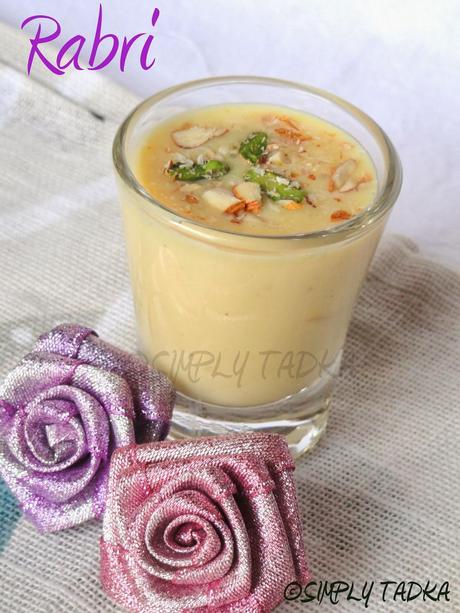 Preparation Time: 5 Minutes
Cooking Time: 15 Minutes
Servings: 4
Category: Indian Mithai
Ingredients:
2 Cup Milk
Half Tin Condense Milk
1 Tsp. Cardamom Powder
Few Saffron Strands
Sugar (optional)
Chopped Nuts, for garnishing
Instructions:
Boil the milk in non-stick pan on medium flame, add condense milk and stir it continuously.
Add cardamom powder and saffron and mix it. 
Cook it until little thick consistency, keep aside.
Garnish with chopped nuts and serve chilled.
Tags
: how to prepare rabri recipe, instant rabri recipe, easy way to cook rabri, sweet milk recipes, indian dessert recipe, Diwali recipes, festival special recipe, milk recipe. 
Blogging Marathon page for the other Blogging Marathoners doing BM#34
Enter your email address:
Delivered by
FeedBurner