"Is It Too Much" is the fourth track of Ra Ra Riot's new album Beta Love. Opening with a gentle, pulsing synth beat and a sparse, plucky guitar, the song is representative of the new sound the band have adopted on their third and latest LP. However, just about halfway through "Is It Too Much," the sweeping violin of Rebecca Zeller makes its grand, dramatic entrance. Elegant and smooth, the orchestral string sounds are all the reminder we need of Ra Ra Riot's past. "Is It Too Much" is foreign and unexpected, yet ultimately, familiar; and it definitely grows on the listener. That's also pretty much the experience of Beta Love in a nut shell.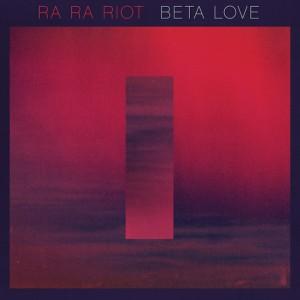 Ra Ra Riot may be famous for their mixing of the indie rock and classical genres, but now, they attempt a move from baroque pop to synth pop on Beta Love. Encouraged by producer Dennis Herring (who has previously worked with Modest Mouse), the album finds the Syracuse, New York quintet moving into new, uncharted, electronic territory. Album opener "Dance With Me" is a true pop track: almost impossibly light, breezy, bouncy, and fun. "Come on and dance with me, bittersweet fool/I wanna be your toy," lead singer Wes Miles sings with the mild-mannered, carefree vigor of an 80s pop superstar. Clearly, the end goal of Beta Love is to get the people moving, and get them moving fast.
"Binary Mind" is just that hard, fast– and super, super hand-clappy– and the first half of Beta Love follows in this vein. Most of it is quite fun ("I might be a proto-type, but we're both real inside," on title track "Beta Love"), and Miles does work the charisma card quite well. This is particularly true on "When I Dream," an impeccably polished track on which he recalls the gender ambiguous vocals of a young Annie Lennox.
Much of the second half of the album sounds more like the old Ra Ra Riot, but unfortunately, the rest of the album falls somewhere (forgettably) in between. Beta Love is a worthy experiment for Ra Ra Riot, a band who had been in desperate need of a change. Usually, change is for the better, but I think the jury's still out on this one. The suit may fit, but can you actually pull off wearing it? Beta Love makes its listener want to groove, but it's also a bit touch-and-go.