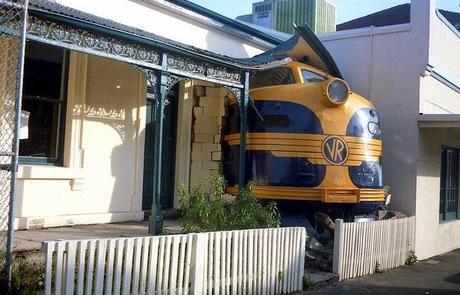 The front of a S Class diesel ex-Victorian Railways as originally displayed at Greville St, Prahran. The owner arranged the roof and the wall to look like it had smashed through its front living room.
Found on https://www.facebook.com/HeritageRailway?fref=nf though nothing popped up in a quick Google search to give more info... but darn it if Steve didn't feel the inescapable challenge to learn what the story is about this train's nose! That guy is astonishing in his google magic! If he were in an olympic challenge to get the research and information on something, you can be he'd win the gold every time.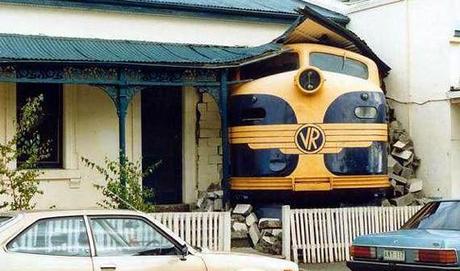 The B Class were built under license from the American company Electro-Motive Diesel by Clyde Engineering, Granville NSW for Victorian Railways (their first mainline diesel locomotives) from 1952-1953. They were based on the EMD E/F units, but differed in that they had cabs at both ends of the single unit
Due to their distinctive nose, they were known as Bulldogs. Out of the 26 built, only five have been scrapped, while eleven were converted to A Class locomotives, four were withdrawn and stored, three were preserved in museums, and three are still in service. 
 B67 went in service on December 2, 1952 and taken out of service on October 18, 1984 after traveling 3242153 miles. It was scrapped in April, 1988 with one of the noses being preserved and placed to look as if it were crashing out of the pub in the Station Hotel at 96 Greville Sreet, Prahran (suburb of Melbourne), Australia. 
 The Station Hotel had a reputation of being "one of the great live music venues and all-round good boozers in Melbourne." In 1995 however, the hotel came under new management and the new leaseholder of the hotel wanted to do something else with the space. 
 The B67 cab had to go and only a scrap metal dealer showed any interest until Darren Hodges, a Gippsland, Australia hobby shop owner happened to learn that he had less than a week to take it away or the scrapper would get it.
 A new five metric-ton crane struggled to remove the cab from the hotel, but lacked the capacity to lift it high enough to get on the transport truck. It apparently weighs around eight metric-tons. The photo below was taken while waiting for a second crane truck to arrive and assist in the lift: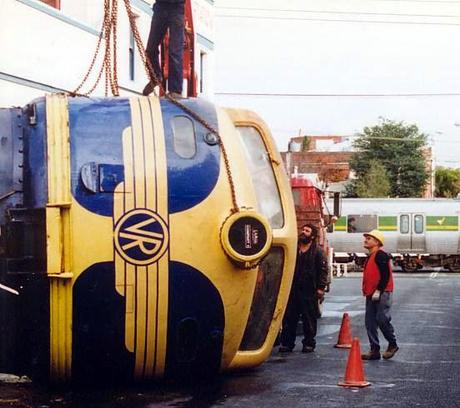 Here the cab lies on the street after being removed from the Station Hotel.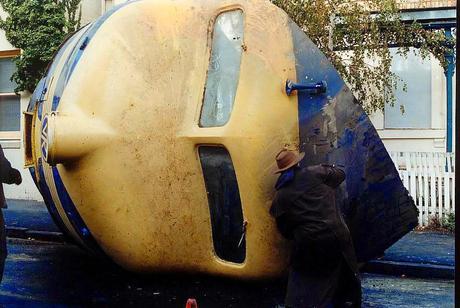 And after about three moves, here it is today - still owned by Darrel and about to undergo restoration (Australian weather can be brutal) and hopefully installation next to his hobby shop: