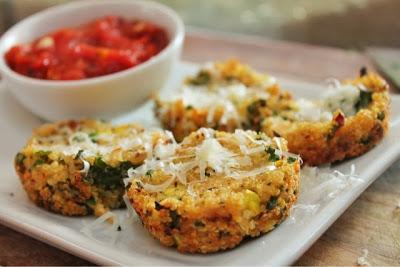 I WANT PIZZA. I should not eat pizza. This is my moral dilemma. My friends and I have been talking about pizza and beer for the last 17 days and it kills me every time. Yes, of course I can have a slice, but my willpower is telling me to stay strong for the contest!So, I found a new treat that is satisfying and "pizzaesque." Quinoa Pizza Bites!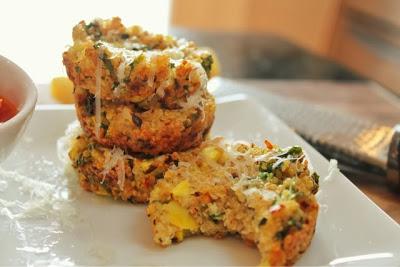 Look at all of those veggies!
These could literally not be any easier to make. Cook the quinoa, chop up veggies, add an egg,cheese and bake! You can fill these with whatever you like. I used what veggies I had on hand: chopped Kale, zucchini and shallot. All delicious. I used low fat motz but I have a feeling goat cheese or cheddar would also be delish. You can use jarred sauce for the dipping sauce, I would suggest Newman's Organic. Just watch the sugar and salt in the sauces you buy. Making your own sauce is super simple too. I had some left over that I made the night before so I used that. These are so easy to make and are surprisingly satisfying. Did I mention they have a ton of protein. Yup! Eat with no guilt!
Quinoa Pizza Bites
Adapted from Fit For Success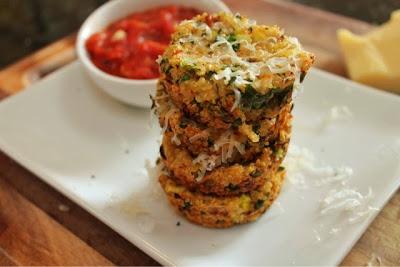 One serving is 6 of these for 280 calories!!
Ingredients:
1/2 c. cooked quinoa
1 large egg ( you may need 1 more if you add a bunch of veggies)
1/2 c. chopped shallot or onion
1/2 c. low fat shredded mozzarella
1 t. minced garlic
1 T italian seasoning
handful of chopped kale
1/2 cup chopped zucchini ( small pieces)
pinch of salt
1 tsp olive oil
tomato sauce for dipping
Directions:
1. Cook your protein-filled quinoa! Boil the quinoa and 1c. water and cover. Once boiling, reduce heat to low, and let it simmer for 15-20 minutes (until water is absorbed and quinoa is tender).
2. Preheat oven to 350 degrees. Combine all of your ingredients (except the pizza sauce) in a mixing bowl until it is well mixed.
3. Lightly spray the bottom of a mini-muffin tin with olive oil spray. Using a Tablespoon, scoop ~1T. into each muffin tin, it should fill almost all of them!
4. Bake them for 15-20 and let cool. Serve them warm with pizza sauce to dip in!