Hey Guys!
Back in 2011 I co-wrote and produced an album with my brother Alex, whom I also co-write the Gyaros series of science fiction novels with!
The album is called It Came From The 50′s and the band is called Quiffs N Coffins. We're a psychobilly band mixing elements of punk rock with good old rock n roll and rockabilly.
Anyway since I closed the Beardfire Publishing website earlier this year there has been no way for people to get the album. But now, due to popular demand (thank you Japan!), both the physical CD and digital download are now once again available to purchase!
Click the album cover below and you will be redirected to Paypal where you can purchase the CD: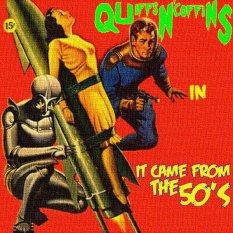 Or you can click HERE to listen to or download a digital copy from Bandcamp.com
Check out one of the songs from the album:
Or this live video:
We hope to record some new music next year and do some gigging in Europe soon!
Thanks for reading, all the best

Rohan.