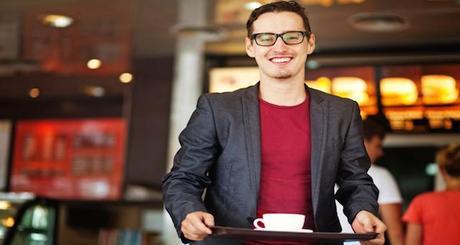 January 13, 2015
0

Email This Post

Print This Post
Quick Service Restaurants Order Up ROI with Signage
Would you like a side of profit with that order?
Quick service restaurants (QSRs) operators who add outdoor digital menu boards to their locations see higher profits among their drive-thru sales, writes Jeff Pinc for Digital Signage Today, quoting an USA Today article. That's a healthy uptick, considering drive-thru sales already account for 60-70 percent of sales. Pinc is the director of food service for Panasonic System Communications Co. and will lead a roundtable discussion about QSR digital signage at Digital Signage Expo 2015 in March.
He points out that the biggest hurdle stalling adoption is the cost of the technology, although QSR operators should be encouraged by Viewsonic studies that have shown a quick ROI following installation — anywhere from a 5-8 percent increase in revenue on average, with similar returns in the drive-thru.
Beyond the bottom-line benefits, QSRs that adopt digital signage are enhancing the customer experience. The Viewsonic study found that 74 percent of customers ranked an easy-to-read menu as their top priority.
"The tipping point of digital signage has already arrived, and adoption rates will only continue to grow as operators see the increased benefits for their business and customers," Pinc wrote.
What's good for the operator is good for the customer. Whether operators use digital signage to match a customer's tech savviness or traditional signage to communicate with imagery, patrons continue to want the same benefits from their QSR of choice: order accuracy, affordability and service with a smile.
Until you're ready to incorporate digital signage — or if you want to adopt a complete signage strategy — traditional signage affords you a cost-effective way to merchandize and optimize your menu. Try this in 2015: QSR operators can use wall graphics, posters, banner stands, window graphics and more to comply with the new Food Products Association nutrition labeling laws.
For other ideas on ways to build up your signage strategy, read, "The Three Signs Every Restaurant Must Display."