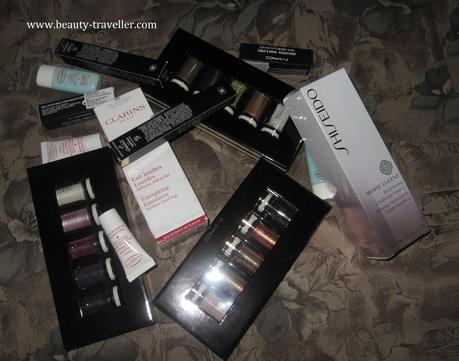 Just thought of doing a quick review of these amazing pigments from MAC. Buy these are most of you would be sorted forever as they would never go empty. In fact these could be passed on as ancestral items. LOL.MAC Nocturnals seem to be the best thing happening to a makeup artist especially. The pigments are so versatile and amp up any look (which you would be seeing soon) and they add those finishing touches one need for a 'completed makeup look'. How amazing is that!!! For those who may not know I am selling pigments in small jars (not these ones though) and would love to pass on one if you ask for it. (350 INR per jar - limited time).So coming to the NOCTURNAL Pigments. I bought 3 sets, each for 2400 and looks like my life is sorted. They have a lot of these famous MAC colors and some not so great but always included ones (like Kitchmas) but nevertheless these are to die for..........Lets have a quick look..............
Here is the shade description and some little anecdotes (no swatches. What is Temptalia for? Her swatches are the most amazing ones ever. My opinions are my strengths.) 
GREEN AND TEAL
Just Before Dawn Pigment: Warm taupe frost (Pigment) -

Its simply amazing. A great color for the crease, amazing as a transition color between a black and brown and good to soften the edges of a bright eyeshadow into the brow bone highlight. I love such colors. It needs some warmth for a warmer undertone though.

Deep Blue Green Pigment: Rich deep bluish green (Frost) -

Everyone know and raves about this pigment. Its perfect as a substitute for black. Great as eye liner, crease color and of course a 'shade' to create the degrades..

Old Gold Pigment: High forsted tarnish gold (Frost) -

A classic gold with an antique twist. It has the green popping out more but its such a beautiful duo chrome. Great as a modifier shade or a highlight in the inner corners. It amps up with some warmth on a lot of cool greens.

3D Gold Glitter: Sparkly chunky gold (Glitter) -

Its holographic and crazily alluring. Its a best transforming shade and can really make it look amazing. Imagine applying this with a black gloss. ROCKSTAR HEAVEN....

Reflects Gold Glitter: White glitter that flashes gold (Glitter) -

A bridal reception staple. I love to pair it with cooler colors as it shines better. Its perfect to use as a glitter liner. Just some sealing gel is what you'd need.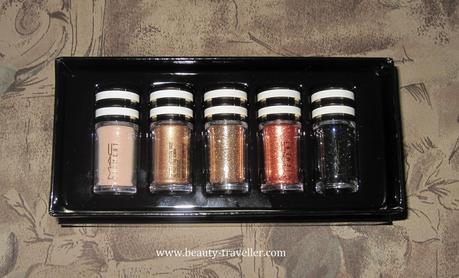 BLACK AND GOLD
Naked Pigment: Fleshy beige with pearl (Matte) -

its been one of the most coveted and classic pigments of MAC. And puhleasseee...its not Matte...It has the finest of gold pearl. Is a great wash of color for the lid, amazing as highlighter, good to create that perfect natural makeup look and most importantly a very wearable shade for everyone. They make variants in Dark and Deep dark to cater to darker skin colors too.

Museum Bronze Pigment: Rich taupe with gold pearl (Frost) -

I have had a lot of people asking for this! Its the most pretty taupe I could find. Very wearable and I would not insult it by pairing with any other color if I had too. The pearl and shine is so perfect. A great color for a smoldering smokey eye, especially when layered with glitter.

Copper Sparkle Pigment: Super frosty copper flecks (Frost) -

This pigment is a stunner. Let those chunks not fool you. It blends on the eye into a sober soft wash of color if used dry and becomes emblazoning on the eye lids if used damp. Such a pretty shade and extremely wearable for the brides. It has a brother called 'Copper' which is intensely metallic and really pretty!!

Gold Glitter: Sparkly chunky gold (Glitter) -

Beautiful glitter. It looks like sun light reflection on a rippling lake water. I love to pair it with blues and purples to create a contrast and as a glitter liner.....wow

Black Glitter: Sparkly chunky black (Glitter) -

That midnight magic!! Black glitter can only reflect one type of light..thats white! Its best to amp up a black liner!! Do you know any other uses??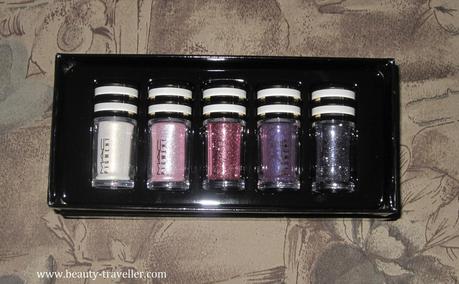 SILVER AND VIOLET
Kitschmas Pigment: Shimmering pink mauve pearl (Frost) -

This is an overall nice 'accent' pigment. It can be too frosty to be applied on the lids but can really accentuate the pinks, fuchsias and purples on the eyes especially the center of the lid. This is a bit overrated pigment and I am going to find out why.

Vanilla Pigment: Soft ivory white (Frost) -

My favorite. This pigment goes everywhere. In the inner corners, center of the lids, highlights under the brow bone and is very efficient as facial highlights too. 

Push the Edge Pigment: Deep bright purple with pearl (Frost) -

This is a good dupe for GRAPE pigment of MAC and is really that perfect royal purple you always wanted. I love this as a great color for shading and also as an eye liner to define the eyes.

Pink Glitter: Bright pink (Glitter) -

This is one of the best glitters I have used till date. It reflects light like no one's business and is very scintillating on the eyes and lips.

Grey Glitter: Sparkly chunky gray (Glitter) -

Its a unique gray glitter with a slight mauve tone. I have not seen anything like this before and I am dying to experiment it.
Have you these?? They are the most affordable things ever and are sold at 2400 INR per gift set. Do let me know your super thoughts on the same.
Till then, 
Ciao

Please do not copy any pictures or content of Beauty Traveller without prior permission. Thanks for reading my blog. I don't give 100% on the authenticity of the content here and it is subject to change without prior notice. Please read the disclaimer for any questions.
Thanks a lot for reading my blog. Do subscribe, follow and support. Thanks.