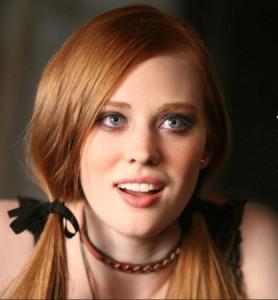 Deborah Ann Woll (Jessica Hamby) of True Blood did an ask and answer and let us know which coast she likes best, her inspiration for Jessica and what she likes to do when she's not working.
Deborah grew up in New York but now lives in Los Angeles.  When asked about which coast she likes most, the East was the winner!  She says that she is "A pedestrian at heart."
When preparing for her role as baby vamp Jessica, she states that she did a lot of research on the science of being a vampire in the True Blood universe.  She speculates that they aren't truly cold, simply cold blooded.  She goes on to say:
"I think we are cold blooded like snakes.  We are the temperature of our surroundings and can be warmed by contact with warm objects.  A hot rock, warm water, a warm-blooded body.  Doesn't that make a human lover seem extra enticing!"
She even lets us in on what's in store for Jessica in season 4!  We can look forward to some conflict from within Jessica and what it means for her relationships.  Deborah also just wrapped a film called Someday This Pain Will Be Useful to You, in which she plays a college student.  She tells us that her character is:
"Grappling with her identity — primarily in relationship with her family.  She's very confused and makes some mistakes along the way but, don't we all?"
She doesn't have a preference of film over television yet.  In her spare time, she enjoys carpentry and home improvement.  She also advocates for The Choroideremia (CHM) Research Foundation.  Her boyfriend suffers from the disease that is essentially making him blind, along with other male members of his family.  There currently is no known cure.  She works to raise awareness and funds.  More information about CHM can be found here.
Source: New York Times – Asked and Answered | Deborah Ann Woll
(Photo Credit: HBO, Inc.)