Q: In your blog you have talked about the formation of adipocere and explained the process. But what about how to estimate the time of death after a corpse has gone through the process of saponification? In my current project I have a body covered in adipocere. The victim is found 15 years after she was killed. Will it be possible for the detectives to determine exactly when she had been killed?
EE Giorgi, Los Alamos, NM
A: The short answer is no they would not be able to. At least not from the adipocere alone.
Adipocere formation is not common but it does indeed occur. This process is not one where the body is covered with adipocere but rather the body turns into this soap-like material. This can happen in a few weeks under the proper circumstances, which is usually a body buried in very acidic or alkaline environments. But it can happen under many circumstances.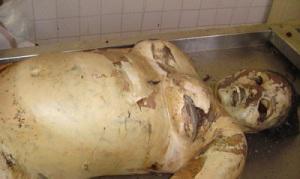 Once it is formed the body remains fairly stable and can easily remain intact for 15 years or longer. But there is nothing about the adipocere itself that would give a timeline for when death occurred. Based only on that it could've been a few months ago or a few decades ago and the medical examiner has no tools for really distinguishing one from the other.
He would instead rely on other information such as when the person went missing. Let's say the victim was 20 years old at the time of death. That would mean she would be 35 at the time the body was found. When the medical examiner, and perhaps a forensic anthropologist, examined the body they would know that the corpse was more consistent with someone in the 15 to 20 year old range than someone in the 35 to 40 year range and therefore could say that she had been dead for 15 years or so.
There might also be scene markers such as the clothing she was wearing or items found in her pockets, purse, or anything else found at the burial site. Some of these might suggest that she died shortly after she disappeared. Maybe a friend had just given her a check or a letter to mail and it had somehow survived in her purse. Most people deposit checks and post letters fairly soon rather than keeping them in their possession for weeks or months. So if these were found it would suggest she had died fairly soon after receiving them.
Maybe she was known to be wearing a certain shirt or jacket or other item of clothing at the time she disappeared and the same clothing was found on or around the corpse. This would be strong evidence that she died around the time she had disappeared simply because had she lived for a period of time after disappearance she would likely have changed clothes.
The ME could see all of this and make his best estimate that she probably died around the time she disappeared.
Advertisement