We had a chance to ask Yoan a few questions about what he has been up to since we last spoke and how life has changed over the last year or so.
SCE: It's been about 8 months since we last spoke. Maybe tell our readers what the last months have been like for you?
Yoan: Well I had a lot of shows in Quebec and I also spent some time preparing for the shows at the Bell Center and The Videotron Center. I also had a few co-writing sessions. It was my first co-writing experience, I found it very interesting. It's another way to write feelings down on paper.
SCE: Congratulations on the "Artist of the Year" INDIE Award. You were up against some fantastic artists. How did it feel to win?
Yoan: Thank you very much ! Yes, it is such a privilege to have been nominated for artist of the year alongside of all of these artists. Winning this award means a lot to me. I receive a lot of love from the fans and I think that this award demonstrates all of the support that they give me.
SCE: You have a new DVD coming out this fall - maybe tell us a little about putting that together?
Yoan: The show at the Videotron Centre was filmed. I've done a lot of TV shows, but filming a show for a DVD was a first! The band and I had fun doing it and I think that the Dvd will represent us well and all of the work we've done this past year during the tour.
SCE: Name one artist you would love to work with right now (Any Genre)
Yoan: Tom Jones ! I've always been a fan. I really like his powerful voice and I think that his voice has gotten richer with time. I know that this man could teach me a lot of things about music, about singing.
SCE: What was the last song you wrote? What was it about?
Yoan: I wrote a song few hours ago haha! It's about a woman who doesn't really care about her relationship and she doesn't realize all of the bad things she's done.
SCE: Do you consider yourself a song-writer first and performer second or the opposite?
Yoan: I would say a performer first. I consider that my job is to make people feel what I feel inside when I sing a song.
Want to thank Yoan for taking the time to answer a few questions for SCE. Be sure to head over and pick up his current album HERE. And if you haven't seen his Mason Jar Session it is posted below.
Corey Kelly / @CoreyKelly76
Together Soon - Mason Jar Session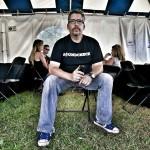 Born and raised in small ltown Ontario, Love me some Whisky & Country Music. Blogger, Photographer and Country Music Junkie.