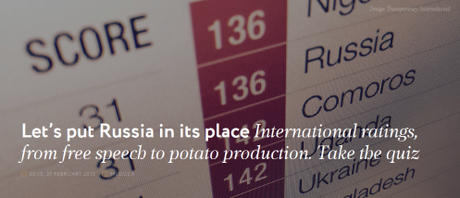 We must admit that the name is quite catchy, "Lets Put Russia In Its Place" will evoke emotions to be sure. Relax, it is just a quiz to test your knowledge about how Russia ranks as compared with other nations around the world.
Created by the Menduza Project, this quiz is about the important stuff: who drinks the most beer, who watches the most television, etc. Actually, it is quite entertaining.
For the record, your esteemed Mendeleyev Journal editors scored a disappointing 8 out of 12. Not bad, but then again, not that great either.
So, try it for yourself!