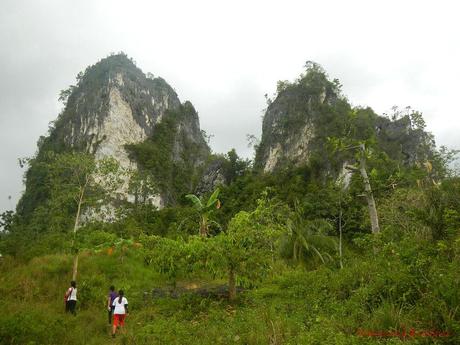 Ever since we got hooked to the extreme sport of rock climbing, we have been trying, in our own humble way, to develop the budding rock climbing scene in Cebu. As you, dear readers, may have already known, we're constantly promoting Cantabaco through our blog, urging everyone to visit the area and try out this confidence-building sport. Behind the online scene, we have invited friends to come with us during weekends, so they can experience climbing sheer rock walls.
Additionally, as avid rock climbers, we have always been on the lookout for new venues that can be developed as excellent rock climbing sites. Finding such sites is part of our support in the local climbing community. Presently, there are only two rock climbing sites in Cebu—the Cantabaco crag and the Mansorela crag in Tabunan, Cebu, which is still being developed.
We need more candidates, and we found one just an hour away from the bus stop in Lutopan at the Naga-Toledo Highway. Yes, it's that near! And it's so tall and so big that it can be seen from the Lutopan plaza. Best of all, the venue is near a bustling community, just like Cantabaco! That means comfort and convenience are nearby; we don't have to suffer in the wilderness after a hard day's climb.
As far as we know, it doesn't have an official name. So Sir Enie and Sir Willard, our friends and guides in Cantabaco, took the liberty to name the place as Puting Bato (White Stone). And last April 6, 2014, Sunday, we asked them to guide us to check this potential rock climbing treasure. This mini-adventure was also our post-climb reward for a successful Mt. Kanlaon climb.
An excellent, sunny Sunday starts with an adrenaline-pumping morning of scrambling up the pure limestone crag of Cantabaco, one of our favorite weekend hangouts in Cebu. During weekends where we don't have any scheduled treks, trips, or other adventures, you can almost always find us climbing the routes here with great friends and fellow climbers.
We were also happy to meet several friendly climbers who came all the way from Dumaguete to experience climbing the Philippine's premier sport climbing crag.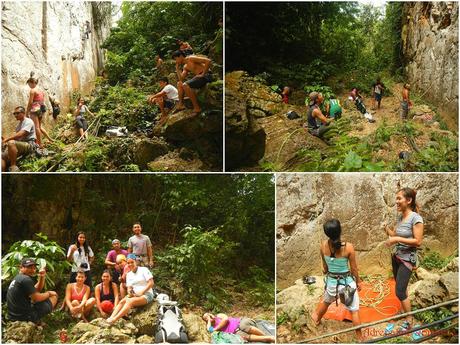 Several folks wanted to come with us. Great! But before going to Puting Bato, we treated ourselves to a traditional Filipino lunch of inasal manok (roasted chicken); puso, or hanging rice (rice cooked in weaved coconut palms); and atchara (grated and pickled papayas). Coke, of course, was never absent.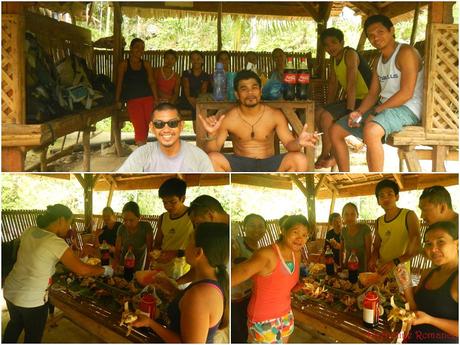 After letting those yummy morsels settle in our stomachs, we took a habal-habal ride to the jumpoff point, which is just around 10 minutes from Cantabaco and walking distance from the Lutopan "Landing" bus stop. From several vantage points on the highway, Puting Bato is clearly visible.
We passed by a quiet community, left our packs in Sir Enie's cousin's home, and continued our trek towards Puting Bato.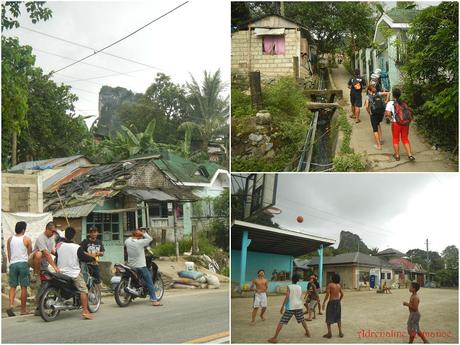 After a quarter of an hour of trekking, we entered light woods, which momentarily hid Puting Bato from view. The evidence of civilization trickled ever so slightly, and we were in Mother Nature's bosom.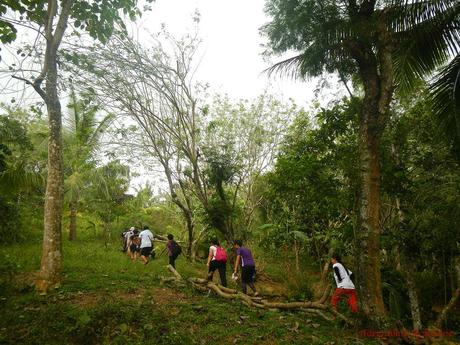 Patches of light woods made way for patches of grasslands. The cloudy day definitely made the uphill trek a little easier as there was no hot sun to scorch us.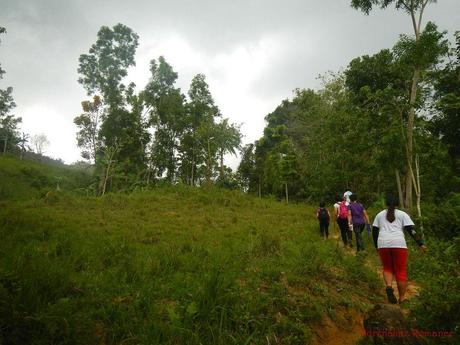 Then all of a sudden, the massive, immensely tall Puting Bato stepped right in front of us with all its glory. The shorter outcropping beside it has been baptized as Itom nga Bato (Black Stone).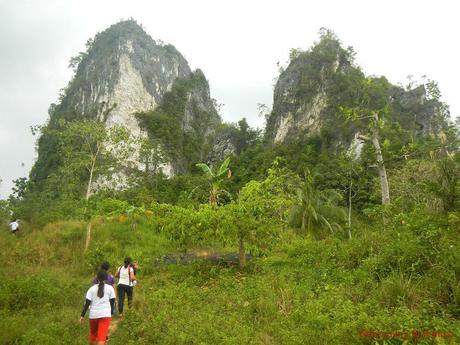 To give you an idea of just how huge this rock is, check out the photo below and compare the scale of the people to the rock wall. Remember that you are seeing the photo in forced perspective; the people are closer to the camera than the monolith.
A monolith, by the way, is an impressive geological feature that consists of a singular massive stone. Erosion exposes or forms monoliths, which are often made of very hard rock.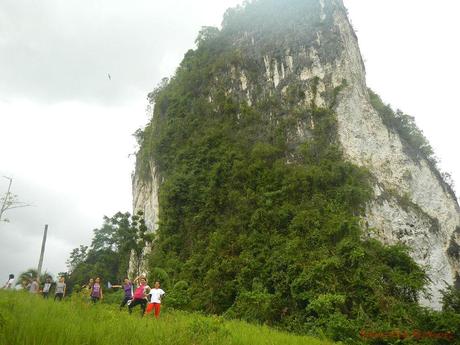 Puting Bato is named so due to the gigantic white limestone wall that comprises its eastern wall. The photo below shows the other sides of this beautiful rock. One side is completely covered with vegetation.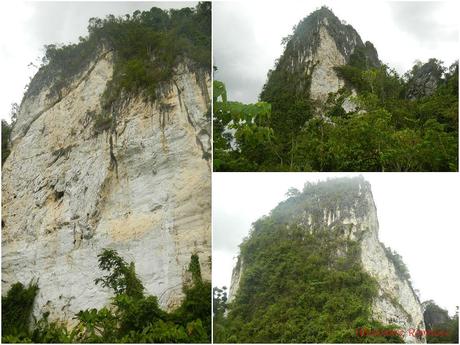 Sweetie checked out the white rock face of Puting Bato. We weren't able to get really close to it due to the very dense vegetation at its base. However, by the looks of it, we deduce that it is made of very hard, very solid limestone. This makes it ideal for bolting. And with its immense height (higher than Cantabaco), it has the potential to become the first big wall of Cebu.
We can already visualize the routes. Climbers would have to pump it up and give it their all towards a quarter to the middle of the wall due to its relatively smooth face. Beyond that, as evidenced by the uneven and rough face of the upper part of the wall, the climb may become easier.
We reckon that the broad width of Puting Bato can comfortably accommodate around 25 to 35 routes. And with its height, it can accommodate the same number of multi-pitch routes.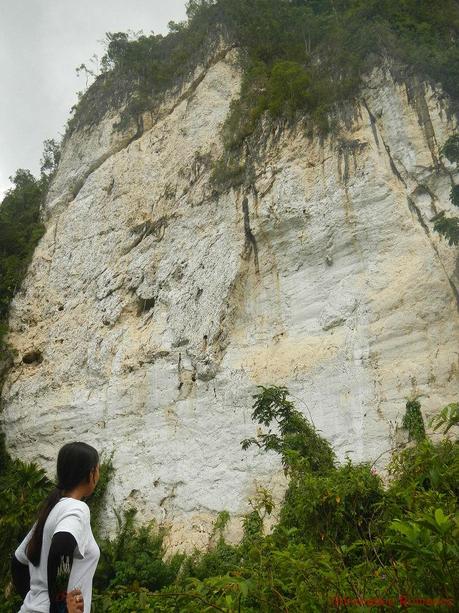 After shaking ourselves from the awe of seeing Puting Bato's enormity, we took a rocky, forested trail that snakes towards the back of the monolith.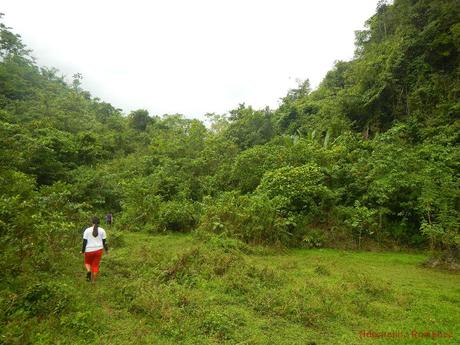 The first 15 minutes of the trail involved a steep uphill climb on sharp, slippery rocks. It is recommended that trekkers wear closed footwear, trekking pants, and arm guards. We found out the hard way that the plants here can slice you up real good.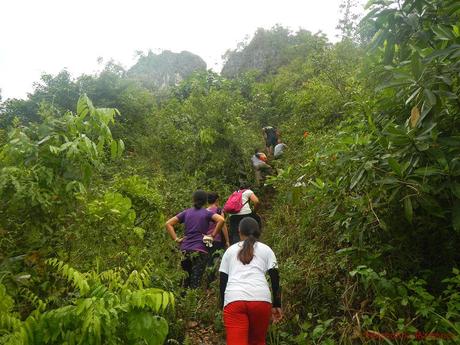 This is where the fun—and dangerous—part begins. We had to scramble up an 80-degree rock trail to reach the top of Puting Bato. Although there are lots of handholds and foot ledges, the climb was still fairly difficult and hazardous considering that a late-morning shower drenched the rocks, making them quite slippery.
The trail is also steeply slanted on one side so that a misstep or a slip to the left will send you fatally careening over a sheer cliff. Check the photo below; the cliff at the left side of the trail (gray rock) is very visible.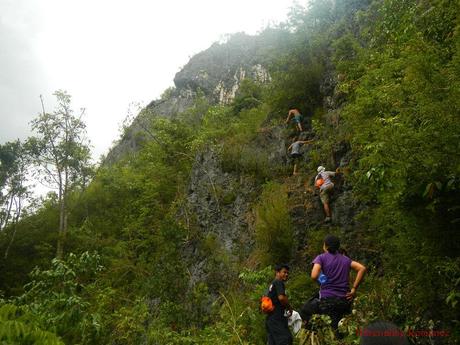 It was my turn to climb. Look at how steep this section is.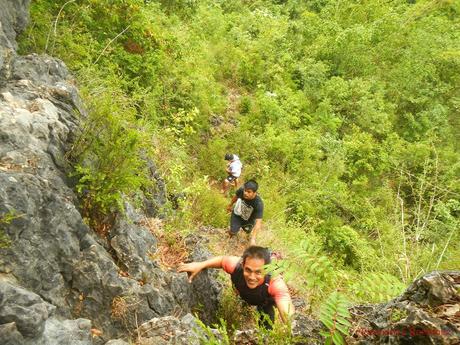 At certain sections, we had to climb 90-degree faces of rough rock with barely a hole, outcropping, or ledge to hold on to. Several times, we wished we brought a rope and, perhaps, some cams or hexes to make the short climb safer.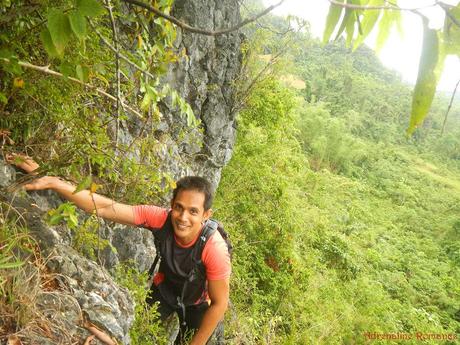 After successfully climbing the almost-90-degree rock face, we faced an easier challenge—trekking up a rocky, shrub-covered trail that leads to the summit.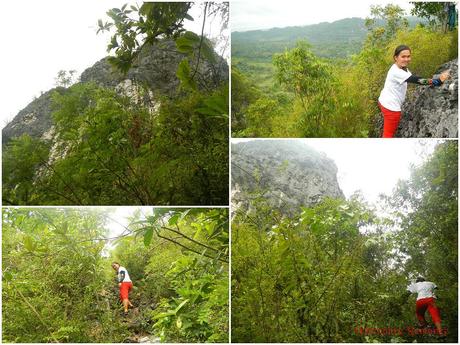 Another short scramble and we reached the summit of Puting Bato. After a short but somewhat treacherous scrambling, we were treated to 360-degree, all-encompassing view of the verdant plains below.
But we needed to be careful here. The summit area is quite small, and two sides drop to a deadly abyssal height.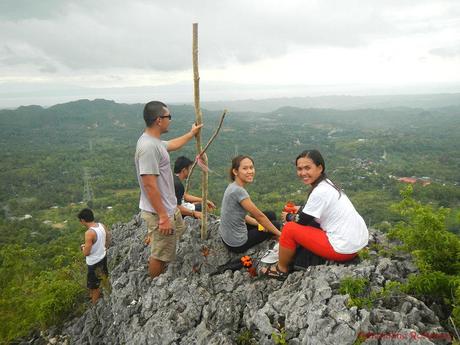 The view from above the summit is nothing short of remarkable. From here, we can see the entire peaceful township of Lutopan, Toledo. That massive excavation is a strip mine/quarry of Atlas Mining Corporation. Yes, we were shocked at the extent of the destruction. But this is miniscule and much more controlled than the one we traversed in Surigao del Sur.
The rock on the foreground is the summit of Itom na Bato, the sister of Puting Bato. Then check out the low right corner of the photo below. Can you see the dirt trail? That's the dirt trail that connects to the rocky trail behind Puting Bato. This gives you an idea of just how tall the monolith is.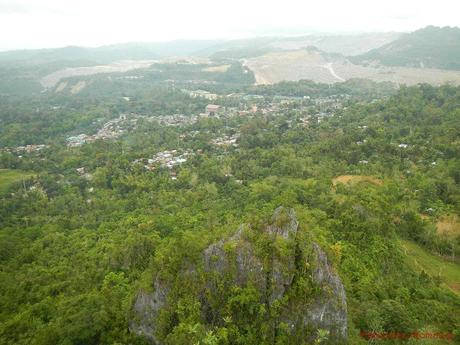 Dizzying height, don't you think? That inch-wide ledge under Flor's feet is the only thing that may save you if you fall.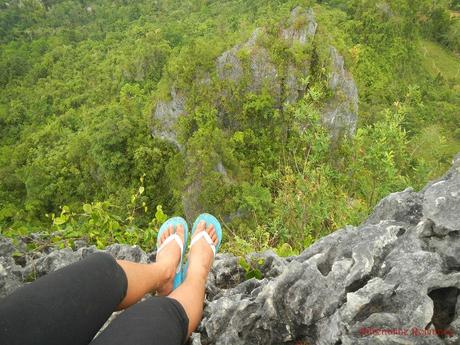 Be careful, ladies! Can you see someone familiar from up here? Check out the sheer verticality of the wall.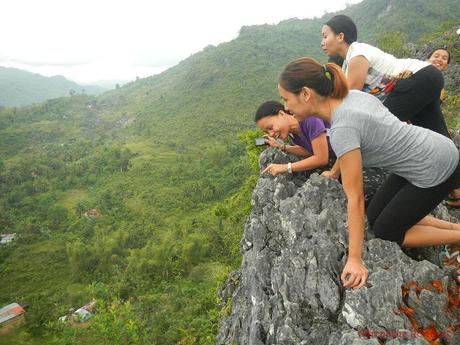 The photo below shows the view from the west side, facing Tañon Strait and Negros Island. From here, we can see the still-verdant municipality of Toledo. Across the Strait is the majestic, cloud-covered Mt. Kanlaon (left). The other cloud-covered mountain at the right is Mt. Mandalagan, located in Silay, Negros Occidental.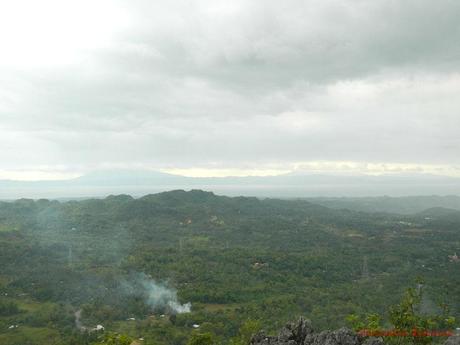 The northeast side of the monolith consists of beautiful green hills and peaks. Limestone cliffs cleave across slopes. Sir Enie said that those are excellent places for bouldering. We'll have to check that out in a later time.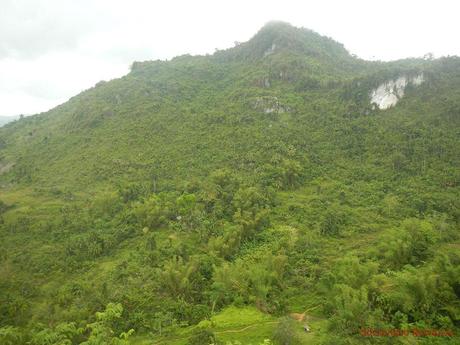 Standing at the very end of the summit outcropping was downright scary! I had to fight waves of vertigo just to keep myself sane. Hehe!
But as you can see, the view from above is gorgeous. Coupled with the sounds of shrieking roosters and hymns from an afternoon mass, we experienced a different level of peaceful, rural life.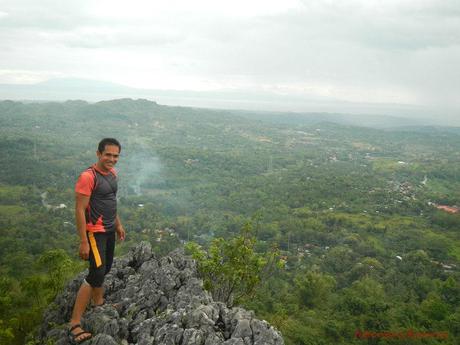 Wild baby mangoes grow abundantly around the rocky summit.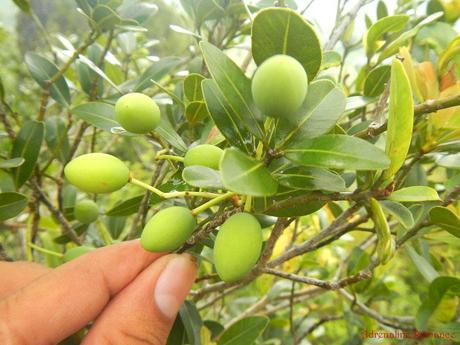 After checking out the surrounding area, we realized that the outcropping where we're standing on was not the true peak. But it was the best place to be because it offered the best views. In other words, it was a "viewing deck."
The way to the true summit is where these ladies are—a rock outcropping with a non-established trail that skirts the top edge of the eastern wall. Fortunately, as you can see from the photo below, the trail has plenty of handholds and foot holds.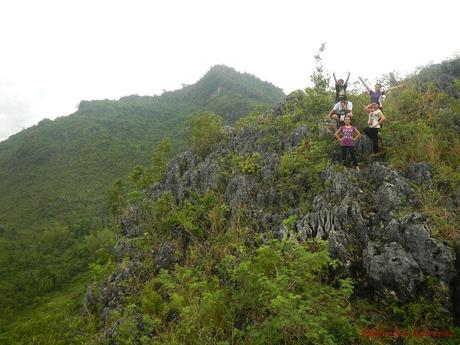 That's the "viewing deck" from the start of the summit trail. It is not difficult to see how treacherous this place is. It is not difficult to understand that climbing Puting Bato is not for the careless and foolhardy.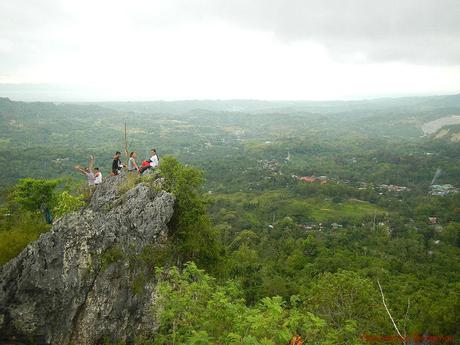 That is the true summit of Puting Bato on the opposite side of the viewing deck. You can see how steep the outcropping is.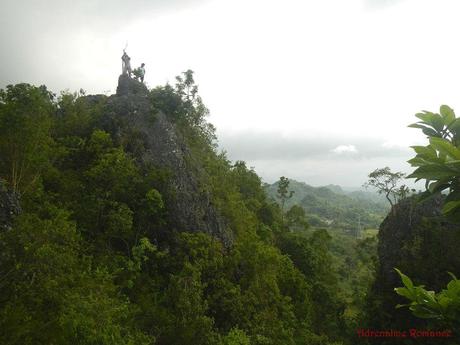 Going down from the summit requires a little bit of acrobatics. The rocks here are quite sharp, and one false move can definitely give you a nasty cut.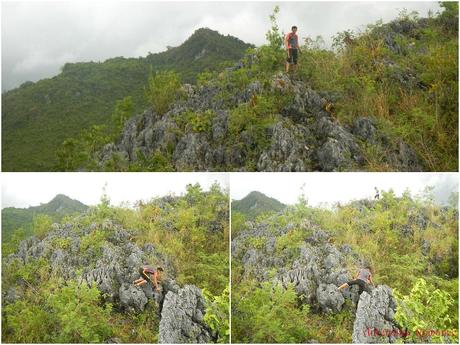 At around 4:00 PM, the clouds became thick, dark, and gray. We can hear ominous claps of thunder in the distance. Knowing that wet stone can become even more slippery, we decided to go down the monolith.
Even as we trekked down, drops of rainwater started to fall down from the sky. Uh-oh!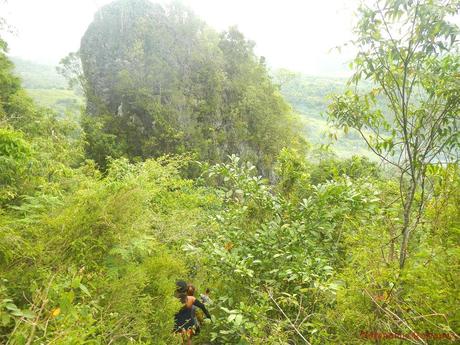 Going down was actually more difficult than going up because we had to be sure of our footing to avoid slipping. This was compounded by the fact that the rocks have become wet and slippery.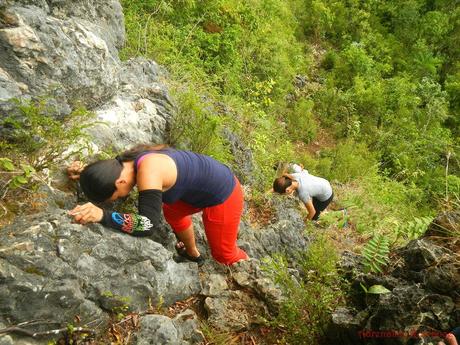 Careful! Careful! That's the rock face that we have to climb down. If you notice the photo below, there are blurred spots in certain areas; those are drops of water on the lens of the camera. Rain has fallen!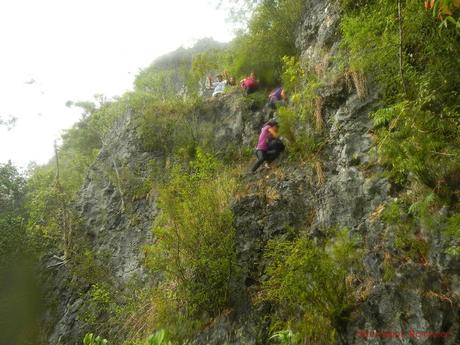 Enjoying the climb down, ladies? Or just happy that the ordeal is almost over? Hehehe!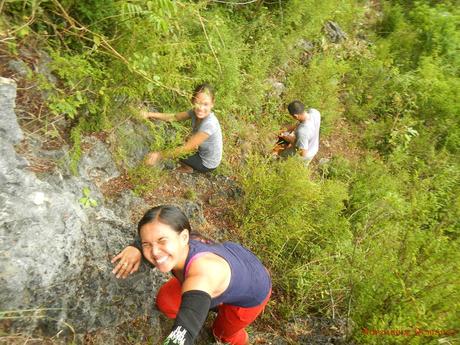 The photo below gives you a better view of the rock face. You can see the sheer walls that are on either side of the trail. You can also see the back of the viewing deck from here. While the rain was refreshing, it also added an element of real danger as we went down; a slip could send us careening over the cliff.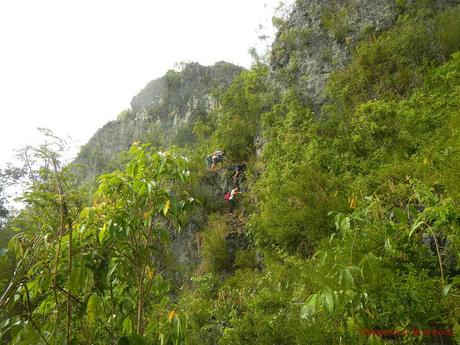 With one careful step at a time, we finally reached the dirt trail that leads back to the community. The trail was wet and muddy.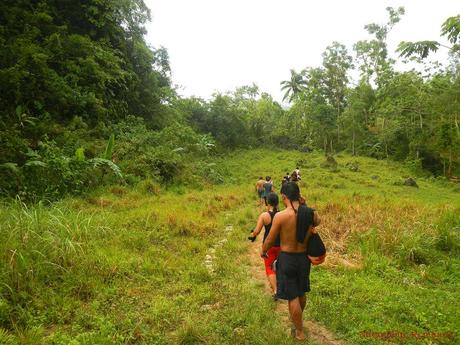 Sweetie took one last look at the monolith. The flat grassy land in front of the rock face is an ideal campsite, staging area, and viewing area for rock climbers. Being huge, tall, quiet, and near civilization, Puting Bato, definitely, has a huge potential of being an exemplary rock climbing site.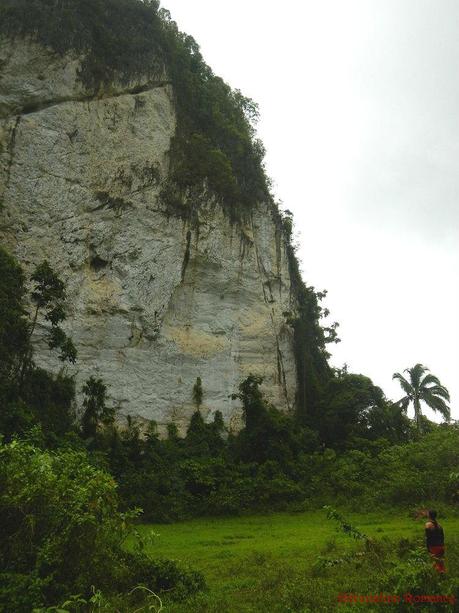 Arriving back at the community after a successful climb, we treated ourselves with some delicious, energy-replenishing camote-cue (traditional snack made of slices of sweet potato, caramelized in sugar and speared on bamboo skewers) and cold softdrinks.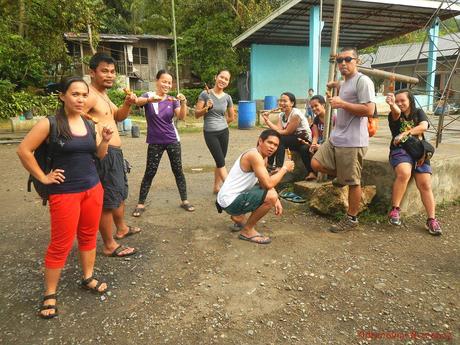 Thank you so much, guys, for accompanying us on our post-Mt. Kanlaon climb and letting us discover another less-known natural wonder in the beautiful island of Cebu. We have just visited an excellent rock climbing site that could help propel Cebu as a world-class rock climbing destination.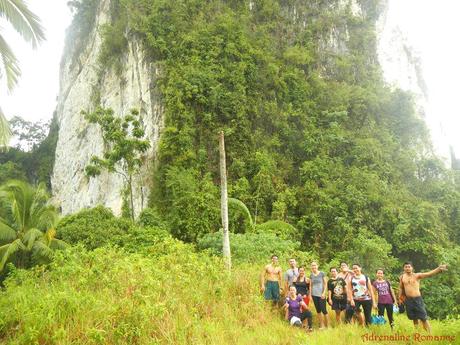 Tips
1. For guideship services, contact Cantabaco rock climbing guides Enie Yonson or Willard Elemino. Formulate your meeting arrangement and negotiate the guide fee with them. Use the following mobile numbers to get in touch with them:
Enie Yonson – 0948-7124875
Willard Elemino – 0947-9220289
2. Pertinent transportation fees are:
P40 – Bus fare from South Bus Terminal to Lutopan Landing (in case your arrange for the guides to wait for you at the Landing rather than in Cantabaco)
P100 – V-hire fare from Citilink Terminal to Lutopan Landing (in case your arrange for the guides to wait for you at the Landing rather than in Cantabaco)
P10 – habal-habal ride Lutopan Landing/Puting Bato jump point to Cantabaco (or vice versa)
3. Spotting the jumpoff point the first time is tricky; it is a ubiquitous alley beside a closed-down vulcanizing shop just a few hundred meters from the Lutopan landing bus stop. Additionally, there is a large network of trails (branching out from the community, and many of these trails actually lead away from Puting Bato. That is why we strongly recommend getting a guide the first time you visit Puting Bato.
4. It takes only 45 minutes to 1 hour to reach Puting Bato from the jumpoff. To make the most of your time, do not go to Lutopan because you solely want to visit or climb the monolith. Instead, devote the morning climbing the Cantabaco crag. Then have lunch and proceed to Puting Bato in the afternoon.
5. The trail is composed of loose soil and slippery rocks. So, wear trekking sandals or trekking shoes with aggressive treads so your feet can obtain good traction.
6. Abort your climb in case of rainy weather. The rocks are very slippery, and climbing the monolith in the rain is exceptionally dangerous. You could lose your footing or hand hold and slip down the cliff. And you know what? Falls hurt or even kill!
If you're up at the viewing deck or true summit and you can see, hear, or feel bad weather approaching, descend the monolith as quickly but carefully as you can.
7. When climbing up or down the vertical section of the trail, make sure you have a good grip or foothold. Don't just blindly scramble up. Most of the trail sections offer good holds and ledges, but it always pays to be on the safe side by checking where you step and where you hold.
Also, do not hold grasses, thin branches, and shrubs for support since they can't hold your weight; just use them to obtain balance. Rather use the rock to support your weight.
8. At the viewing deck and true summit, do not stand at the very edge. You could lose your balance due to vertigo or strong winds. Stay several feet farther and sit down. If you wish to go to the lip of those dangerous areas, crawl and assume a prone position.
9. Wear leggings and armguards. The plants here are quite prickly and sharp.
10. Normally, you don't need special equipment to trek and clim the Puting Bato monolith. However, do pack light and bring the following when visiting the park:
water (at least 1 liters)
dry-fit, comfortable clothes
trekking shorts or trekking pants
trekking shoes or sandals
umbrella, hat, or scarf
snacks
sunblock
face towel
rain gear (in case of bad weather)
extra money for emergencies
medications (if any)
camera