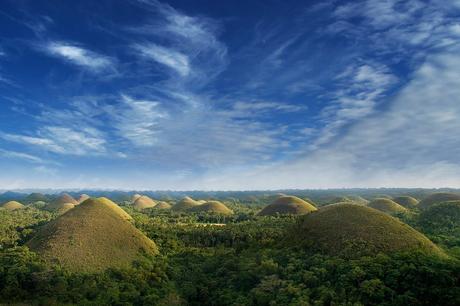 Can't wait to swim in lapiz-colored water, dig your feet in the sand, climb hills, swim above coral gardens, cruise on majestic rivers, and experience delectable delicacies? Then set your eyes on Bohol as they reopen their doors with their Balik sa Bohol: Online Sale. Best of all, enjoy up to 70% off on booking rates, food, tours, and more.
"Balik sa Bohol" has a melodic genesis. Historically, it's an original song performed by townsfolk who would often gather at the port when visitors depart. The song is a warm, upbeat, catchy invitation for visitors to return. As COVID-19 eases up and the country begins its first steps to recovery, the song is now a hymn for the gradual resumption of tourism activities in Bohol. It's a melodic call to welcome back both local and foreign tourists to this amazing island.
Balik sa Bohol: Online Sale is an invitational initiative designed to rekindle Bohol's local tourism, which has been hit hard by the COVID-19 pandemic. The sale offers discounts to as much as 70% on accommodations, food, tours, and other related tourism activities in participating brands. The online sale, which runs from February 21 to March 14, 2021, is organized by the private sector and fully supported by the Philippine Department of Tourism (DOT), the Tourism Promotions Board (TPB), and the Provincial Government of Bohol.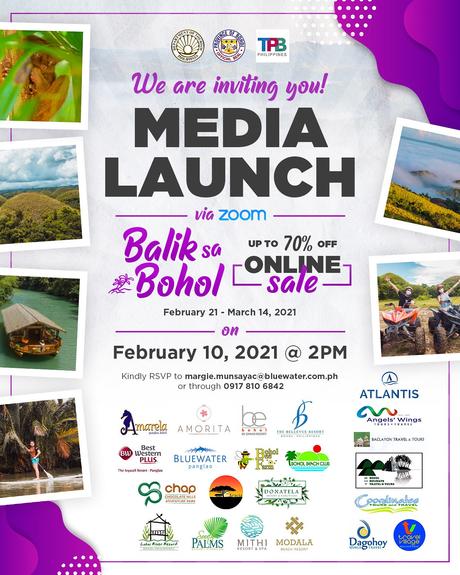 Just check out what awaits you when you come and visit Bohol. We're quite sure you are definitely excited to experience these!
Relaxing vacations and staycations
With stringent health and safety protocols in place, participating hospitality establishments such as Bluewater Panglao Beach Resort and The Bellevue Resort are ready to welcome you. After all, you deserve a luxurious reward after a hard year of fighting through this pandemic.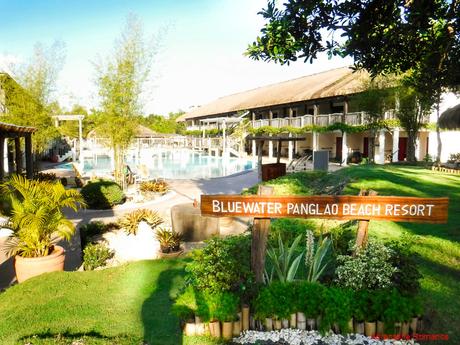 Island hopping
Explore white sand beaches, rocky islets, and other pockets of land floating in crystal clear water that can only be described as liquid lapiz.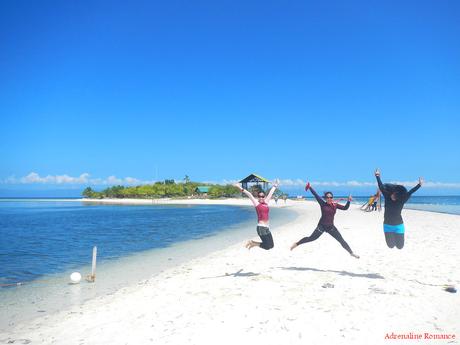 Exploring geological, cultural, and iconic wonders
The stunning mounds of the world-renowned Chocolate Hills are some of the most distinctive icons of the Philippines. It's a SIN not to visit these awesome hills. But did you know there's much more to Bohol than just the Chocolate Hills? Book a tour and discover more of this awesome island!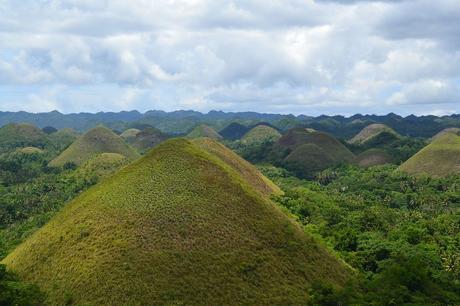 (Photo credit: Creative Commons)
Delicious lunch along a river
Enjoy a hearty lunch made of carefully prepared traditional Filipino food. While cruising along the beautiful Loboc River. While enjoying the lush scenery by the riverbanks. While being serenaded by local musicians and children. Now, that's what we call THE lunch!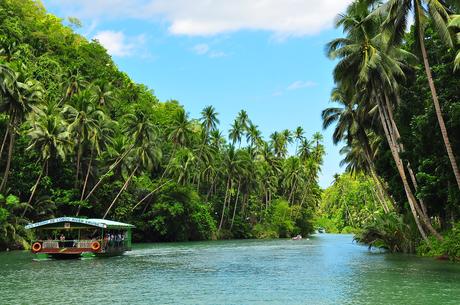 (Photo credit: Creative Commons)
Making new friends
He's all eyes on you! The cute Philippine Tarsier is one of the smallest primates in the world and is endemic to the country. Meet him up close and say hi, but please don't shine a light on him.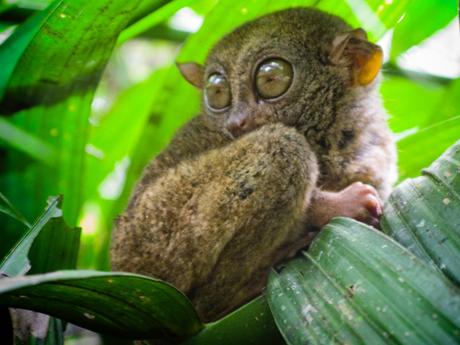 (Photo credit: Creative Commons)
Adrenaline-pumping adventures
If you have an adventurous streak like us, we're pretty sure you sorely miss that familiar warm pump of adrenaline in your system. Well, the Chocolate Hills Adventure Park is ready to bring you that much-needed thrill and excitement with their awesome outdoor activities.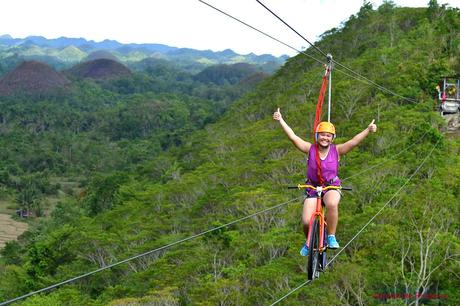 Scuba diving
Many of Bohol's wonders are found beneath the waves such as Balicasag Island, Arco Point, or even the distant Cantagay Marine Sanctuary. Hover over rich coral gardens, swim around with schools of vibrant fish, and immerse yourself in an alien blue world. Who knows? You may meet other rarely seen majestic marine creatures such as sea turtles, whales, dolphins, whale sharks, and more.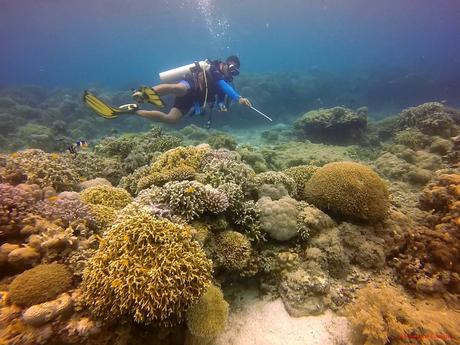 Food tripping
Enjoy Bohol's tasty and unique delicacies such as Jagna's calamay, peanut kisses, Bohol Bee Farm's honeys, and more! Each morsel encapsulates a rich piece of Bohol's culture.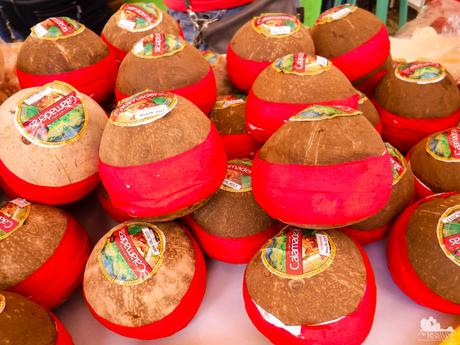 These are just some of the many things that you can do as Bohol welcomes you back in her arms. But hurry! Take advantage of the online sale as it runs only from February 21 to March 14, 2021.
Tara na! Support and revive local tourism! Balik na sa Bohol!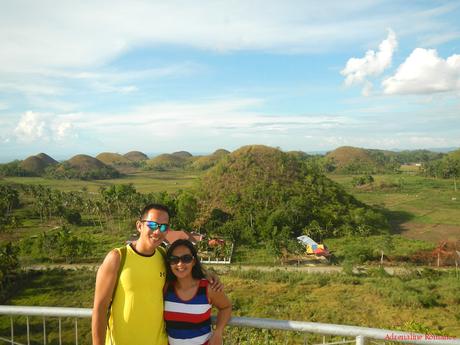 Important Information
For more information about the Balik sa Bohol: Online Sale, please contact Ms. Margie Munsayac at [email protected]
Check this link for a list of hotels participating in the Balik sa Bohol Online Sale.
Requirements for Tourists
Please accomplish the following requirements before visiting Bohol
negative RT-PCR test result (swab must be taken within 72 hours to travel time)
confirmed booking at a DOT Accredited hotel
registration through the Bohol Tourism Office
for those going on tour, a confirmed tour booking through a DOT ACCREDITED tour operator