Count on the Kremlin to be watching the current American election cycle very closely. A lot is at stake for the Russians–especially in normalizing relationships and bringing to an end the crippling sanctions that Moscow so desperately craves.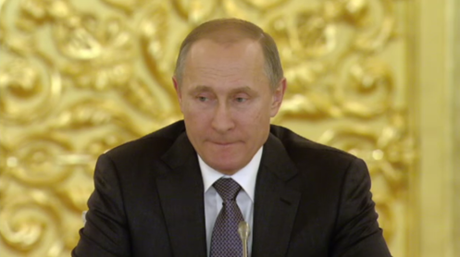 Mr. Putin in the Kremlin during a summit with leaders from India, December 2015.
While they will never admit it openly, the folks in the Kremlin understand that American politics, for all its imperfections, is far more honest and transparent than anything the Russians have yet to experience in their long history. To paraphrase a running Russian joke, "The Americans are only a year away from their election, and they still don't know who is the winner!"
Vladimir Putin must certainly be enjoying the debates, as both parties have allowed these events to descend into something that more resembles a barroom brawl instead of a spirited airing of the issues. During the 2012 Russian elections, Mr. Putin stayed above the fray of campaigning and debates. Instead of participating in debates with his challengers, of whom everyone already understood the eventual outcome, he claimed that he was too busy running the country as prime minister. He had no time for silly things like answering questions from the media or the opposition.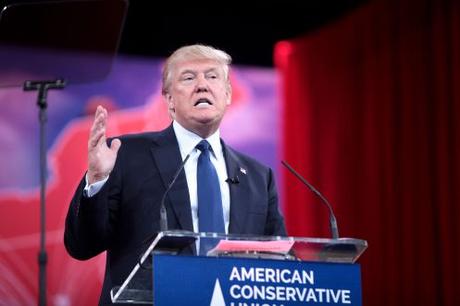 Photo: Gage Skidmore
Of all the remaining candidates, both Republican and Democrat, there is one individual who Mr. Putin has described as "outstanding and talented," and "undoubtedly a very colourful, talented person." If you guessed that to be wealthy businessman Donald Trump, you may now proceed to the head of the class.
Mr. Putin has experienced the chilliness of Hillary Clinton, and heard the fiery rhetoric from most of the Republican candidates. Trump is different, a least in Putin's estimation. Following his most recent national press conference, Mr. Putin opined about Trump by saying, "He is the absolute leader of the presidential race, as we see it today. He says that he wants to move to another level of relations, to a deeper level of relations with Russia. How can we not welcome that? Of course we welcome it."
Meanwhile, Mr. Trump has said some things that surely sound like music to Putin's ears. Trump has said that the world might be a better place had Saddam Hussein and Moammar Qaddafi been left in power. He has questioned the American effort to dethrone Syria's Assad.
In a statement from the Trump campaign, Trump waxed eloquent about the Russian leader. "It is always a great honor to be so nicely complimented by a man so highly respected within his own country and beyond. I have always felt that Russia and the United States should be able to work well with each other towards defeating terrorism and restoring world peace, not to mention trade and all of the other benefits derived from mutual respect."
The mutual admiration of Putin and Trump has not been lost on other American candidates. Ohio Governor John Kasich, a Republican candidate, went so far as to create a spoof website that promotes a Trump/Putin ticket.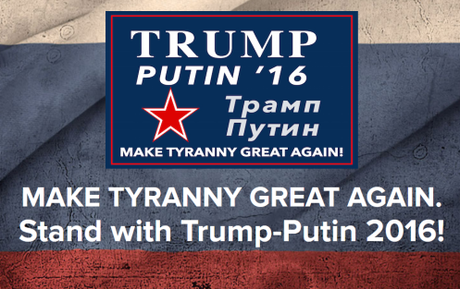 Spoof website: http://trump-putin2016.com
The Kasich spoof includes a video promising that, if elected, the duo would soon "Make Tyranny Great Again."
Among some there is a suspicion that Trump has an affinity for the women of Eastern Europe. His first wife, Ivana Marie Zelníčková, was born in Czechoslovakia. They had three children together. Wife number two, Marla Maples Trump, gave "the Donald" a daughter, Tiffany. Currently, wife number three is Melanija Knavs Trump, born in Slovenia. Trump has a young son from this third marriage.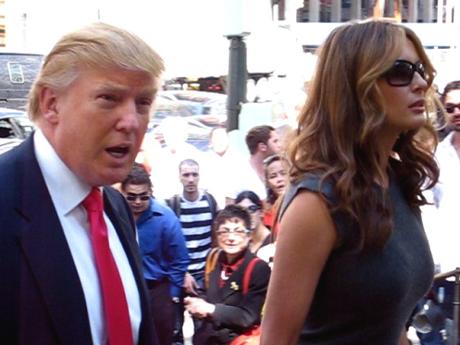 Donald and Melania.
Given the Soviet history of the region which gave Trump two of his wives, one might easily come to think of why he might wish to get along with Vladimir Putin. But, there may be more to it that simple geography. Both men see themselves as strong leaders. Both respect strength and fail to countenance weakness.
Critics claim that neither man seems to have a strong resolve to adhere to constitutional principles as laid out in their respective nations. Could they get along? Maybe. But, at what level? That, as Mr. Putin said in a news conference, is something for American voters to decide.