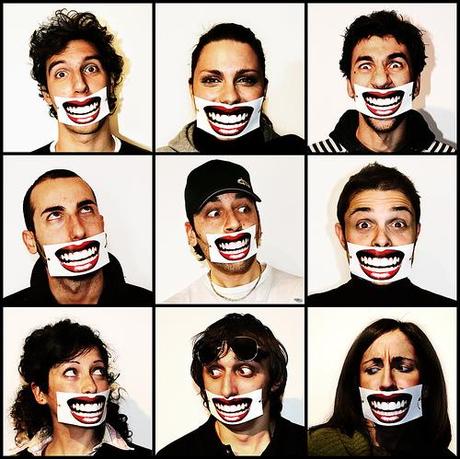 Doing something unexpected and lovely for someone else, just for the sake of it, brings heaps of good karma and is a wonderful way of making their day AND yours a feel-good one. The busy, busy, busy life we all lead means it's often easy to lose connections with others and the slippery slide into the rut of day-in-day-out is something many of us consciously need to fight. For instance, I know that a focus on all the jobs and tasks I need to do and want to get done can overwhelm me at times and sucking in some deep ones to look outside my own world is one way of grounding myself.
Making someone else happy makes me happy in turn and once all those happy hormones kick in, an ordinary day becomes so much better.
Putting a smile on someone's face not only makes your day and their day better but, because smiling is contagious, it's likely to be played forward to others too. Such small actions and so many potential winners!
The following 10 gestures are not overly grand and most are free or inexpensive but I do bet that all would result in a Cheshire Cat grin on the recipient! Give one or more of these a try, and see the smiley benefits
Send a little gift or an "I'm thinking of you note"  to your partner at work – they'll be surprised and chuffed, it'd truly make their day!
Genuinely and sincerely compliment someone on their appearance – such a simple acknowledgement can be a real boost to someone and result in them feeling great all day.
Call someone out of the blue to let you know you're thinking of them and miss them
Tell someone you were thinking of them the other day
Take someone out for a surprise lunch – it doesn't have to be fancy and even a picnic in a local park shows lots of care and thoughtfulness.
Ask a friend if they need you to grab anything for them while you are out shopping
Give up your seat on the bus or train for someone standing
Send a card to a friend telling them how you value their friendship – with electronic communications being the norm these days, what a lovely letterbox surprise this would be!
Hold the door open for someone walking behind you – an old fashioned gesture but a courtesy that all people appreciate
Tell your child you're very proud of them at a random time – follow this up with a big, squeezy hug!
Which of these do you think you can have a go at in order to make someone smile today? I wonder what other ideas can you add to the list too?
photo credit: pensatore Istintivo! via photopin cc
Hooray for the end of the week and that means it's Friday linkup with some fabulous blogs
These 2 gals host awesome Aussie linkups, so head over for some great blog reading!
I'm linking up this week again with a US blogger I've been following who just cracks me up, so