We are half way through Ramadan and my posts on the blog has reduced just because I feel my life has been turned upside down. My daily schedule of doing a particular task on particular time is so mismatched right now, I can hardly find time to write a good blog post – either sharing recipes or writing what Little A and I had been upto these days.
Many view Ramadan as a month of high indulgence in elaborate Iftars. To be honest Iftar at my home would look like a poor man's food if it has to be compared with Iftars in other homes where a wide spread of delectable items are produced in front of people who have been deprived of food for long hours. We generally have a glass of milk or milk-shake followed by our regular dinner and fresh fruits. That is it. The main advantage of following this lifestyle is we go to sleep feeling light and wake up with more enthusiasm next day. But come weekend, a group of friends gather and bring out their favorite dish that we satisfyingly feed on after maghrib prayers over a lot of chit chat followed by some crazy group games. We call it Iftar potluck. The idea is to bring together like minded people and have lot of fun over our favorite topic – food. The scene just before adhaan would have all the ladies in the kitchen doing last minute touch up to their dishes to serve after prayers, men putting up rugs in the living room for prayers and children running about everywhere. And we take turns to host potluck Iftar party. How cool is that? I have been superbly lucky to have a group of people in this part of the world who come together to celebrate any occassion or festivities with great delight, come what may.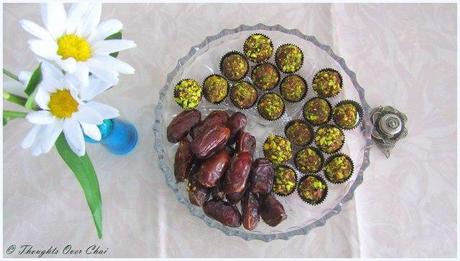 This weekend I was the one to host Iftar potluck and was so excited about it, there were ideas running in my mind all through the week. Eventually in the end, I kept the menu very simple – dates truffles, shami kebabs, vegetable kebabs, gol (jaggery) pani (water), tea and dessert because apart from these there would be several more dishes brought by friends. You can find my recipe for dates truffles here and my husband's recipe for gol pani in a guest post I did on Gheza-e-Shiriin. Kebabs were something that I have been making through the years but for the dessert I chose Beela Bake's Blueberry Cheesecake Pots because I was so fascinated by it's photos on her instagram's page, I knew instantly that this would be loved by all. Tartness of bluberries cooked into a syrup matched perfectly with sweet cream cheese and the layers of biscuit crumbs added perfect crunch to the whole dessert. Her recipe called for mascarpone cheese but as it was out of stock in the supermarket, I used cream cheese instead. The dessert was still very delicious and worked really well. What intrigued me more was that it was a simple yet rich dish -both in presentation and appetite and didn't require any baking. It was excellent and fool proof for the time I knew I'll get to devote to a dessert amidst different chores and putting in order various other nuances. There had to be something exquisite for children too so I prepared chocolate cups from silicone muffin moulds and filled them with Blueberry Cheesecake. What made my life easier and less running up errands on the potluck day was appropriate planning, grocery shopping and vegetables chopping a day before and endless amout of help from a loving husband!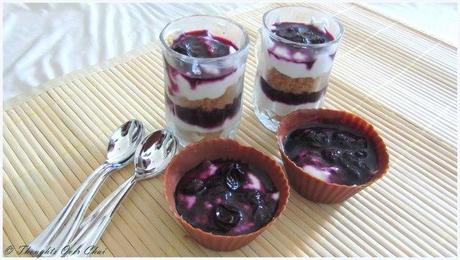 A week before that, during the first weekend of this Ramadan, it was another friend's turn to host potluck for which I prepared Italian style Puris, the recipe for which I developed last Ramadan after taking an idea from Neeta Mehta's Cookbook but using up my own ingredients. I had been hearing stories from my husband and his friends about the tempting "topped monaco" that my mother-in-law prepared on various occassions and always wished to replicate those. Since I could not get the exact recipe, one day I decided to cook up an Italian style semi dry filling with chicken, vegetables and different sauces and serve as a topping on zeera puris. This somehow resembled my MIL's dish and husband has been one happy person ever since!
Note: The toppings also work very well with canapes.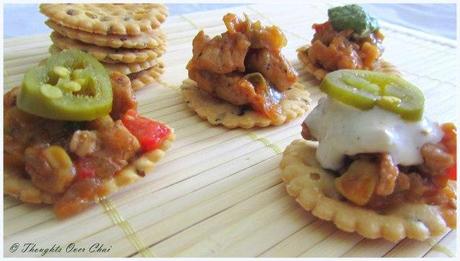 The recipe for Puris with Italian style toppings.
Italian style Puris
Servings: 4
Difficulty: Medium
Ingredients:
For the toppings:
Zeera Puris / Canapes – 25 nos
Chicken Breast – 250 gms, cut into bite sized pieces
Capsicum – 1 each of green, yellow and red (you can use any of your choice)
Onion – 1 medium, chopped
Sweet Corn – 1/4 cup, boiled
Mixed Italian Herbs – 2 tsp
Garlic pods – 2, finely chopped
Ginger Garlic Paste – 1 tsp
Fresh Cream – 2 tbsp
Butter – 1 tsp
Olive Oil – 1 tsp
Tomato Ketchup – 1 tsp
Tomato Paste – 1 tsp
Hot Chilli Sauce – 1 tsp
Black Pepper Powder – 1 tsp
Sugar – 1/2 tsp
Grated Cheddar Cheese – 2 tsp
Salt to taste
Jalapenos – few, sliced in circles
For garlic mayo dip:
Garlic pods – 4, finely chopped
Yoghurt – 2 tbsp
Mayonnaise – 4 tbsp
Salt to taste
Pepper to taste
Olive oil  – 1/2 tsp
Method :
For Filling :
Cut chicken into bite sized pieces and keep it aside marinated in  salt, pepper and ginger garlic paste. In a small bowl mix together cream, all the sauces (tomato and hot chilli) and tomato paste and keep it aside till further use. In a wok, heat olive oil and butter till it melts, but do not burn. Throw in finely chopped onions and garlic. Let the onions turn translucent. Now add in marinated chicken, capsicums and corn. Close the lid and let the chicken and vegetables cook through on a medium heat. Add water only if required because chicken will lose water which is enough for cooking. After the chicken turns tender add mixed herbs, sugar and cream mixed with sauces. Lower heat and let them rest for 2 mins. Mix in grated cheese and salt/pepper if required. Turn off the flame. To assemble top each puri with chicken and vegetable mixture. Add a heap of garlic mayo dip. Top with a slice of jalapeno. Serve immediately.
For garlic mayo dip
In a pan heat oil and add chopped garlic. Let it burn a little till it turns brown and leave nice aroma but do not let it turn black. In a bowl mix yoghurt and mayonnaise. Add in burnt garlic. Add salt and pepper for taste. Be cautious of adding salt since mayonnaise also contain it. Let it sit in the refrigerator till further use.