One of my posts was included in a recent newsletter by the
Clell Wade Coaches Directory
.  Along with my article was an piece written by a former teammate of mine in the minor leagues who is now coaching at Mississippi State University.  In his article which you can access
HERE
, Coach Cohen mentioned that he wants his hitters to be the "puppeteer" and not the "puppet."  I thought this was a great way of putting it so that hitters can understand what a team's collective mission is on the offensive side of the ball - making the pitcher uncomfortable and getting him to change the way he pitches.
Using that general concept, I listed five specific things below that a hitter or an entire line-up can do to make a pitcher uncomfortable and get him to change things up.
Attack the first strike
.  This tends to have the biggest impact on changing the way a pitcher throws.  Taking an aggressive swing on the first strike sends a clear message to the pitcher that he better be careful laying a fat one in for strike one.  When multiple hitters attack the first strike, pitchers usually begin to start hitters off with something other than a fast ball or at least attempt to throw the fast ball towards the corners on the first pitch.  At the lower levels, that usually means ball one which, of course, now makes it even better for the hitters.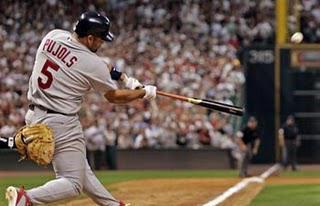 Rarely the puppet.
Jump on a mistake
.  The next time you are watching MLB highlights of players hitting home runs, pay close attention to where the pitch was located when contact was made.  In almost every instance, the pitch was out over the plate and thigh to waist high.  It's rare that MLB pitchers throw it there but when they do, big league hitters do not miss them.  Whenever a hitter or a line-up attacks a mistake, it sends another message to the pitcher to not make a mistake again.  When the pitcher starts worrying about mistakes, he tends to throw more of them.
Move in
.  As you get higher up in baseball, this adjustment tends to not work as much but at the high school level and below, it can be very effective in getting the pitcher to change the way he is throwing.  It's not a secret that most young pitchers have a tough time throwing strikes on the inside part of the plate for fear of hitting batters.  Most will stay on the outer half.  Moving a little closer to the plate takes that outer half away from the pitcher and baits the pitcher into doing something he is probably not comfortable doing - throwing inside.  MLB pitchers will normally eat a hitter up by pounding the inside corner if he tries this but every now and then you'll even see hitters do it at that level on certain pitchers.
Be a tough out
.  Pitchers hate hitters who consistently have long at-bats.  Most would rather have a guy get a hit on the first pitch than work a walk after 8 or 10 pitches.  When asked how he pitched against Tony Gwynn, one MLB pitcher said "I throw it down the middle on the first pitch and just get the line-drive over with so I can pitch to someone else."  Being a tough out frustrates pitchers and most will change the way they pitch because of it.
Make adjustments quickly
.  I wish I had a dime for every time I said to my hitters "Do not let the pitcher get you out the same way twice."  There are a number of variations to that saying but I do say them all the time.  If you swing at a curve ball in the dirt early in a game, you are going to see that same pitch again at some point.  The next time you see it you have to make the adjustment to not swing at it.  When you do, it's now the pitcher's turn to make an adjustment on how he gets you out.  It's a constant cat and mouse, back and forth game of adjustments.  Make them faster than the pitcher and your line-up is probably going to have a good day.
Being the puppeteer means pulling the pitcher's strings and making him change the way he pitches.  Do more of these things consistently and you will have a much better chance of being the puppeteer and not the puppet.