Just when I was losing hope in NDPs, Puncher's Chance Bourbon shows up to prove that some people still do label their products correctly and don't employ shady site and bottle copy. The only thing I can throw any real shade at is the design, which looks a bit cheesy and not in the fun campy way.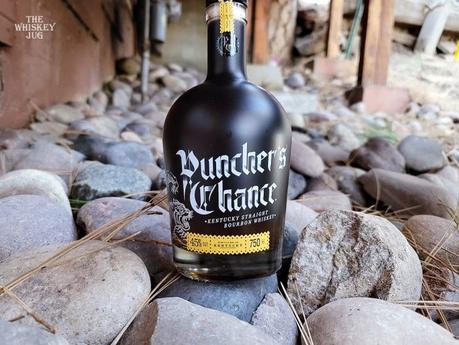 But that's a matter of taste, and speaking of taste, I think it's time we give the Puncher's Chance a chance. I'm gonna set aside how much I dislike the bottle design, site design, font, and everything about the presentation of the brand and sink into the whiskey itself… at least I'll try.
Let's get to drinkin'!
---
Puncher's Chance Bourbon – Details and Tasting Notes
Whiskey Details
Natural Color
Style: Bourbon (Straight)
Region: Kentucky, USA
Distiller: Undisclosed (Bardstown – Likely Barton 1792)
Mash Bill: 75% Corn, 13% Rye, 12% Malted Barley
Cask: New Charred Oak
Age: 5+ Years
ABV: 45%
Puncher's Chance Bourbon Price: $30
Related Whiskey
1792 Barton Small Batch
1792 Ridgemont Reserve
Trader Joe's Bourbon
Yellowstone Bourbon
Blue Run Bourbon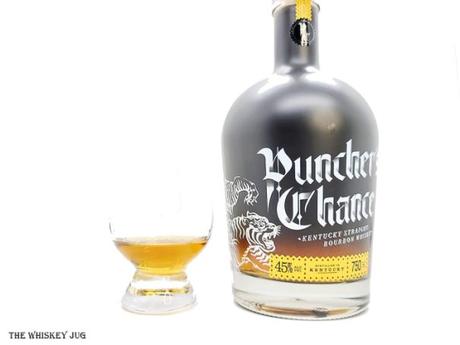 "Puncher's Chance Kentucky straight bourbon inspired by two great American traditions: whiskey and fighting for what we believe in." – Puncher's Chance
Puncher's Chance Bourbon Tasting Notes
EYE
Amber
NOSE
Caramel, oak, vanilla, baking spice, nuts and a touch biscuity.
Pretty standard aroma, nothing great nothing bad, decent standard profile.
PALATE
Oak, caramel, baking spice, vanilla, nuts, biscuity, slight dried dark fruit, pralines.
Sweet and oaky with a nice nutty candy note that's a tad on the sweet side, but again, pretty standard.
FINISH
Medium -> Oak, baking spice, fruit, dried fruit, nuts.
BALANCE, BODY and FEEL
Decent balance, medium body and a soft easy feel.
---
Puncher's Chance Bourbon- Overall Thoughts and Score
There is nothing to dislike nor particularly celebrate about this bourbon, except maybe the price. On the whole, it's a very standard bourbon and there's nothing challenging, off, or overwhelmingly fantastic about the nose and palate. It smells and tastes like a decent bourbon, and it's priced like one too. This isn't a $30 bourbon carrying a $100 price tag, it's a $30 bourbon carrying a $30 price tag.
It's a bourbon that knows what it is and that's refreshing. Yeah, I'm not crazy about anything to do with the design, but once you pour a glass or mix up a cocktail, the bottle can go back on the shelf behind the Wild Turkey 101 bottle. Which, yes, Wt 101 is still one of the best values you can find on the market, but sometimes you want something a little different that won't break the bank and if that's you, this isn't a bad way to go.
SCORE: 3/5 (above average, worth checking out ~ B- | 80-82)
*Disclosure: The bottle for this bourbon review was graciously sent to me by the company without obligation. The views, opinions, and tasting notes are 100% my own.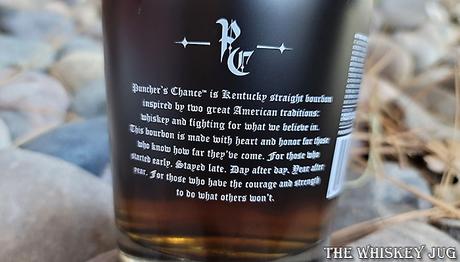 Puncher's Chance Bourbon Review
$30
Overall
3
Nose

(3)

Palate

(3)

Finish

(3)

BBF

(3)
Sending
User Review
0

(

0

votes)
Comments Rating
0

(

0

reviews)