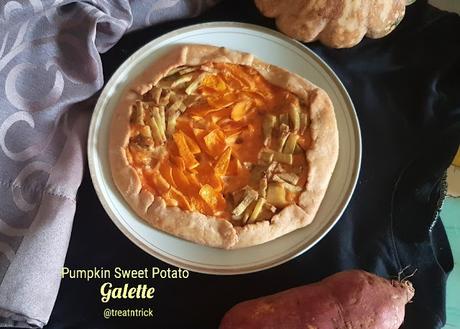 Tender, flaky crust and savory, this Pumpkin Sweet Potato Galette can be served as an appetizer or main course for small gatherings.  However, it is served, it is sure to be loved by all.
CRUST
I used all purpose and whole wheat flour for added health benefits.  You could you use all purpose flour entirely for the crust. Replace butter with oil for vegan.
TOPPINGS
The pumpkin and sweet potato  should be sliced thinly so it cooks faster.  They need to be cooked before putting on top of the galette either using microwave for 1 minute or steam for 2 minutes as we need to bake them again for 40 minutes.  After cutting, soak sweet potato in water to avoid discoloration. Create a beautiful pattern for pumpkin and sweet potato atop the sauce if you like.
SAUCE
The mixture of mayo and cream cheese together with paprika, salt, lemon juice and black pepper yield a mild tangy taste and it was seriously delicious.  Add honey if needed but mine done without it.  Use vegan mayo and vegan cashew cream cheese or tofu sour cream if you are a vegan.
My family devoured this rustic Pumpkin Sweet Potato Galette in no time, am so glad there is no leftovers.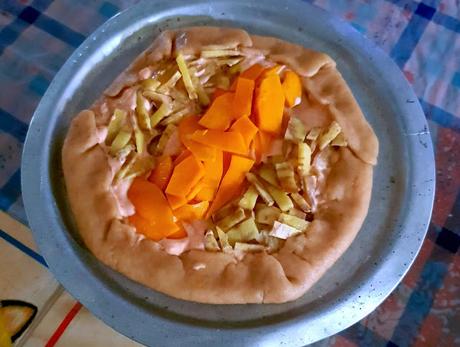 Other similar recipes:
Pizza Rolls
How to make Chicken Calzone
Homemade Tuna Pizza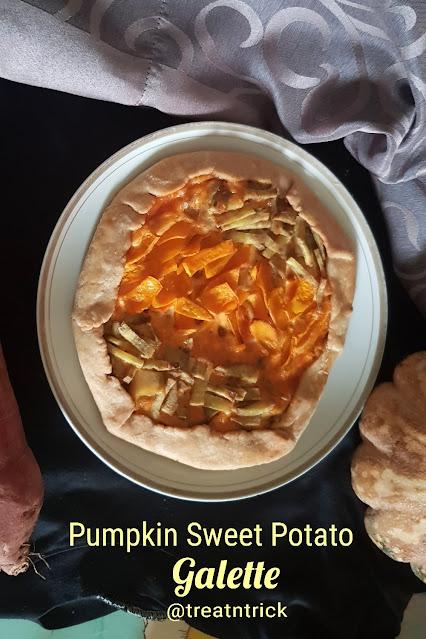 Until Jump Break