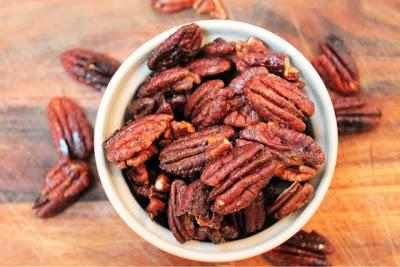 Ahhhhh Fall. Ahhhhh pumpkin. I love it all. I love when I find out making recipes at home is much cheaper than buying them at the grocery store. For some reason nuts are always so expensive when you purchase them in the grocery. I swear you pay $5 for a canister and they are gone in a day! Other pluses about DIYing your own recipes are you get to control the ingredients ( no preservatives or additives you can't pronounce) and you can make different flavors... like... I don't know... PUMPKIN SPICE! Yep, get excited. These are literally the easiest nuts to make. Secondly your house will smell absolutely amazing. Feel free to spice these nuts up however you want.I did a similar recipe last year for cocoa roasted almonds.  Also use whatever raw nuts you have on hand. Do not use nuts that have already been roasted. Use raw unsalted nuts. I first tried this recipe with raw cashews,which I burned terribly. Crap. From the ones I tried that weren't singed, they were delicious. So feel free to use cashews. Second try, I used pecans. And OMG. Delicious. Almonds would be a great choice also. You get the spices to stick to the nuts with maple syrup ( try using real maple syrup.) The fake kind is very sugary and thick and might burn in the oven. Since I burned my first batch I will give you some advice. After 15 minutes keep watching the nuts. Mine burnt after 25 minutes. I cooked the second batch for 20 minutes and they were perfect!
Ingredients: 1 cup raw pecans ( or any nut of your choice) 2 tablespoons maple syrup1 teaspoon of pumpkin pie spice1 teaspoon cinnamon1/2 teaspoon of kosher saltCooking spray
Directions: 
1.Preheat oven to 325F.  In a large bowl combine nuts with maple syrup until nuts are fully coated. 2. Add pumpkin pie spice salt  and cinnamon. Mix until  nuts are coated with seasoning.3.  Line a rimmed baking sheet with aluminum foil and spray with cooking spray.Spread nut mixture and place in oven. 4. Bake for 20 minutes checking the nuts at 15 minutes to prevent burning. Let cool and store in a air tight container.