It's Pumpkin Season!
Nothing gets me excited for the change of seasons faster then the re-introduction of all things pumpkin.
This versatile squash finds its way onto my front porch, in pies, and even in my coffee drinks.
You probably won't be too surprised that it can also be found on my face and body, all season long.  The harvest moon is my alarm clock to get back into the kitchen and start making homemade skin care recipes.
Today I am going to share five of my favorite pumpkin-based, homemade skin care treats, and one very special mystery bonus recipe.
Skin Care Tip: Start using pumpkin on your face now, and your glow will be gorgeous by Halloween.   
Get the full recipes and shopping list by clicking here
Why use pumpkin in skin care recipes?
Pumpkin is known to be an excellent source of:
Vitamin E which conditions the skin and helps to reduce fine lines and wrinkles
Magnesium: known to be rejuvenating, and raises DHEA which serves as an anti-inflammatory
Potassium: encourages the growth of new, healthy cells
Copper: promotes collagen and elastin production, and also acts as an antioxidant
Vitamins A & C: Super antioxidants that reduce free radicals and help to protect from UV damage
Zinc: Repairs damaged cells–the work horse of wound healing
Also, the enzymes in pumpkin do an excellent job of breaking down the dead proteins on the surface of the skin.  This allows for more smoother skin, better hydration, and helps your skin to glow. We now have even more reasons to love Pumpkin!
The following is a list for some of my favorite pumpkin-based skin care product ingredients.  In the post I have not given specific quantities or instructions because I want you to have the freedom to mix up a formulation that works for you based on your preferences. If you would like to see my exact formulations, with directions and a shopping list, click on the link below.
Pumpkin and Goat Milk Cleanser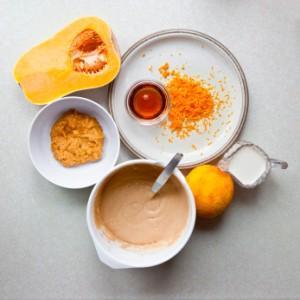 Ingredients: Pumpkin, Goat Milk and Dr. Bronner's "Baby Mild" Magic Liquid Soap
When the autumn weather starts to get cooler, my skin starts to feel drier. To combat the tightness I whipped up this milky cleanser that soothes while it does a remarkable job of cleaning the skin.  Pumpkin and goat milk are a wonderful combination for healthy skin. This cleanser can be used twice a day on most skin types. If you have very sensitive skin, I recommend using it just once a day, preferably at night.
The antioxidant rich pumpkin helps the skin to repair itself from environmental damage like smog, smoke, and large temperature changes.
The goat milk's lactic acid helps to break up the dead cells on the surface that makes your skin look uneven.
The Dr. Bronner's Magic Liquid Soap is a universal cleanser that is very mild. I added it to this recipe because it helps the skin get clean, and I wanted this cleanser to do double duty by acting as a wash for both the face & body.
Tweet this recipe now
Wildflower Honey and Pumpkin Face Polish
Ingredients: Wildflower Honey, Baking Soda and Pumpkin
Exfoliating is one of the most important parts of any skin care routine, but particularly in the fall and winter months when our skin tends to be drier.  This face polish is a very gentle, but effective exfoliant.  It feels like a very fine microdermabrasion, and smells pumpkin-y delicious.  Although it is called "face polish," it can be used all over your body, just be careful around any open wounds.
The wildflower honey acts as a humectant, bringing hydration up to the surface of the skin.
The baking soda buffs away any uneven areas so that the skin is smooth.
The pumpkin is included for its zinc, and healing properties.  Whenever you exfoliate, no matter how gentle, you want to apply ingredient that will help heal and regenerate cells afterward.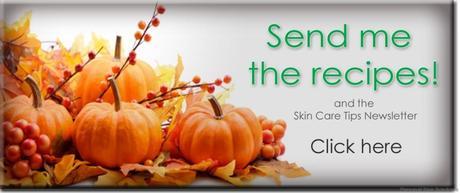 No thanks, just send me to the recipes please.
Sweet Pumpkin and Banana Cream Body Scrub
Ingredients: Banana, Pumpkin, Half & Half and Raw Sugar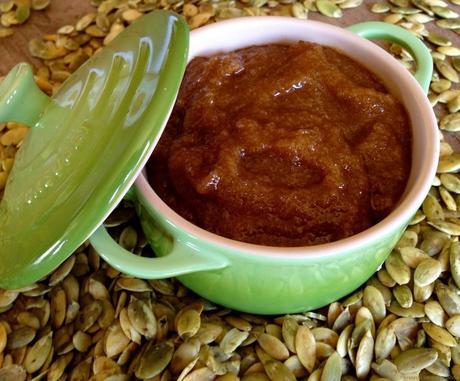 I could rub the cellulite right off my thighs with this invigorating scrub. –Marijane P.
Oh my goodness–you will thank me for sharing this one!  This body scrub does a beautiful job of removing dead skin cells, and making your skin soft and smooth.  The scrub is made of natural ingredients that dissolve with water; however, it is too abrasive for the face and should not be used on such delicate skin.
My neighbor (and Chief Product Tester) Marijane's comment was "I could rub the cellulite right off my thighs with this invigorating scrub."  Although it is not intended as a cellulite treatment, anytime you stimulate blood flow up through the skin, you create the opportunity for new collagen production, which can help improve the appearance of cellulite.
The banana's potassium is known to rejuvenate and repair skin cells.
Half & Half is a fatty milk/cream that nourishes and conditions the skin.
The raw sugar works as a mechanical exfoliant, to slough of all the rough patches on your body, leaving glowing skin behind.
Chamomile and Pumpkin Hydrating Toner
Ingredients: Chamomile Tea, Pumpkin, Witch Hazel and Water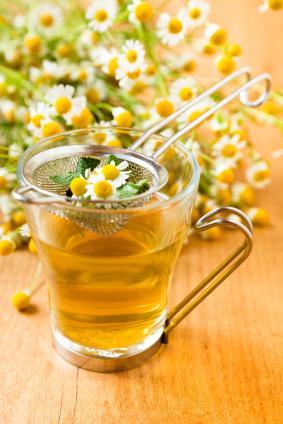 This delightful toner works as both a hydrating tonic, and a bit of an astringent–I wanted to create it this way so that just about anyone could benefit from using it.
Chamomile tea does a beautiful job of calming dry and irritated skin.  It is full of properties to help reduce inflammation.
The pumpkin gives us a good dose of antioxidants, and acts as another protective layer on the skin.
The witch hazel is an astringent that helps to reduce oil production, and is considered anti-inflammatory, and an antimicrobial–perfect for dealing with those weather induced breakouts.
Water is a natural hydrator.
 Skin Care Tip: Use this on your face right after cleansing, and before moisturizing if you want well-hydrated skin.
Pumpkin Sage Regenerating Mask
Ingredients: Sage, Pumpkin and Aloe Gel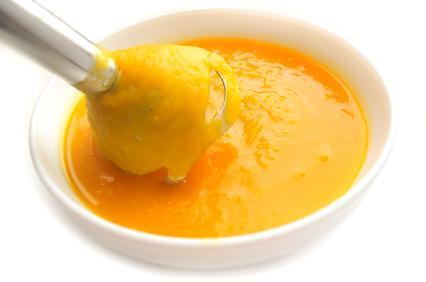 This facial mask smells amazing, and does your skin good!  It is great to use your body for a special masking treat after a good exfoliation.  Whip this up two or three times a week, and your face will be gorgeous and glowing!
Sage is made up of Rosemarinic acid, which has antioxidant properties, is antibacterial and rejuvenating.
Pumpkin for its vitamins, minerals, toning and exfoliating capabilities–not to mention its hydrating/plumping qualities.
Aloe Gel is pure moisture that your skin will drink up.
Final notes:
These delightful treats should be used within a day or two of creation. Please keep them refrigerated when not in use, and throw them out if older than two or three days—there are no preservatives and you do not want to put germy, or decaying products on your skin—yuck!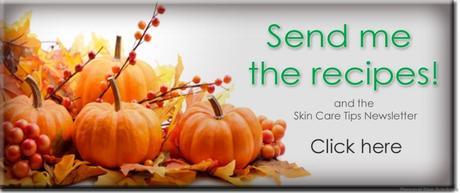 No thanks, just send me to the recipes please.
.
And finally…the Bonus Recipe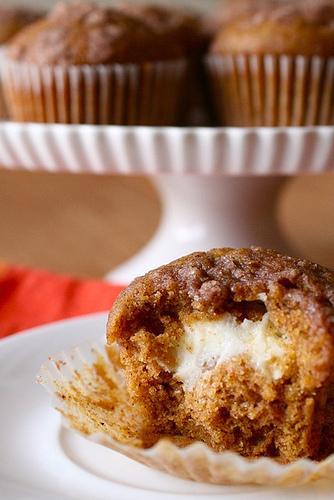 Pumpkin Cream Cheese Muffins
There is a wonderful food blogger named Annie at Annie'sEats.com.  Annie's food creations leave my mouth watering daily, but this pumpkin muffin recipe is over the top!
Click the picture to be taken to the recipe.
All credit for this recipe goes to Annie, including the gorgeous photo of the muffins!
You really should check out her blog at Annie's Eats.
Photo Credits:
Lauren Cianfrocco -Main Photo
http://www.annies-eats.com/ -Pumpkin Muffins
google-site-verification: googlec4de55a140aefe75.html
39BNRQRXWVHT