We humans are a wasteful bunch, especially when it comes to food.  Think about the last time you threw out half an apple or tossed the skins of your soon-to-be-mashed potatoes.  We've been unconsciously trained to follow certain formulas when playing in the kitchen: if the recipe doesn't call for the entire fruit or vegetable, the remainder belongs in the trash.
Let's use pumpkins as an example.  Every Halloween you buy a few to carve with your children or your tipsy friends.  Newspapers are spread on the floor, ceremonial knives are brandished, and pretty soon the walls are dripping with bright-orange pumpkin guts.  Ninety percent of those guts end up in the trash.  The rest become wallpaper or hair gel, depending on the number of cocktails poured that evening.  Halloween is great.
But every now and then, some culinary genius decides to save the pumpkin guts for future consumption.  Said genius will wash and dry the seeds, toss them with salt and pepper, and roast them in the oven for a delicious, seasonal snack.  This genius is the opposite of wasteful.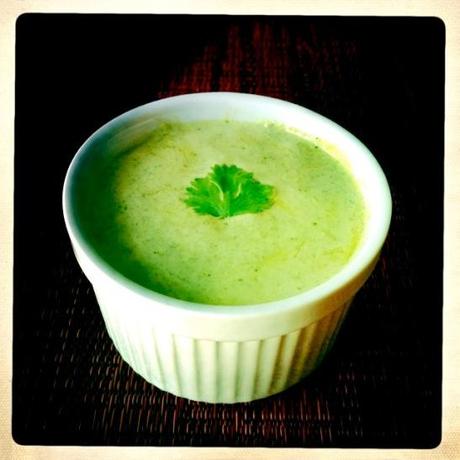 In Latin America, pumpkin seeds are referred to as pepitas.  They have an important role in Mexican cuisine and are a common ingredient in sauces, snacks, and side dishes.  With high levels of protein, iron, zinc, and potassium, pepitas help offset the rather excessive amounts of lard used in traditional Mexican recipes.  A nutritional powerhouse, if you will.
Today's recipe is a Latin twist on pesto, a traditional Italian sauce that combines olive oil with fresh basil, garlic, Parmesan cheese, and pine nuts.  I made a few substitutions to give it a Mexican flavor and to pay homage to my Southern California roots: cilantro for basil, lime juice for lemon, pepitas for pine nuts.  It's delicious as a salad dressing or garnishing sauce, or even a marinade for chicken and fish.  I've also been caught drinking it straight from the bowl.  No regrets there.
Ingredients:
1/2 cup olive oil
1/2 cup roasted pepitas
1 bunch cilantro
1 jalapeño, seeded (optional)
juice of 2 limes
salt and pepper, to taste
Directions:  Combine all ingredients in a blender or food processor.  Process until smooth.  Add salt and pepper, to taste.